​Ancient Native American culture lives in century-old film now restored for Blu-ray
Cinema | March 6th, 2015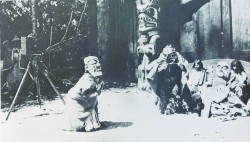 Previous years of the Fargo Film Festival often featured a category called "Native American Voices," spotlighting films about Native American/First Nations issues, culture and/or history. This year only the short documentary "The Wolverine" (showing Wednesday afternoon) would fall under that classification.
Movies dealing with such subjects, or made by Native Americans, have increased in number over the past couple of decades, thanks to the digital revolution. However, there have been a number of examples throughout the entire 120-year history of cinema, many never getting widespread distribution or later becoming lost and forgotten.
One such production, released theatrically a century ago, has recently been reconstructed and came out on Blu-ray this week.
In December 1914, pioneer director D. W. Griffith was busy finishing his controversial epic "The Birth of a Nation," in which he tried to recreate life in the American South just before, during and after the Civil War (and which would eventually premiere 100 years ago this month). Meanwhile, December 1914 saw the first public screenings of a different sort of groundbreaking feature, one that painstakingly recreated life on the West Coast of Canada before European contact with indigenous people well over a century earlier. And this was nearly a decade before "Nanook of the North," Robert Flaherty's famous blend of staged drama and documentary footage for ethnological purposes.
The man behind this production was Edmund S. Curtis, who is remembered primarily as a portrait photographer dedicated to documenting Native American traditions before they were lost. One of his projects, however, was a series of films, of which "In the Land of the Head Hunters" was the only one ever produced.
It premiered with printed program notes and its own specially-composed orchestral score, but despite some glowing reviews, this independent production got little distribution and soon disappeared from public view until this past decade. The only memory of it seemed to be a 1970s documentary that added newly-recorded dialogue and sound effects to re-edited surviving fragments, retitled "In the Land of the War Canoes."
But a search in the 2000s revealed additional film footage, individual frames from still-lost scenes, and the original music score, permitting a reconstruction of something much closer to its original form.
"In the Land of the Head Hunters" is not exactly a documentary. It's a full-blown melodrama revolving around a chief's son's coming-of-age, romance with another chief's daughter, deadly conflict with a rival who happens to be a sorcerer and the savage war between clans that results from the rivalry. True to its title, warriors record their kills by taking the heads of their victims (although the film never depicts the gory details explicitly). The plot could make a diverting Hollywood action-adventure and star vehicle.
This production makes up for its lack of recognizable names and its functional but unsophisticated editing with some memorable cinematography and especially a pervasive sense of authenticity, like a window back into the 17th century. The film is acted entirely by members of the Kwakiutl tribe on Vancouver Island, British Columbia. They enthusiastically got into the spirit of the story and embraced the chance to re-enact customs and rituals (and to fashion authentic costumes and props) according to their ancient traditions, many of which were being suppressed at that time by the government.
A sentence from a contemporary review is a good capsule evaluation of the film: "As a drama it may be a mere curiosity though even as a drama it has a singularly compelling charm."
Contemporary critics praised the film for the very things that stand out today, as both a valuable study in cultural anthropology and a visual masterpiece of artistic beauty, recording impressive scenes of unspoiled nature. Sadly, over 20 minutes of the original film are still missing, but the essentials of the plot and most of the anthropological record remain in the reconstructed 66-minute version.
Picture quality on Milestone's Blu-ray varies according to the condition of surviving material, but it is certainly watchable and sometimes even quite breathtaking. The majority is very soft-looking, derived from a 16mm copy of about half the film, used for the 1973 documentary. That 44-minute abridged sound version, "In the Land of the War Canoes," is rather dry and hard to follow by itself, but is more interesting after seeing the silent version, especially as it includes optional English subtitles for the dubbed Native American dialogue.
The last third of the new reconstruction incorporates surviving 35mm nitrate footage, which looks substantially sharper but still shows damage from age and decomposition. Many missing scenes are represented by still photos and frame enlargements from copyright records. Audio quality of the newly recorded performance of the original 1914 score is excellent.
A generous selection of bonus features includes the sound version, documentaries about Curtis, the film's reconstruction and the music score. Also included is an 83-minute video recording of a Native American cultural dance presentation made after a screening of the restored film, as well as several early 1900s audio recordings of traditional tribal songs and a photo gallery. An informative audio commentary by one of the restoration producers and two descendants of cast members explains some of the context of the film's production and the traditions depicted on-screen.
"IN THE LAND OF THE HEAD HUNTERS" on Blu-ray – Movie: B / Video: B- / Audio: A / Extras: A-