​Anderson and Day-Lewis stitch with 'Phantom Thread'
by Greg Carlson | .(JavaScript must be enabled to view this email address) | Cinema | January 31st, 2018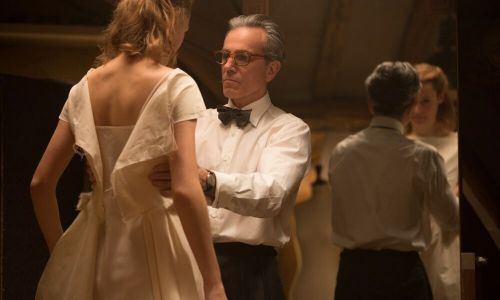 A delectable and devilish exercise in exquisite restraint, "Phantom Thread" offers compelling evidence that Paul Thomas Anderson and Daniel Day-Lewis can do quiet and still as effectively as the thunder and lightning they made together in "There Will Be Blood."
A supremely funny homage to Alfred Hitchcock's "Rebecca," the new movie Day-Lewis claims will be his last sets the table for yet another master class in screen performance. The leading man's perfectly monikered 1950s haute couture designer Reynolds Woodcock (as telling a label as Quell, Plainview, or Diggler) sits at one point of a triangle that includes Lesley Manville as Woodcock's icy and imperious sister Cyril and Vicky Krieps as Reynolds' waitress/model/lover Alma.
Alma is the sleeper surprise of "Phantom Thread," steadily asserting herself and imposing her will on the tight siblings who seem unable and/or unwilling to acknowledge as a human being the latest addition to their house. So much of the story is devoted to the passive-aggressive ways in which Reynolds and Cyril stifle Alma that the latter's process of awakening shocks and delights with each new revelation. Turns out she's as good with wild-picked fungi as Katherine Lester in William Oldroyd's brilliant "Lady Macbeth." The way to Reynolds' heart -- if in fact he possesses one -- is most certainly through his stomach.
Anderson's liberal use of the F-word is but one indicator of the carefully tailored comedic sensibilities of the filmmaker. Reynolds is practiced and quick with the mocking insult and the withering put-down. But the more he ridicules Alma, the more he reveals his own vulnerabilities.
Vexed at Alma's intrusion while he works, Reynolds sends her out, snapping, "The tea is leaving, but the interruption is staying right here with me." As Anthony Lane and others have noted, food, especially breakfast, is rarely out of sight or out of mind. An unwelcome surprise dinner prepared by Alma brings out the most patronizing snot in Reynolds: "I'm admiring my own gallantry for eating it the way you prepared it."
Anderson has made another great film, and many of its thrills turn out to be wonderfully perverse, even kinky. Especially that ending. And from start to finish, the very presence of Day-Lewis works as a beautiful feint; Woodcock expects to be the center of attention at all times, just as his reputation and station would insist.
It follows that going in, audiences would assume that "Phantom Thread" belongs to its biggest star. Anderson and company have other things in mind, however, and the ways in which Reynolds and Alma push and pull together and apart (oh, that New Year's Eve sequence!) will spark with familiarity to many couples.
"Phantom Thread" is dedicated to Jonathan Demme, and one imagines the filmmaker would have loved it. The movie presents a concrete world that complements the deceptively straightforward story events as they unfold. And yet, Anderson adds so much to the margins, the multiple themes and rich subtext will bring back admirers for second and third servings.
"Phantom Thread" wonders about the boundaries of vocation and avocation, the self-doubt that panics the artist who -- no matter the level of talent -- must sing for supper, and the thin line that separates love and contempt.