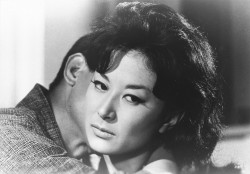 I mentioned in last week's column that Criterion Collection's "Eclipse" series of box sets provides expertly-curated combinations of related films on DVD at a modest price: an instant film festival in a box for budget-minded cineastes with eclectic tastes, but without supplements except good program notes. Also the video transfers have not undergone the more careful restoration given to titles that Criterion releases on Blu-ray, but many still look amazingly good for DVDs.
Last week I reviewed the Criterion Eclipse series #37, "When Horror Came to Shochiku," a must-see for any fan of horror and/or Japanese cinema. Eclipse series #38, "Masaki Kobayashi Against the System," came out last year with four powerful and still timely films from Shochiku Studios by the director of the original 1962 "Harakiri" and the acclaimed 1964 Japanese horror anthology "Kwaidan." The earlier productions in this set demonstrate his often outspoken personal socio-political statements on various aspects of modern society, particularly the direction things seemed to be going in post-war Japan.
"The Thick-Walled Room" was made in 1953 but withheld from release until 1956 due to its controversial topics. It's an intensely powerful and complex drama dealing with the aftermath of World War II and its effect on Japan. Specifically, it focuses on a group of soldiers convicted and imprisoned for "crimes against humanity," their personal thoughts and reflections, regrets, confusion, understanding, public opinion, and political exploitation. It also dramatizes how more than a few prisoners had been reluctantly following orders from superiors who were not only not convicted but were still at-large in society and continuing to exploit underlings for personal gain. The script was based on the writings of actual Japanese soldiers convicted of war crimes. This particular film has some issues with its image quality compared with the rest in the set, but is still very watchable and easily the most thought-provoking.
"I Will Buy You" (1956) is about professional baseball recruiting. It lays bare the commercialization and financial corruption of the sport close to a half-century before such attitudes about professional athletics as an industry, rather than a game, became taken for granted. Talent scouts from several pro teams try to sign a promising young college player, but are they playing him, is he playing them, or is his personal manager/trainer playing all of them… or are they all playing each other? Again the film has strong acting and often biting social commentary with a sometimes noirish visual style. This disc has quite good picture quality for just a DVD.
"Black River" (1957) is an intriguing blend of slice-of-life realism, noirish crime thriller, star-crossed romance, and scathing social criticism about the corruption and amorality rampant in post-war Japan. It's set primarily in a slum tenement next to a U.S. Navy base, where many of the residents survive by prostituting themselves to American military personnel, and the mercenary landlady plots with a local young gangster to evict everyone so the decaying building can finally be torn down to make way for a new hotel. Meanwhile a student has moved in to save costs and becomes attracted to a pretty waitress, but the young yakuza boss already has his eyes on her.
These main characters keep the plot moving in interesting and sometimes unexpected ways, building to a couple of inevitable showdown climaxes, but the film also has a strong ensemble cast and often focuses on the lives and personal problems of the various tenement families. Overall, it's an excellent drama from mid-'50s Japan with a nice jazz score. Picture quality is extremely impressive, with a rich contrast range, copied from a print in beautiful condition.
"The Inheritance" (1962) is the fourth and arguably best, as well as the best-looking, film in this set (even when projected almost ten feet wide). Shot in luminous black-and-white CinemaScope, the widescreen image is beautifully composed from corner to corner throughout the film. The setting is still Japan of the late '50s and early '60s, but the universal themes could just as well be anywhere in any time period. While the other three films spotlight characters who are working-class or even outcasts from society, "The Inheritance" deals primarily with upscale, wealthy individuals, those hoping to join the moneyed class, and people already well-off but grasping for more.
The film begins with an intriguing framing plot that looks like a sequence from "Breakfast at Tiffany's" with a fashionable young woman looking into expensive shop windows. She meets an old acquaintance and they begin to reminisce about the vast changes they've experienced over the past couple of years, and the bulk of the story unfolds in flashback. A domineering corporation president learns he has terminal cancer and decides to rewrite his will so that his much younger wife gets the minimum one-third of his fortune provided for by law. The remaining two-thirds are to be divided among the three illegitimate children he's had (but lost track of) over the past 25 years.
All are unknown to his associates, who are assigned to locate them so he can determine whether each is worthy of being an heir. Naturally his wife, lawyers, and other hangers-on immediately start conspiring to get their own cuts and/or obtain control over whatever other shares get allocated. When the heirs are found, both they and their families also develop plans to benefit themselves, often in collusion with the businessman's underlings, until various schemes eventually unravel both before and after the millionaire ultimately dies.