​Biblical spectacle shines in new Blu-ray
Cinema | May 21st, 2015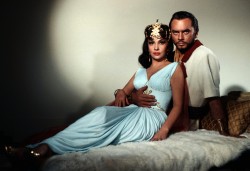 Released to Blu-ray last March in a limited edition of only 3,000 copies was the classic spectacle "Solomon and Sheba."
Historical epics, especially biblical epics, sometimes get a bad reputation. Many rely on the spectacle of exotic settings and costumes, a few large-scale action sequences and overblown romantic melodrama with only a faint resemblance to historical facts or biblical accounts. Cecil B. DeMille was the master of the popular epic film, biblical and otherwise, but other major directors tried their hand at the genre with varying degrees of success.
"Solomon and Sheba" was helmed by respected veteran director King Vidor. True to Hollywood tradition, the script was loosely inspired by a few of the events recounted in the Bible, along with various other ancient legends about the Queen of Sheba, designed to grab audience interest while getting across a few of the basic themes from its main source.
Vidor began his career in the silent era, making a name for himself with the powerful World War I epic "The Big Parade" (1925), now on a beautifully-restored Blu-ray edition. He is noted for such diverse films as "The Crowd" (1928), "Hallelujah" (1929), "Stella Dallas" (1937), "Duel in the Sun" (1946) and "War and Peace" (1956). His final feature turned out to be "Solomon and Sheba" (1959), and its trouble-plagued production may have influenced his decision to retire. Star and co-producer Tyrone Power had been working closely with Vidor on his interpretation of the conflicted title character, but Power died suddenly of a heart attack after about two-thirds of the shooting was completed. Yul Brynner was cast as his replacement and reportedly did not share Vidor or Power's original vision.
Nevertheless, Brynner does a credible job as the peace-loving younger son of Israel's legendary King David (Finlay Currie). He is suddenly anointed king by the dying David over his ambitious older warrior brother Adonijah (George Sanders), who had hoped to expand Israel's empire and was already declaring himself king. David's decision naturally results in a bitter conflict that forms the center of the plot. This becomes entangled with a parallel conflict of Egypt and its allies hoping to conquer Israel through a plan devised by the beautiful but ruthless Queen of Sheba (Gina Lollobrigida). Of course things become more complicated when Solomon and the Queen actually do fall in love with each other, against their own better judgement. Their open affair becomes the scandal of Jerusalem, turning many against Solomon and playing into the schemes of Adonijah, who has since joined forces with the Pharaoh.
The film simplifies and conflates much of the Bible's account to make a more coherent story and avoid certain potentially embarrassing cultural or character aspects, as well as elements that conflict with the movie's plot. We do get to see a couple of elaborate battles, and an exotic pagan ritual dance leads up to one of the final climaxes, but nothing as wildly lavish as DeMille would have done.
There is impressive art direction and costume design, with superlative cinematography by the great Freddie Young. Although a few spots may tend toward the campy (Harry Andrews is a bit much at times and Sanders obviously relishes his villainy), the acting is generally serviceable and rather more serious than the often intentionally tongue-in-cheek performances in many DeMille epics. In fact Lollobrigida has some touching scenes near the end. It's also a bit unexpected to see Sanders doing action-heavy scenes like battles and swordfights instead of simply making dryly cynical remarks or planning nefarious plots (which he still gets to do here). Brynner makes a reasonably good Solomon, but one longs to see what Power was doing with the role before his tragic demise, especially as it was his own project to help redefine his screen presence.
Twilight Time's HD transfer of this United Artists release is excellent, with vivid colors and a crisp, film-like image whose wide-format compositions in the Technirama process (double-width frames on 35mm film running horizontally instead of vertically, for higher resolution) really shine when projected on a big screen. Every so often there is a brief horizontal jerk, but these are few and minor. The sound is DTS-HD 2.0 stereo, but when decoded by a surround processor it reveals its original four-track stereo as well as a good low-frequency range through the subwoofer. Bonus features include an enclosed illustrated pamphlet, an isolated music score audio track, two trailers (in HD) plus an MGM anniversary trailer.
Released to Blu-ray last March in a limited edition of only 3,000 copies was the classic spectacle "Solomon and Sheba."