Big Tree, Small Axe
Cinema | July 3rd, 2014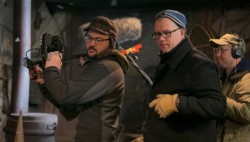 Last April, HPR film editor and Concordia film professor Greg Carlson traveled to Toronto to watch his latest movie in front of a sold out crowd at largest documentary film festival in North America, Hot Docs.
Carlson's "The Hammer and the Axe" was selected as a top 12 finalist in the International Documentary Challenge, a timed nonfiction filmmaking competition.
Having entered the Doc Challenge once in 2010 without advancing, Carlson said this year's good news was a "total super awesome shocking surprise." Around 200 to 300 films from cities all over the world, including Hong Kong, New York, Toronto and Seattle, were submitted this year.
Perhaps the film's cold-blooded Midwestern unaffectedness attracted the judges this year. The five-minute documentary explores a genuine father-son-like relationship between blacksmith Doug Swenson and his apprentice Tim Jorgensen on a forge in the dead of winter – March, actually … just watch.
Originally envisioned to be a sort of inside look at blacksmithing production, the film's focus shifted to be an inside a look at Doug and Tim's unique relationship.
"So much of our movie inches on the fact that both Tim and Doug are really interesting people and their relationship is really cool," said Tucker Lucas, the film's editor and co-producer.
Jorgensen has his master's degree in folk studies and culture. His interests heavily lie in Viking culture. He was awarded a grant through the North Dakota Council on the Arts to pursue his interest in blacksmithing and ended up working with Swenson. It's been about a year since Jorgenson has been Swenson's apprentice.
"I'd show up at Doug's shop ready to do some blacksmithing and I just ask him stuff like, 'So how do I change this windshield wiper now?'" Jorgensen said to HPR, laughing. "And he would know. He's got lots of advice other than what to do with a hot piece of iron."
Jorgensen opening up about his meaningful relationship with Swenson was key, Carlson said. "As soon as I heard that, I looked over at Kensie (Wallner, the still photographer) and Tucker who were there and I just knew that was going to be it – the thing that you hope for."
With randomized, time-sensitive competitions such as these, Carlson said gambling and risk taking is unavoidable, especially considering the crew couldn't plan ahead much.
"The first night we went out to the forage, I had not met Doug, I had not seen the place and we had already agreed this is what it was going to be," Carlson said.
Remarkably, Carlson and his crew literally walked into a picture-perfect, pioneer-authentic blacksmith forage aggrandized with gorgeous dark-wooden tones. It showed up beautifully on camera.
"All credit to the great photographers that we had working on the project," Carlson said. "They worked hard together to get all the settings and such that we could just pull out all those details, especially the glow."
With the right tools, cast and crew, Carlson and Lucas masterfully melded the dialogue, imagery, audio and character interaction to create a stimulating, eloquent documentary in just five days.
"Greg is one of the most intellectual people I know," said Lucas, who's known Greg since 1998 and worked with him on about five other projects. "And if he's interested in something, you really want to listen to him talk about it. He is really good at communicating passion for things that he's interested in."
Carlson has been making all types of movies since the '80s. He says documentary movie making is distinctive because, "Everybody has a potential story, and as a documentary movie maker you have the privilege of shaping it, of telling it in a particular way."
Carlson and Lucas are particularly interested in pacing as a way to energize the story and visuals.
"Both Greg and I really love movies where the viewer gets chance to drink in the image and take their time with it," Lucas said.
So in "The Hammer and the Axe," the viewer is not overwhelmed with dialogue. All the words are intentional. Every edit is important is shaping the story.
"That's hard to do in five to six minutes because you kind of feel like you have to cut out so much to begin with," Carlson said. "But we still we worked really hard. Tucker did an incredible job of identifying some of those places where you have those little moments to take a pause – take stock of the moment."
"The Hammer and the Axe" is now available to view and vote for online. It's currently in fourth place for the competition's Audience Awards. Folk can vote more than once on a daily basis until July 14: http://theaudienceawards.com/film/the-hammer-and-the-axe8305
Watch the movie and vote:
http://theaudienceawards.com/film/the-hammer-and-the-axe8305