​Boots Riley is "Sorry to Bother You"
by Greg Carlson | .(JavaScript must be enabled to view this email address) | Cinema | July 11th, 2018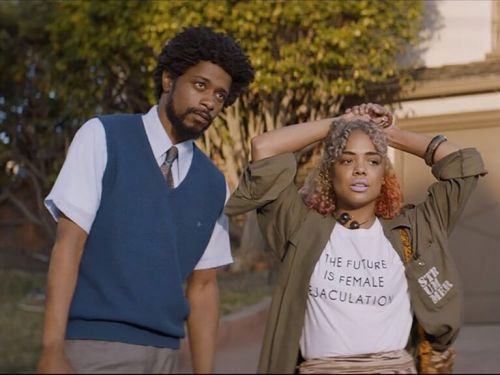 Boots Riley hallucinates a wildly funny feature debut with "Sorry to Bother You," a sharp-fanged social satire that mashes up the innovative handmade aesthetics of Michel Gondry with the fierce truth-to-power consciousness of Spike Lee. As uneven as it is addictively watchable, the movie caroms from sharply on-point to murkily broad. Fans of alternate reality dystopian nightmares like Mike Judge's "Idiocracy" and Richard Kelly's "Southland Tales," two of a smallish number of fellow genre torchbearers, will help assure the movie's future cult status. Love it or lump it, "Sorry to Bother You" is perfectly situated for the messed-up cloud cuckoo land infected by the down-is-up, black-is-white fabrications of life under the current presidential administration.
The film opens with a brilliant sight gag summarizing the hapless financial straits dogging Cassius Green (Lakeith Stanfield), whose significant bright spot is his romantic relationship with visual artist Detroit (Tessa Thompson). The desperate Cassius finds employment at a shady outfit called RegalView, working the phones as a telemarketer under pressure to make sales or risk termination. A tip from veteran closer Langston (Danny Glover) to "use your white voice" is the movie's most obvious application of code-switching, but Riley will extend his consideration to wonder aloud about the degrees of blackness performed by everyday people as well as wealthy entertainers.
Riley's agenda is so comprehensive, there is virtually nothing the filmmaker doesn't incinerate with his barrage of Molotov cocktails. High on the list are corporate evil, capitalist greed, mass media numbness, the insidiousness of casual racism, and the challenge of remaining true to principles when faced with the temptations of selling out and/or seeking financial security. Not all of Riley's commentary lands with equal dexterity, but the filmmaker's spirit of experimentation is so loose and comfortable, the absolutely bananas dreamscape of the film's later segments boasts a kind of surreal weirdness almost never seen at your local multiplex.
That's not to say that "Sorry to Bother You" is completely unprecedented, despite the presence of its brain-melting "equisapiens." The Halloween costume-inspired popularity of Cassius' soda can head injury, in both theory and application, plays an awful lot like the runaway "success" of the plastic blackface masks inspired by "Mantan: The New Millennium Minstrel Show" in Lee's "Bamboozled," a movie from which Riley borrows much. Another of Lee's favorite bits -- off-the-wall television parodies broadcast in-universe -- manifests in the gonzo gameshow "I Got the Shit Kicked Out of Me," one of Riley's reminders of the depths of humiliation not too far away from existing "reality" programming.
The all-in culmination of Riley's manifesto, a dark metaphor featuring a coke-fueled, sarong-appreciating Armie Hammer as a rich and terrifying overlord named Steve Lift, will split viewer opinion, but it is not the only element that will attract criticism. The protagonist of "Sorry to Bother You" is most certainly Cassius, but Riley fails to carve out the richer opportunities that Thompson's Detroit deserves. Despite industry credits stretching back to 2005, Thompson has more recently broken through to tremendous exposure via standout performances in higher-profile projects from "Dear White People" to "Creed" to "Thor: Ragnarok," and is a major star in the making. Not surprisingly, you miss Detroit when she is not on screen.