Chukwu Directs a Powerful Woodard in 2019 Sundance Winner 'Clemency'
by Greg Carlson | .(JavaScript must be enabled to view this email address) | Cinema | January 29th, 2020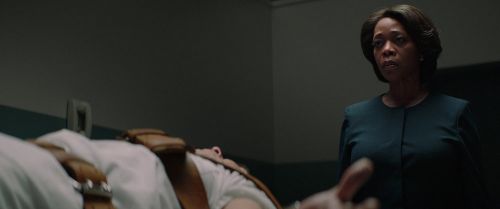 In January of 2019, Chinonye Chukwu made history as the first black woman to win the Grand Jury Prize in the U.S. Dramatic Competition of the Sundance Film Festival. "Clemency," which Chukwu also wrote, is only the filmmaker's second feature, but it unfolds with the confidence of a veteran at the helm. A harrowing, close-quarters examination of the human cost of capital punishment, the film is anchored by Alfre Woodard's sensational performance as prison warden Bernadine Williams, a dedicated professional whose proximity to death row has taken an obvious toll on her marriage to husband Jonathan (Wendell Pierce).
Chukwu revisits a number of common cinematic tropes used for decades in movies depicting the grim rituals of state-sanctioned killing. From the horror loop nightmares of juxtaposed roles so sharply imagined in the 1961 "Twilight Zone" episode "Shadow Play" to the desperate legal longshots, oppressive countdowns, and precise procedures of "Dead Man Walking," "Monster's Ball," and many others, "Clemency" demonstrates the absurdities inherent in carrying out a death sentence. Williams is haunted by a botched lethal injection that sets the stage for Chukwu's central drama: the impending execution of Anthony Woods (Aldis Hodge), a convicted cop killer whose guilt is in doubt.
Advocating for Woods is Richard Schiff's Marty Lumetta, whose own career path has intersected enough with Williams that the two frequently communicate, despite the gulf between their vocational roles and responsibilities. Schiff's best scenes, however, are played with Hodge, who commands our attention as forcefully as Woodard. In one of the film's finest moments, Hodge is visited by one-time sweetheart Evette (Danielle Brooks), who reveals a secret that simultaneously devastates and uplifts the condemned man. Their exchange, a heartbreaking report of frustrations and obliterated dreams of what might have been, is as memorable in its way as the raw-nerve, one-on-one conversations between Bernadine and Jonathan in the privacy of their home.
The eventual theatrical release of "Clemency" occurred in close proximity to Destin Daniel Cretton's "Just Mercy." Cretton's film, which is based on the memoir of attorney, activist, and Equal Justice Initiative founder Bryan Stevenson, looks at the wrongful 1988 conviction of William "Johnny D." McMillan. Stuart Miller recently wrote that in "Just Mercy," Stevenson "fights the power" while in "Clemency," Williams "wields it." The two movies are accidental siblings, but "Clemency," despite its unrelentingly solemn presentation, more successfully and cinematically expresses its ideas despite being a much less audience-friendly film than "Just Mercy.".
Chukwu's collaboration with Woodard layers "Clemency" with significance and subtext. As Angelica Jade Bastien notes, "That Bernadine is black speaks to the ways even the marginalized are complicit in the system that controls their lives." But Chukwu avoids any overt didacticism in her storytelling, even if the mounting pressure on the beleaguered protagonist is delivered with quiet resolve and suffocating dread. Williams masks her emotions because her occupation requires it. And yet, the hallmarks of Woodard's skillful choices -- the careful concealment, the constant reserve -- have the intended effect of communicating to the viewer the systematic dehumanization of the inmate and the racism built into a justice system that is anything but just.