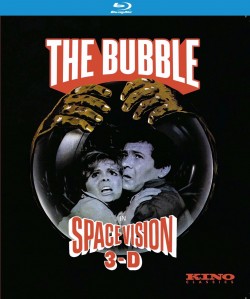 Three-dimensional movies may be regarded by many as the latest in 21st century technology, requiring modern digital cameras and projectors. The concept of 3-D photography actually goes back to the mid-19th century, and various attempts at 3-D movies have been around since the early 1900s. In an attempt to compete against television, Hollywood had a short but intense period of 3-D film production from 1952-54, followed by sporadic specialty films in 3-D and a brief revival during the 1980s. The 1950s 3-D movie phenomenon was carefully engineered and artistically executed, but low quality control in theatrical showings led to its dying out.
Nevertheless, 3-D films from that era often have far more effective use of depth than many of the newest digital 3-D movies currently on theatre screens. A few prime examples are now available on 3-D Blu-rays for enjoyment and re-evaluation, including such memorable classics as "House of Wax" (1953), "The Creature from the Black Lagoon" (1954), and "Dial M for Murder" (1954), as well as the mediocre but well-shot film noir thriller "Man in the Dark" (1953). Scheduled for 3-D Blu-ray release next March is the lavish MGM 3-D musical "Kiss Me Kate" (1953).
Two new 3-D Blu-rays demonstrate how spectacular three-dimensional cinematography could be even on low-budget films with average stories and casts: "Dragonfly Squadron" (1954) and "The Bubble" (1966).
The Korean War drama "Dragonfly Squadron" went into production in the last half of 1953 during the height of the 3-D craze, but by the time it was ready for release the fad had waned so that it was never shown theatrically in 3-D until fall of 2013. Since then it has been further restored for the Blu-ray that came out last month from Olive Films.
"Dragonfly Squadron" is a routine but well-made and well-acted story of American military personnel training Korean pilots in 1950, just before active hostilities began between North and South Korea. A couple of complicated subplots involve the air base commander assigned to supervise the training.
The film's tight 83-minute running time is a by-product of the 1950s 3-D dual-projector presentation technology, designed to keep the film on two pairs of reels and require only one intermission to change them. While this covers the plot basics and keeps things moving, the short length does not permit as much in-depth exploration of characters and backstory that a longer, more ambitious film might attempt.
Olive's widescreen high-definition transfer has reasonably good picture quality but suffers from a variety of film-related issues. Some are dirt and damage. Others are because a number of shots had to be optically duplicated to correct alignment problems, thus making them slightly grainier than the rest of the film. Audio quality is also reasonably good. The 3-D, however, is simply outstanding, equal to or better than most of today's 3-D movies. There is vivid depth in virtually every shot, with few of the typical 3-D exploitation shots of things poking out of the screen, but a very deep perception of space behind the screen.
The only bonus feature on the disc is the film's original trailer (HD), in 2-D. The disc also includes the entire film in a two-dimensional HD transfer that can be played on standard Blu-ray players, but a 3-D player and TV set will greatly enhance the film's enjoyment by letting viewers experience the expertly designed original stereoscopic cinematography.
DRAGONFLY SQUADRON on Blu-ray – Movie: C+ (B if viewed in 3-D) / Video: B+ / 3-D: A+ / Audio: B+ / Extras: D
Released to 3-D Blu-ray last week by Kino Video, "The Bubble" (1966) is a sci-fi mystery-thriller designed to debut a new 3-D process called "Spacevision" that needed only one camera and one strip of film, greatly simplifying production and projection. This was the process used during the 1970s-80s 3-D revival (and the film was re-released under the title "Fantastic Invasion of Planet Earth").
The story of "The Bubble" is reminiscent of "The Twilight Zone." A small plane makes a forced night landing and the three people aboard find that the entire population of the nearby town seems to be in some sort of trance, doing and saying the same things over and over. Then they discover they cannot leave the area, as an impermeable Plexiglas dome surrounds the town and surrounding countryside. The plot is intriguing but tends to drag in spots, despite the cutting of about 20 minutes after its initial run. The actors (Michael Cole, Deborah Walley, and Johnny Desmond) are all adequate if not particularly memorable.
Picture quality on Kino's Blu-ray is mostly good but again has some film-related problems, as the original negative has faded slightly and still shows a certain amount of dirt and scratches. The 3-D is excellent. Several times the movie includes often-gratuitous shots especially designed to show off its vivid illusion of depth. A memorable shot is of a tray of beer floating up off the bar and then off the screen into the audience. Audio quality is fine, but frequently drifts out-of-sync by a few frames.
Bonus features include two trailers, the alternate opening title sequence, and a restoration demonstration (all HD), as well as an image gallery and screenplay excerpts covering the deleted scenes. A BD-ROM computer-accessible .pdf file has an informative essay about the film and 3-D technology in general. This article is also available online at http://www.3dfilmarchive.com/home/The-Bubble with numerous illustrations.
THE BUBBLE on Blu-ray – Movie: B- (B+ if viewed in 3-D) / Video: B+ / 3-D: A+ / Audio: A- / Extras: C+