Classic British novel revisited on screen and on Blu-ray
Cinema | June 24th, 2015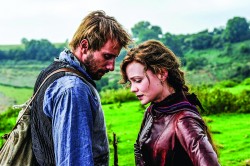 The latest film adaptation of Thomas Hardy's novel "Far from the Madding Crowd" is currently winding down its limited theatrical run, which started May 1 in just ten theatres, expanded slightly over the next few weeks and is now back to a few hundred screens. It did manage to play in Fargo and East Grand Forks, but for those who missed it in theatres, this epic period romance will come out on Blu-ray August 4.
Thomas Vinterberg's film has much to recommend it, especially its superb cast and lush widescreen cinematography by Charlotte Bruus Christensen on meticulously detailed locations. However it must inevitably be compared to other versions, including the 1998 PBS miniseries and especially the impressive, if also flawed, 1967 film version directed by John Schlesinger (which just came out on Blu-ray in February to tie in with the impending release of the remake). In fact more than a few scenes of this new production appear to be close recreations of the staging and cinematography used in the 1967 version.
The story of an independent-minded girl in mid-1800s England who suddenly inherits a farm and decides to run it herself, fending off tempting marriage proposals from neighboring farmers because she wants true love rather than safety, resonates well with late 20th-century/early 21st-century sentiments on gender equality. It also explores plenty of interesting character relationships, with the heroine's inevitable romance with the wrong sort of man while her other suitors discretely stand by from a distance. The film handles in a satisfying way the underlying themes of dealing with fate, being unafraid to make difficult decisions, learning from impulsive mistakes, and striving to do the right thing, with fate ultimately rewarding and/or punishing people for their deeds.
Unfortunately, at just under a two-hour running time, the 2015 film version comes off almost like a long preview trailer, showing significant highlights from the complex drama without providing enough motivation or character development to tie them together effectively. The film can stand on its own, but it is better viewed after watching one of the other versions. Many key dialogue exchanges are missing, although a few scenes and extra lines of dialogue that help clarify things are absent from the 1967 film.
However, the strong performances give the 2015 film some coherence and allow viewers to follow much of the action. Most notable are Carey Mulligan as leading character Bathsheba Everdene, Matthias Schoenaerts as steadfast shepherd Gabriel Oak, and Michael Sheen as the lonely bachelor farmer William Boldwood. The character of the roguish Sergeant Troy (Tom Sturridge) becomes more sympathetic and makes less sense in the context of the rest of the story due to the sketchy details dramatized, especially his relationship with Fanny Robbin (Juno Temple).
The lavish 1967 production of "Far from the Madding Crowd," filmed on location in Dorset, England, also recreates its period meticulously (except for the somewhat anachronistic hair and makeup of the leading lady). At 171 minutes, including an overture and entr'acte music, it has the time to fill in many of the gaps that are truncated or eliminated altogether in the remake. Even so, it has some elliptical segments of its own where it seems something has been left out or not adequately explained, leaving it up to the viewer to make inferences or remember from the book. Another half-hour or so could have helped (and the acclaimed four-part TV miniseries was just about a half-hour longer than the 1967 film).
What immediately stands out in Schlesinger's film is the sumptuous cinematography by the great Nicolas Roeg, expertly using color and the wide screen in painterly compositions to create the feeling of time and place. This version makes much more extensive use of old English folk songs throughout the film, whose words and music add not only an authenticity but help intensify some of the dramatic threads and character relationships.
Planned as a prestige production, the 1967 film fills its four major roles with big-name stars, instead of the largely unknown names cast in the recent remake. Julie Christie, fresh from star turns in "Darling," "Doctor Zhivago" and "Fahrenheit 451," embraces the role of Bathsheba with a youthful enthusiasm and impetuosity balanced by a no-nonsense seriousness that suits the character as she grows in experience and wisdom over the years. Alan Bates is outstanding as Gabriel Oak, and Peter Finch gives a fine performance as the melancholy Boldwood. Terence Stamp makes a memorable Sergeant Troy, effectively portraying him as a self-centered rake yet giving hints of his deeper feelings for the unfortunate Fanny Robbin, an interlocking subplot explored more thoroughly in this film although still sketchy in spots. The bit roles and extras in this film, as in the new remake, give a vivid sense of ordinary rural folk that aids greatly in the film's believability.
The Blu-ray from the Warner Archive Collection has a generally strong picture quality, although it is somewhat soft-looking at times. Audio quality is good, but the stereo sounds as if it has been reprocessed from the mono soundtrack heard in most theatres rather than using the original stereo recordings heard in the few theatres that had 70mm releases. Bonus features are sparse: just a trailer (in SD) and a vintage featurette (in HD) highlighting the Dorset countryside along with some behind-the-scenes footage.
"FAR FROM THE MADDING CROWD" on Blu-ray – Movie: A- / Video: A- / Audio: A- / Extras: C-