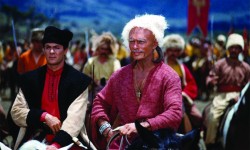 With all the conflict in Ukraine continuing to make headlines in today's news, it seems like an appropriate time to revisit a nearly-forgotten classic movie epic from over a half-century ago that came out on Blu-ray last fall.
"Taras Bulba" (1962) is set in the Ukrainian steppes but was filmed in Argentina by British director J. Lee Thompson for an independent American production company and released through United Artists. Coincidentally, United Artists was founded 96 years ago this month.
Video distributor Kino Lorber has been putting out an unusually large number of 1950s-'70s films from the United Artists catalog in new high-definition editions over the past year. These titles range from famous to obscure, and "Taras Bulba" falls somewhere in between.
This good old-fashioned action-adventure epic based on a novel by Nikolai Gogol was made during the era of large-scale epics and roadshow productions. Running slightly over two hours, it had a lush, Oscar-nominated score by Franz Waxman, and starred such popular luminaries as Yul Brynner in the title role and Tony Curtis as his firstborn son. It was filmed in 35mm Panavision widescreen, and for prestigious first-run theatres it was blown up to 70mm film with a six-channel stereo soundtrack.
Nevertheless, for some reason the sprawling story of 16th century Cossack life, love, honor, bacchanals and battles did not catch on with either audiences or critics and lost big money for the studio.
Over a half-century later, this version of "Taras Bulba" shows some flaws but holds up much better than its original reputation. Moreover, it is eerily timely in its pro-Ukraine independence theme, despite its uncomfortably intense anti-Polish rhetoric carried over from the 19th century Gogol novel. The film is also rather ambivalent on its underlying conflict between Orthodox and Roman Christianity, focusing more on class and ethnic differences. Although its religious subtext is largely avoided, it's another theme that might be applied to various modern-day international situations.
Brynner is quite good and commands the screen in all of his scenes. Curtis is also very good as the son raised to hate the ostensibly more civilized but treacherous Polish rulers, who took over the Cossacks' Ukrainian homeland and look down on Cossacks as barbarians useful only for fighting their wars for them. Things become more complicated when he falls in love with a Polish noblewoman (Christine Kaufmann). Educated with his brother (Perry Lopez) at a Polish seminary in Kiev, he becomes more conflicted politically than either his father or brother, especially as the "Romeo and Juliet" plot thread develops further and the boys must suddenly flee back to their village.
Kaufman and Lopez are fine when they're given screen time, but they are sadly wasted when the story veers back to the more marketable spectacle of its warrior themes as the Poles attempt to re-recruit the Cossacks for a planned Baltic conflict. At this point some of the Cossacks hope to use the opportunity to recapture Ukraine for themselves, further developing the issue of national identity with the conflict of political ideals versus family loyalty and star-crossed love. This ultimately leads to a conclusion somewhat against audience expectations for a lavish Hollywood romance, which might have contributed to the film's box office disappointment.
It may not be "Doctor Zhivago," but "Taras Bulba" is a film that cries out for large-screen presentation, as the epic scope of the scenery and battle sequences will lose a substantial amount of their impact on a small screen and/or with anything less than a high-definition image. This is not a movie to watch on a portable device, or even a regular TV set.
Picture quality on Kino's Blu-ray is very strong overall, scanned from high-quality 35mm film, although the sharpness of the 2.35:1 HD transfer reveals the softer image and graininess inherent in all the optical effects (often beginning and ending sometime before and after fades and dissolves), and makes the matte shots stand out much more obviously than they would on an old standard-definition TV presentation.
The disc's mono audio, presented in DTS-HD, is full and rich, although one would have expected stereo for an epic like this (as it originally played in 70mm theatres), especially since an earlier video release of the film apparently had stereo sound. The only bonus feature is a nice widescreen trailer in HD.
TARAS BULBA on Blu-ray – Movie: B+ / Video: A- / Audio: A- / Extras: D