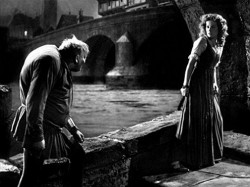 Yet another of the memorable major releases of 1939 in this summer's "The Golden Year" Blu-ray collection from Warner Home Video is the RKO remake of Universal's classic 1923 production, "The Hunchback of Notre Dame." The two films were adapted and heavily altered in various ways from Victor Hugo's famous novel. Now both are on Blu-ray in separate editions and it's both fascinating and instructive to watch them back to back, making their differences much more obvious, especially their approaches, attitudes, characterizations, and their rather dissimilar endings. Each film follows the basic outline of the book while deleting, keeping, or changing different elements in different ways or to different degrees, all alterations tailored to the audiences of their times.
Many of the revisions made for 1939 version, which premiered the end of December and got a general release in January 1940, are obviously working in a modern political subtext with World War II just starting in Europe. Most notable is the now-benevolent King Louis XI, played by lovable character actor Harry Davenport as a forward-thinking man of the people, welcoming foreign immigrants and even well-argued political dissent and a free press to disseminate it.
A large part of this film's appeal is the magnificent performance by Charles Laughton in the title role of Quasimodo, the deformed bellringer at Notre Dame Cathedral. His selfless devotion to Esmerelda after she helps him despite his having kidnapped her, and his poignant self-reflections are some of the film's most effective moments, not to mention the Christ-like imagery of the public whipping sequence where he literally bears the sins of others on his back. Nevertheless, dominating the film is Sir Cedric Hardwick's brilliantly modulated performance as the bitterly conflicted Frollo, who is responsible directly or indirectly for nearly all the action and events of the plot.
Hardwick's Frollo is no standard villain out to destroy others solely for his own personal gain. On the contrary he is a man so wrapped up in his strict beliefs that he understands he is personally unable to live up to his own ideals or resist yielding to what he knows full well are evil temptations. He decides the best way to avoid temptation is to eliminate the source of it, and thus feels completely justified morally when he orders the torture or execution of anyone who poses a threat to his personal inability to control his own emotions, as becomes evident when he becomes obsessed with the beautiful gypsy Esmerelda.
The character is symbolic of the innate human duality at its extreme, of fanatics (then and now) who may perform similar atrocities but are not comparable to the obvious hypocrites among those in power who simply use religion as an excuse for political ends. There is no possibility for diversity or free thought in the mind of such a person. In quite possibly the best performance of his career, Hardwick is able to make Frollo the most despicable of villains and yet retain a certain pitiable sympathy due partly to the heart-felt sincerity of his beliefs but especially due to his unrequitable love for Esmerelda, a love he sincerely feels obliged to destroy if he cannot satisfy it.
If Frollo is the instigator of the plot's action, the gypsy dancing girl Esmerelda is the catalyst and again has a complexity that keeps her from becoming a simple stereotype. Irish actress Maureen O'Hara shines in her first Hollywood role, conveying a sincere humanistic compassion underlying a no-nonsense attitude as well as a sense of fatalistic acceptance of whatever happens. Clopin (Thomas Mitchell) is dissatisfied with government oppression of the common people and preoccupied with obtaining justice by force, using angry peasants as his army. Gringoire (Edmond O'Brien) is the poetic political idealist determined to achieve justice and equality for all by peaceful means, through free exchange of ideas that he hopes will make the people think about their options and act properly. His interactions with Clopin, Esmerelda, Frollo, and King Louis help flesh out all the characters into believable individuals rather than simple plot devices needed to further the action, as well as contributing greatly to the contemporary political subtext.
All this plays out as intentional references to 1939 European politics, yet it bears uncanny resonance with various world events in the early 21st century. The crowds of commoners in the film are depicted as easily swayed by whatever charismatic leader is addressing them at the time, whether it be government officials, hot-headed revolutionaries, or eloquent poet-idealists. Like today's internet social media, everyone is quick to jump to conclusions without knowing many, if any actual facts. This version of the film has a semi-bittersweet Hollywood happy ending but is quite different from the end of the 1923 version, more satisfying in certain ways and less satisfying in others. Both films of course differ greatly from the ending of the novel, which is too "novel" for a major Hollywood film, especially during the heyday of the studios.
Picture quality is mostly superb on the Warner Blu-ray, scanned primarily from the original nitrate negative, with a crisp, clear image and rich range of black and white contrast. Some shots and scenes are slightly softer, scanned from other sources to fill in damaged portions of the camera negative. The film earned an Oscar nomination for its sound, and the sound is very well reproduced on the Blu-ray. Bonus features include a featurette about the film with interview footage of Maureen O'Hara reminiscing, a trailer, and two 1939 shorts: the Oscar-nominated "Drunk Driving" and the cartoon "The Lone Stranger and Porky." Unfortunately all of the extras are in standard definition.

THE HUNCHBACK OF NOTRE DAME (1939) on Blu-ray – Movie: A- / Video: A / Audio: A / Extras: C+