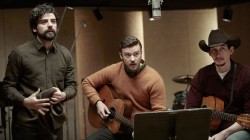 "Inside Llewyn Davis" echoes several pet concerns previously explored by Joel and Ethan Coen in their impressive body of work. Exquisite period detail evocative of a romanticized past, the struggle for some degree of personal integrity in a marketplace geared toward the lowest common denominator, and a trippy Homeric odyssey infused with highly specific musical annotations are a trio of the new movie's thematic interests that could be applied to "Miller's Crossing," "Barton Fink," and "O Brother, Where Art Thou?" respectively. Oscar Isaac's title character, the stubborn and unlucky singer modeled in part on Dave Van Ronk, is, like the Coens' Tom Reagan and Larry Gopnik, a man out of time and a man out of time.
And just like the double meaning in that repetition, "Inside Llewyn Davis" is bookended by scenes depicting a night very much like September 29, 1961, when Robert Shelton listened to Bob Dylan at Gerde's Folk City and sent the young singer on his way in a legendary "New York Times" write-up ("All the 'husk and bark' are left on his notes and a searing intensity pervades his songs"). Those impossibilities of fate lead us to wonder how many thousands of other voices just missed the opportunity to be discovered and embraced by the masses, but very probably, the Coens are suggesting that unlike Dylan, Llewyn is merely good. But not great. And not a genius.
Writing for "Tablet," J. Hoberman reiterated his contempt for the Coens in a scathing essay arguing that for the filmmakers, "a robust disdain for their creatures is a given," but I think the great critic is not entirely on the mark. Llewyn Davis is the sort of character cinephiles dream about: a thoroughly complex human being capable of earning, by turns, both the sympathy and the scorn of the viewer. Carey Mulligan's Jean heaps the latter on Llewyn in a colorful, profanity-laced tirade attesting to her ex-lover's fecklessness and irresponsibility. She's right. But the filmmakers surely admire and relate to their protagonist's restlessness, artistic curiosity, and talent.
The Coens have often demonstrated a keen ear for recorded music, and with the sterling skills of frequent collaborator T Bone Burnett, "Inside Llewyn Davis" boasts a beautiful set of songs. Burnett worked with Marcus Mumford on a couple tracks, and Mumford's duet with Isaac on "Fare Thee Well (Dink's Song)" emerges as one of the movie's most resonant motifs. Mumford voices Llewyn's deceased partner Mike, a man very much present in his absence. The film is filled with memorable musical performances, ranging from a Columbia session for a novelty titled "Please Mr. Kennedy" to Llewyn singing "The Shoals of Herring" to his fading, silent, retired merchant marine father in what may be the movie's purest, saddest scene.
Being beaten in an alley isn't likely the first meaning of the aphorism "failure is the greatest teacher" that springs to mind, but at the beginning and again at the end of the journey, we see that Llewyn Davis is his own worst enemy. An orange and protean tabby named Ulysses comes to symbolize the very inscrutability of Llewyn's against-all-odds commitment to the pursuit of fortune as a folksinger. "Inside Llewyn Davis" is filled with the great lines only the Coens write – many of them spoken by John Goodman – but one of the toughest and most nuanced belongs to F. Murray Abraham as Gate of Horn kingmaker Bud Grossman. After listening to Llewyn's striking rendition of "The Death of Queen Jane," he says, "I don't see a lot of money here." How can you respond to a pronouncement like that?
"Inside Llewyn Davis" is currently showing at the Uptown in Minneapolis and expands nationwide on January 10, 2014.