Collecting Movies with Caity Birmingham
by Greg Carlson | .(JavaScript must be enabled to view this email address) | Cinema | May 19th, 2020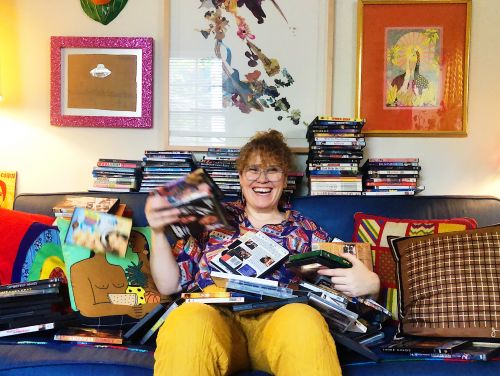 Caity Birmingham is a production designer who lives in Los Angeles. We have been friends for a long time, and originally bonded over our mutual appreciation of teen movies. In addition to that genre, she also loves costume dramas and apocalyptic sci-fi. Caity works on feature films, and also does a lot of funny television, including "Comedy Bang! Bang!," "Documentary Now!" and "Joe Pera Talks with You."
Greg Carlson: Movies are not necessarily attractive as objects on a shelf. As a production designer, do you hide or display your movie collection?

Caity Birmingham: I vote display! And in any project, I would say that you should have movies in the apartment just to fill it up and clutter it up and make it real. And it's always fun to think about what movies a character would have, even if we can't show them because of clearance issues. We always choose specific movies to put in the pile in the background.
So even though I fully support it as a decorative technique, in my little apartment in Los Angeles, I do not display my movies. I display a lot of books. Maybe it's just because DVDs are old technology now.
GC: Since they are not on shelves, where are your movies?
CB: I have a steamer trunk that serves as my coffee table and it is full of DVDs. I use a dresser as my TV table and the drawers are full of DVDs. All readily available, just not on display.
GC: Are they organized?
CB: No! And that is crazy to me. I used to display them proudly. It was really important for me to have my movie collection available for people to see. I alphabetized. And occasionally sorted by director. This is back when I was working at the movie theater or when I was in film school and it just felt a little bit more central to my daily aesthetic than it does now.
GC: Now that so many people watch content on streaming services, do you feel that it's important to have physical media?
CB: I looked back through my collection and I realized it's more of a time capsule than a collection because everything I have is from the height of the DVD phenomenon. But the other thing that is kind of lovely about that is that it was a great time for movies! From 1999 to 2009 is the period when most of my DVDs were collected.
I was working at the Fargo Theatre and I saw all these amazing things come through, and 2000 was such a good year for movies. I remember watching something at the theater and then later being so excited when the DVD came out and adding it to my collection.
Now, I don't do that anymore, except for an occasional Criterion purchase. But having a collection like mine is a nice way to look back at a time when having certain movies was really important to me.
GC: Do you keep physical copies of the projects you have worked on?
CB: A lot of them aren't even available. There are certain things I worked on that I love and am proud of, but they have never been released on DVD.
GC: When a title has not been made available on physical media, I get so nervous.
CB: I definitely try to collect movies that I have worked on to have them as a record. At this point in time, right now, I am really leaning heavily on the tangible. I don't feel like streaming something new and exciting that everyone is talking about. I have not watched "Tiger King."
More and more I go back to my DVDs. I just watched Soderbergh's "Out of Sight," which is one of my favorites. I have been leaning heavily on my favorite movies.
GC: Do you keep other formats beside DVD?
CB: The only VHS tape I saved is a collection of Jane Campion's short films. I kept it for sentimental reasons. I have strong memories of buying VHS. I remember buying "Empire Records" on VHS and wearing out the tape from watching and rewinding it so much.
I came to L.A. ten years ago, and I've moved around a lot. So the VHS tapes got left behind somewhere along the way.
GC: What was the first movie you collected?
CB: You won't be surprised to hear "Pretty in Pink." I saw it when it first came out and my mom was watching it, but I was really young. I rediscovered it as a fourteen-year-old and thought, "I must own this movie!"
GC: During the time when you were adding movies, how did you curate your collection? How did you decide what to spend your money on?
CB: I just loved movies so much, and wanted to possess them and display them, and show people what good taste I have! I really got into movies in 1999 and 2000. I was exposed to so many great films. I remember watching "Magnolia," which was really eye-opening for me, and then buying the special edition DVD.
GC: What is your favorite item in your movie collection?
CB: When I first got to L.A., my friend and I attended a lot of screenings because there are so many great in-person retrospectives. I went to "Desperately Seeking Susan," which is one of my favorite movies of the 1980s. Susan Seidelman and Rosanna Arquette autographed my DVD.
GC: Do you keep track of the movies in your collection? You are historically a list-maker.
CB: I don't anymore. When I moved to Chicago in 2005 there was an app that was extremely cool at the time. You could inventory your movie collection, look at them all on a virtual shelf, establish a lending library, and keep track of what was checked out. All of that has fallen by the wayside for me.
GC: Are there any movies you have bought on more than one format?
CB: I do have some Blu-ray. I have replaced a few titles. Especially when things come out on Criterion. If I really love a movie, I upgrade. "True Stories" was my grandpa's favorite movie, and I was amazed to find the old, unremastered version in a bargain bin for seven dollars in the early 2000s. I was just so thrilled when the Criterion edition came out last year.
I also have "Edge of Tomorrow" on Blu-ray. I love that movie.
GC: Why didn't that get immediately turned into a franchise?
CB: It gets lost in all the Tom Cruise movies made around that time that were vaguely similar, but it is by far the best.
GC: Doug Liman is very talented. I bought "Go" the first day it came out on DVD.
CB: Me too! Another perfect example of the time period when I was into collecting movies and getting certain titles the day they came out.
GC: "Go" is such a watchable movie. Great soundtrack. Great performances. Some witty person once called it "Pulp Fiction" for kids, but I love the heart. And, especially for you, it has a fun reference to "The Breakfast Club."
CB: I have to watch it again right now. I will find it in my trunk.
+++
The first two seasons of "Joe Pera Talks with You" are not available on VHS, DVD, or Blu-ray, but you can see them on Adult Swim.