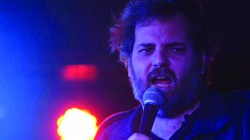 Fan studies scholars should salivate over Neil Berkeley's portrait of writer/performer Dan Harmon, the self-proclaimed mayor of "Harmontown," the popular podcast he hosts.
Berkeley's documentary bears the same name as Harmon's loquacious, therapeutic circus, and hardcore devotees will already be familiar with the details of that freewheeling, improvisational, mental odyssey and the ways in which it thrives on audience participation.
Following Harmon on the podcast's national tour, Berkeley's principal thematic concerns alight on the relationship between "Harmontown" and its intense and particular citizen: "a nerd full of love."
Harmon is joined on the tour bus by his girlfriend (now wife) Erin McGathy, comptroller Jeff B. Davis and dungeon master Spencer Crittenden, a breathing symbol of the way in which the "Harmontown" podcast experience erases barriers between audience member and performer.
Crittenden, a bearded and bespectacled introvert who lives with his parents, soon emerges as the show's unexpected star: an accomplished "Dungeons & Dragons" host swept up into Harmon's new raison d'etre. Crittenden's move from spectator to content creator inspires the Harmenian army, and Berkeley includes multiple scenes in which members of the "Harmontown" fan base take photos with and tell stories to both Crittenden and Harmon.
Podcast success aside, Harmon is probably best known as the creator of "Community," the single-camera sitcom that premiered on NBC in 2009. Prior to "Community," Harmon's comic bona fides (he has been referred to as "tortured genius" enough times to make the ghost of Vincent van Gogh snip his other ear) were well established.
The what-might-have-been, too-good-to-be-true promise of "Heat Vision and Jack," a much discussed and costly pilot that starred Jack Black and Owen Wilson, became a crazy calling card for Harmon and collaborator Rob Schrab, even though no additional episodes were made.
"Heat Vision and Jack" is covered in "Harmontown," as is Harmon's doomed relationship with "The Sarah Silverman Program," which he co-created with Silverman and Schrab. Silverman appears in "Harmontown" (along with a number of other comedians and once and future Harmon collaborators like Black, Schrab, Ben Stiller and many "Community" cast members) and describes the events leading to Harmon's eventual ouster from "The Sarah Silverman Program." Harmon's deficiencies, vaguely described here as a kind of controlling perfectionism, foreshadow the firing of Harmon from "Community."
At a certain point along the way, Dan has an epiphany that Spencer is in fact the hero of this narrative, and in another movie, Berkeley might have run with the idea. The filmmaker attempts a few times to temper the constant adulation from "Harmontown" ticket buyers with Harmon's capacity for cruelty, but some will be left with the feeling that the documentary does not go far enough in trying to grapple with Harmon's demons and dark side.
Harmon's alcohol consumption, for example, is a big elephant in a small room, but Berkeley keeps his distance, playing a night when Harmon gets fall-down drunk on moonshine strictly for laughs.
I would also have appreciated an opportunity to get to know McGathy better. She seems to suffer more than anyone's fair share of abuse, but remains pretty tight-lipped when it comes to criticizing her partner.
"Harmontown" is now available on demand.