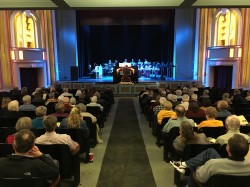 Photos by RRATOS
The Red River Chapter of the American Theatre Organ Society (RRATOS) is sponsoring a Silent Movie Night, an annual tradition for 43 years, on November 3 and 4 at the historic Fargo Theatre. Tickets are $15 in advance and $17 at the door and can be purchased in advance at local Hornbacher's locations, as well as online at RRATOS.org.
The evening will begin with classic cars on display outside the Fargo Theatre from the F-M Horseless Carriage Club, weather permitting.
Twenty minutes prior to the show Ryan Hardy will be playing prologue music on the Mighty Wurlitzer. Ryan was recently selected as one of three finalists in the international Young Theatre Organist Competition. He competed in Tampa, FL in July.
Then the show will kick off with the Fargo Theatre Big Band All-Stars, with a program that will recreate a 1940s radio show with swing-era standards that Ryan says "will get the audience's toes tapping."
The RRATOS is a local nonprofit that is dedicated to the music of the Theatre Pipe Organ, a uniquely American instrument that was created in the early 1900s to play the musical scores of movies before they had sound. According to Ryan, RRATOS produces several events throughout the year including concerts, silent movies, and weekend movie prologues at the Fargo Theatre.
Their members come from Fargo-Moorhead and surrounding areas, and they "enjoy any aspect of the organ -- whether it is playing, repairing, event coordinating, or just listening."
The program's second half is the screening of three silent comedy short films. Ryan says that these films star "three of the funniest comedians from the 1920s": Buster Keaton, Laurel and Hardy and Ben Turpin. All of the short films are family-friendly, and Ryan says they "will have the audience rolling in the aisles laughing. Silent movies, especially the comedies, are much better experienced in large crowds or in a theatre." It is much better than "watching them by yourself on YouTube."
Lance Johnson, who was recently named the American Theatre Organ Society's Member of the Year, will be playing the score of all three short films on the iconic Wurlitzer organ.
The Fargo Theatre's Mighty Wurlitzer is a restored "4-Manual, 21-Rank" pipe organ. Ryan says: "Playing the Mighty Wurlitzer can be compared to flying a plane. The organist always needs to be aware of what sounds are playing, what is happening on the movie screen, what music to play to fit the mood, and how to play the music.
There is a lot to keep track of in order to successfully play the Wurlitzer, but like most things it gets easier with practice! Playing the organ is also similar to conducting an orchestra. The organist has full control of what 'instruments' play in the ensemble at what time, and has the responsibility to control how fast the music is playing as well as how to phrase or interpret the song.
One of the nicknames for the theatre organ is a 'Unit Orchestra' because all of the sounds of a symphony orchestra are at the organist's fingertips - everything from piccolos to clarinets, trumpets, tubas, and even a percussion section. Nearly every sound on the organ is acoustic and is made by a physical organ pipe or instrument."
Ryan encourages people to attend Silent Movie Night: "It only happens one time per year, and is the only time one can truly experience a silent film played just like it was in the 1920s: in an old movie palace scored on the Mighty Wurlitzer!"
IF YOU GO
Silent Movie Night
November 3 and 4; 7:10pm prologue music; 7:30pm show T
he Fargo Theatre, 314 Broadway N http://facebook.com/RedRiverATOS