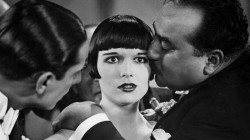 American film actress Louise Brooks had a fairly minor career in Hollywood and is best remembered today for two films she made in Germany for noted director Georg Wilhelm Pabst, "Pandora's Box" and "Diary of a Lost Girl," both from 1929. Pabst also made "The White Hell of Pitz Palu" with Leni Riefenstahl the same year, and he is noted for "The Joyless Street" (1925) and "Secrets of a Soul" (1926), among others.
These films have been available on DVD for some time, but this past fall Kino Video released a restored version of "Diary of a Lost Girl" to Blu-ray in North America (a region B-locked British Blu-ray came out a year ago with different bonus features).
Adapted from a controversial best-selling novel by Margarethe Böhme, "Diary of a Lost Girl" follows the adventures of a naïve but strong-willed pharmacist's daughter named Thymian from the time she's about 14 years old in the mid-1920s through roughly age 18 in 1929. During that brief timespan she is seduced, has a baby, sent to a repressive reform school, escapes, finds work in a brothel, and eventually finds some stability through various incidents, which include gaining a title after marrying an irresponsible and penniless count.
Brooks has a striking beauty and commanding screen presence that dominates much of the film. Except for a couple of scenes where she faints, her performance has a restrained, natural quality conveying small nuances of emotion that sometimes make her seem like a modern actress stuck in an old movie. This very quality caused many critics of the time to complain that she could not act, and was just standing around in scenes while the rest of the cast was emoting. Today her face seems more empathetic, almost hypnotic, and it's easy to see why she now has a cult following.
The other actors do have a somewhat artificial if carefully calculated stylization in their movements, but are still quite subdued compared to the stylistic extremes that marked German Expressionist cinema. A large percentage of the story is told entirely visually, both through actor performances and through camera/editing choices, with fewer than normal intertitles to provide dialogue when needed. Pabst's editing brings out characterizations and personal reactions through quick cuts between closeups, but the camera also often moves freely through scenes, increasing the dynamics of the action, with some memorable long tracking shots up and down stairwells. Other scenes are staged with a ballet-like precision and edited with increasing rhythms that build to an emotional climax while exposing various emotions.
The film was appreciated by a few artistic-minded viewers when it came out, but widely denounced by critics and public alike. Its dramatization of the decadent and hypocritical society of Germany during the Weimar Republic era just before the rise of the Nazi Party resulted in numerous cuts by censors and the film being pulled from release for even more cuts before re-opening in 1930 as sound movies were taking over. Some copies had alternate endings. With different countries and cities making their own deletions, no two surviving prints are exactly the same, and in 1997 multiple prints from around the world were used to reassemble the film as closely as possible to Pabst's original vision.
The HD picture quality on Kino's Blu-ray is quite good, although it reflects the differing condition of the surviving elements pieced together for this version. It's all very sharp with a visible grain structure, but a number of shots and complete scenes show damage from scratches and/or mild decomposition (mostly some flicker). Audio recording is excellent for the superb piano score composed, compiled and performed by Javier Perez de Azpeitia, which incorporates appropriate period music cues and classical extracts that follow the actions and mood of the movie closely.
There are only a few bonus features, the most interesting being an informative audio commentary by writer and Louise Brooks Society director Thomas Gladysz. There's also a moderately amusing 18-minute short comedy starring Brooks and directed by Roscoe "Fatty" Arbuckle in 1931, "Windy Riley Goes Hollywood," which is HD but looks overly contrasty, like a 16mm dupe. In addition there's a brief trailer (in HD) for Kino's edition.
DIARY OF A LOST GIRL on Blu-ray – Movie: A / Video: A- / Audio: A / Extras: B-