Deadly Clicks in Levinson's "Assassination Nation"
by Greg Carlson | .(JavaScript must be enabled to view this email address) | Cinema | September 26th, 2018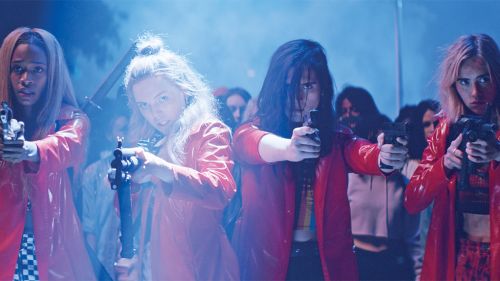 Slipping and sliding through its blood-soaked climax, "Assassination Nation" attempts to reconcile the lurid and exploitative embrace of its milieu with an in-your-face polemic on the modern hellscape of rape culture and toxic masculinity. As channeled through the hypersexualized noise of social media (where everyone can be a "star" or cultivate a personal "brand") as well as the private-until-they're-not exchanges of person-to-person text messages, writer-director Sam Levinson's provocative, profanity-laced roller coaster is an acquired taste.
Writing in "The New York Times," Bruce Fretts described the trailer for "Nation" as "the demon spawn of 'Heathers' and 'The Purge,'" a perfect logline nailing the film's penchant for quasi-teenspeak among its central quartet of high school hipsters and the allegorical but blunted home invasion bullet festival that dominates the late stages. Odessa Young is Lily Colson, the central protagonist among a wolfpack of frustratingly underdeveloped characters deserving of much more than what's provided by Levinson to play (more Hari Nef, please).
Coincidentally, the fellow Sundance premiere "Eighth Grade" shares several core thematic concerns questioning the effects of the less savory aspects of internet culture on young people (particularly young women). Even though the two movies could not be more dissimilar in terms of tone and genre, their shared moment in time points toward the inevitability of even more stories utilizing the subject of the digital realm to ask questions about the ways in which we have been, and are being, transformed by living online. Familiar subjects, from cyberbullying to identity construction, are here. Levinson's use of doxxing as a plot vehicle is also not new, but turns out to be the filmmaker's most effective device.
Can a movie that literally wears its male gaze on its sleeve (along with a number of other trigger warnings boldly stated in Godardian titles of red, white, and blue) offer a convincing message of empowerment? Are feminism and screen exploitation mutually exclusive, particularly if filtered through a masculinist lens? Katie Walsh's "Los Angeles Times" review takes the position that "Nation" fails, citing red flags like the way the cinematography establishes a "leering gaze directed at the girls' nubile bods, [that takes] much delight in wringing every sexy moment out of attacking young women, shooting scenes of violence that are gratuitously pornographic." Unsparingly, Walsh also rips Levinson ("Dude really tried to mansplain the virgin/whore paradigm") and blasts the film's attempt to decry sexual objectification while objectifying.
It might be a stretch to imagine that "Assassination Nation" will enjoy the same kind of cult longevity as the smarter, funnier, and more subversive "Heathers" a quarter century or more down the road. But Sarah Kurchak wisely reminds readers in her honest, mixed "Consequence of Sound" review that different generations and demographics naturally view texts through the standpoints of unique levels of age and experience. She cites, for example, how the forgettable and critically dismissed "Jawbreaker" "was embraced by a younger audience... hungry for something sloppy, weird, and improper that we could grapple with on our own messy and increasingly complex terms." Maybe the kids catching "Assassination Nation" today will experience a similar reaction.