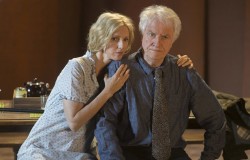 "Aimer, boire et chanter" (2014), a film version of the Alan Ayckbourn play "Life of Riley," is the product of a filmmaker strongly in control of his material and not afraid to take chances or push the boundaries of cinema.
Amazingly, its creator, Alain Resnais, was 91 years old when he made it. His film adaptation of "Life of Riley" was just released on Blu-ray this month from Kino Lorber Video.
French director Alain Resnais began making films as a teenager in the 1930s. He then did some short documentaries about art in the late 1940s (winning an Oscar for one) and made the influential documentary "Night and Fog" about Nazi concentration camps in 1955. He is best-known for his pioneering works during the French New Wave, like "Hiroshima, Mon Amour" (1959) and "Last Year at Marienbad" (1961), but continued making films regularly until his death last year, just three weeks after the Berlin festival premiere of "Life of Riley."
"Life of Riley" follows three middle-aged couples and their reactions to the news that their long-time mutual friend, title character George Riley, has cancer with barely six months to live. Despite the potentially heavy subject material, it's most definitely a comedy, a very British comedy of manners and character relationships, with the film adding a droll Gallic take on it.
At first the friends are devastated, but the more they grow to accept the inevitable, the more perturbed they become at George – at both his present attitude and his longtime personality quirks. The French title translates literally as "Love, drink and sing" but is equivalent to the common English expressions "eat, drink and be merry," or perhaps more closely to "wine, women and song." The sentiment ties in closely to the story's underlying themes.
For much of the plot, the characters are all involved in rehearsing an amateur stage production directed by another mutual friend, who never appears on screen. Ironically, Riley himself never appears either, but he is discussed in great detail and is central to the action, especially after he separately invites each of the women (one of whom is his wife who has recently left him, another his former lover from college, the third the wife of his best friend) to accompany him on a final seaside vacation after the play's final performance.
Naturally this causes great consternation, not just for the three women once they learn about the others, but also among the three husbands, one of whom is George's best friend, another his doctor, and the third the new partner of his ex-wife. To further complicate things, the daughter of one of the couples is turning 16, and she has had a crush on George since she was nine. Various long-repressed feelings by all the characters about each other and about George gradually surface.
The six-person cast forms a strong ensemble, but a major part of the film's charm is its heavily stylized approach – not exactly a filmed stage play but not a typical movie, either. The sets have a simplified theatrical appearance, obviously shot on soundstages with painted backdrops instead of actual locations; linking the scenes are artist's drawings of the various house exteriors and live-action footage of driving across the Yorkshire countryside.
"Life of Riley" is the third play by Ayckbourn that Resnais has adapted to the screen. He notes in a printed statement about the film, "what interests me is form, and if there's no form, there's no emotion. I still get a kick out of bringing together things that shouldn't meet." He goes on to agree with the playwright's own statement, "I try to do cinema with my theater, and Resnais does theater for the cinema."
The result is a film that blends cinematic and theatrical techniques to bring the audience into the characters' state of mind: a world of personal relationships and memories separate from the distractions of the outside world. It's a fitting meditation on human mortality, yet at the same time it's unexpectedly entertaining and ultimately life-affirming.
Picture quality on Kino's Blu-ray is excellent, with a colorful HD transfer of the 2.4:1 widescreen image. Audio quality, with DTS-HD 5.1 or 2.0 stereo soundtracks to choose from, is likewise excellent. Dialogue is in French with optional English subtitles. Bonus features include a trailer, a 16-minute collection of interviews with cast members about the film and working with Resnais, and a 12-page illustrated pamphlet that has interesting comments on the film by the director and a nice appreciative essay by critic Glenn Kenny written shortly after Resnais' death.
"LIFE OF RILEY" on Blu-ray -- Movie: A- / Video: A / Audio: A / Extras: B-