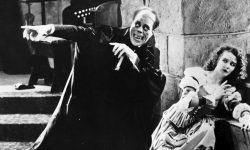 Next Friday is Halloween already and horror movies are everywhere, more thrilling than ever with the crisp clarity of a Blu-ray on a high-definition television monitor or, better yet, projected in 1080p onto a big screen, especially when enjoyed as a group experience with an enthusiastic audience.
Those who'd rather forego the glut of gory pain-porn horror, twisted psycho-killers, and pseudo-documentary paranormal thrillers that seem to have taken over the genre in recent decades, still have a wide variety of alternatives to celebrate the season of spooky thrills in HD, as well as a couple of live presentations. The original John Barrymore version of "Dr. Jekyll and Mr. Hyde" will actually be screening at MSUM Thursday, Oct. 30, in Weld Hall's Glasrud auditorium, starting at 8 p.m. The showing is free and open to the public, and live pipe organ musical accompaniment will be performed by Dave Knudtson.
The very same night the Fargo Theatre will be hosting the Grindflicks "HorrorFest3," an all-evening selection of campy horror movie trailers from the 1950s to '80s (typically far more entertaining than the films themselves), punctuated by a screening of the full-length Lon Chaney classic "The Phantom of the Opera" accompanied on the theatre's mighty Wurlitzer by Lance Johnson. The Fargo Theatre's HorrorFest starts at 6:45 p.m. with trailers from the '50s and '60s, and "The Phantom of the Opera" begins at 7:30 p.m. At 9:15 are the more "adult" oriented trailers from the '60s to '80s.
Several worthwhile and sometimes decidedly offbeat horror films for genre fans have become available on impressive-looking Blu-ray editions since last Halloween. Shout Factory's fun seven-film Vincent Price collection Volume II, coming out this week, is one of the highlights, featuring iconic genre classics from 1959 to 1972. Big news for many horror fans is the new box set of all ten "Halloween" films, including original, sequels, and remakes from 1978 to 2009, with some alternate cuts and numerous bonus features (hint – no surprise that John Carpenter's original remains the best!). I've already reviewed the classic silent versions of "Dr. Jekyll and Mr. Hyde" (1920) and "Nosferatu" (1922), both new to Blu-ray from Kino almost a year ago. Werner Herzog's moody, melancholy, and stylish reimagining of "Nosferatu, the Vampyre" (1979), starring Klaus Kinski and Isabelle Adjani, finally reached Blu-ray this May from Shout Factory, including both its German-language and simultaneously-shot English-language versions, plus a commentary, documentary, trailers and stills.
The unexpectedly successful 2014 reimagining of the classic "Godzilla" is now on Blu-ray from Warner. This big-budget 3-D updating of the allegorical sci-fi thriller is well worth seeing, but it will make more sense and be a much richer experience to those who have seen not only the original 1954 version (on Blu-ray from Criterion), but also several of the later sequels that continued over the next half-century.
Sixteen classic "Godzilla" movies from the 1960s through the early 2000s came out on Blu-ray this past year from various distributors to capitalize on this summer's "Godzilla" marketing. Fans of Japanese "kaiju" (giant monster) movies should find most of them entertaining to various degrees. Other viewers may need to adjust to the convention of men in monster suits battling through miniature reproductions of Tokyo and other cities. Most of the films are aimed at children and teenagers, with fairly obvious environmental messages. Many also have some interesting subplots that unfold before, during, and after the monster battles and destruction. Picture quality on these varies by film, with some of the 1960s-70s titles actually looking better than many of the 1990s-2000s titles.
Another classic Japanese kaiju character, "Gamera" (a gigantic rocket-powered turtle), received a more sophisticated reboot in the 1990s, but to tie in with the new "Godzilla" movie, all eight original (1965 to 1980) Gamera films showed up this past spring in two budget volumes of four films each. These are mostly aimed at younger children ages 6 through 12, but are often quite charming. Picture quality again varies by film.
Horror fans may also want to track down Kino Classics' new Blu-ray of "The Death Kiss" (1932), which reunites Bela Lugosi, David Manners, and Edward Van Sloan, the noted stars of Universal's hit "Dracula" (already on a gorgeous Blu-ray) from the year before, but it is not a horror film. Instead it is a nifty, fast-paced little murder-mystery set in a movie studio, with decent production values including exemplary cinematography and editing for such a low-budget ($50,000) production, along with competent, effective performances from a cast of a few name stars and countless Hollywood veterans. While it may often seem a routine whodunit, the script cleverly sets up numerous red herrings and misleading clues, and provides enjoyable moments of pre-Code Prohibition-era banter, Hollywood self-satire, and cutesy comic shtick. Also, the location filming gives a revealing glimpse behind the scenes inside a real movie studio that raise it above average interest for any film buffs.
Picture quality is a mixed bag. A little over half the film is a crisp HD scan of a beautiful if slightly-worn archival original print with limited hand-tinting in certain scenes. A few sections seem to be either well-worn copies or fuzzy 16mm blowups inserted to fill in gaps missing from the superior surviving print. Audio is clear but often has background hiss or noise. Kino has included an entertaining audio commentary providing plentiful interesting background information on almost every actor and numerous production details. The only other bonus is a trailer (in HD) for the Bela Lugosi film "White Zombie," also available on Blu-ray from Kino.
THE DEATH KISS on Blu-ray – Movie: B+ / Video: B+ / Audio: B / Extras: C+
IF YOU GO:
Horrorfest 3
Thurs, Oct. 30, 6:45 p.m. (6 p.m. doors)
Fargo Theatre, 314 Broadway
Dr. Jekyll and Mr. Hyde
Thurs, Oct. 30, 8 p.m.
Weld Hall, Minnesota State University Moorhead