​Fargo Film Festival 2019: Hidatsa's 'trail of tears' documentary
by C.S. Hagen | .(JavaScript must be enabled to view this email address) | Cinema | March 21st, 2019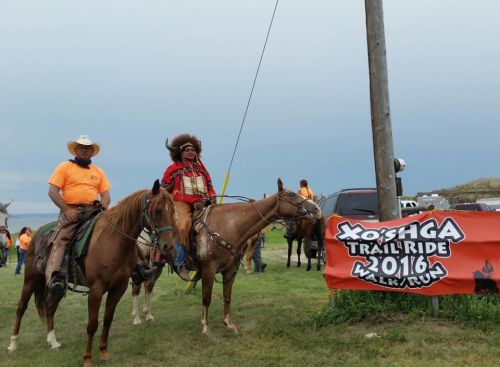 FARGO – Most people know the Trail of Tears that followed the Indian Removal Act of 1830. The U.S. government – under the direction of President Andrew Jackson – forcibly removed tens of thousands of Natives from their ancestral homes.
Thousands were murdered or died along the way west of the Mississippi River.
Less well known is that in 1869 the Xoshga Hidatsa People under the leadership of Crow Flies High and Bobtail Bull, fled persecution and lived along the Missouri River near present-day Williston. They wanted to live free and maintain a traditional lifestyle, Valerian Three Iron, the great great grandson of Crows Fly High said.
The tribe wasn't discovered until 1894 when the government imprisoned and force marched the Xoshga back to Ft. Berthold.
Three Irons is a producer of a documentary called "We Are Still Here," which focuses on a symbolic horse ride in 2016 commemorating the historic march. Many Hidatsa also died along the 100-mile-march, including Three Irons' great grandmother, who sat down on a hill overlooking her homeland as her tribe was led away.
"This documentary is about the Hidatsa people living under the thumb of the U.S. government and not being allowed to live the way they had been living, in terms of song and dance and ceremony," Three Irons said.
"Our Hidatsa people had their own trail of tears. I believe we were the last to surrender or to succumb to the reservation days."
In addition to the symbolic ride, the documentary also digs deep into more current issues such as the flooding of the Garrison Dam and how the event displaced many Native Americans, the state's oil boom and how Natives are affected and also hope – the hope that remains after more than a century of oppression.
The documentary was shown at the Fargo Theater on Thursday morning, but will also be shown at the Minneapolis St. Paul International Film Festival, the Black Hills Film Festival, and will travel to Turkey, and other countries, another producer, Sylvia Donnelly, from Missouri, said.
"I think it's relevant for building bridges of shared cultures, and a shared history that affects not only people of North Dakota but a worldview every place that we as white immigrants have settled," Donnelly said. "There is an extreme amount of relevance on who we are calling immigrants.
"In terms of us who want to live free, despite skin color, this documentary is very relevant," Donnelly said. "We can be supportive of being critical thinkers, being aware and not allowing ourselves to be herded up."
The symbolic ride awakened an awareness among those who participated of their traditions through stories, just as the Xoshga Tribe brought the old traditions and language back to the Hidatsa people after 25 years living free, Three Irons said. A time when the U.S. government was doing everything in its power to isolate, assimilate, and colonize Native tribes.
"One of the more positive things that happened is that every time we took a time for break, they would gather all of the children and put them in the center with horses and riders all surrounding them, and then usually an elder would offer prayer, and pray for them and the coming generations," Three Irons said.