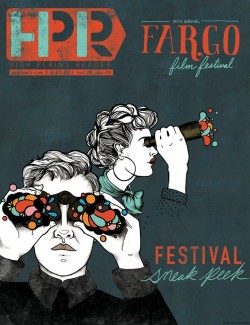 By Brittney Goodman
Spring must be around the corner, as the Fargo Film Festival is coming to downtown Fargo March 4–8, bringing with it the bustle of visitors from near and far, filling up not only the historic Fargo Theatre, but also local restaurants, pubs, coffee shops and hotels.
Even if the temperatures are not yet toasty (but we can hope, can't we?), downtown comes alive during the Fargo Film Festival, and this year's event promises a warm, stimulating and inviting atmosphere for all festivalgoers.
The festival is a flourishing event in its 14th year and has continued to grow from its grassroots beginnings in 2001, when 30 films were shown on one screen, to 2014's burgeoning 100+ films, representing 16 states and 13 countries, shown on two screens at the iconic Fargo Theatre.
Under the energetic leadership of Emily Beck, Fargo Theatre's executive director, volunteers have selected a variety of films with something for any and every movie lover.
Fest guests are the best
One of the best parts of the Fargo Film Festival is getting to know the filmmakers and other special guests. Beck loves "meeting the extraordinarily talented filmmakers that travel to Fargo from all over the world. It is great fun to introduce them to our community and watch them discover all of the surprising things Fargo has to offer."
FFF 14 promises a record number of visiting moviemakers, actors and others from the film community.
Opening the fest on Tuesday, March 4, is the heartfelt documentary "Bending Steel" featuring a special guest appearance by subject and star Chris "Wonder" Schoeck.
The film is about the struggles of a young, aspiring "professional Oldetime Strongman" and follows Schoeck's journey from his early days training in a small basement storage unit to his very first performance at Coney Island. Schoeck plans to treat the audience to a taste of his strongman show, planning to bend some steel at the screening.
Another special guest is Roger Moore, a widely syndicated film critic whose reviews appear in the Orlando Sentinel and many other dailies, including the Forum of Fargo-Moorhead. Moore has North Dakota ties, having attended the University of North Dakota.
Other scheduled guests are director Matthew Perkins and star Aaron Beelner of the hilarious independent comedy "The Little Tin Man," which screens Friday night, March 8. The movie has delighted audiences at many film festivals and features the quirky and sweet story of a waiter and actor who wants to break out of his typecast roles and win the "big" part of the Tin Man in Martin Scorsese's "The Wizard of Oz."
Check the FFF website (fargofilmfestival.org) for other guests as many other moviemakers and actors are attending to support their films.
This year's recipient of the Ted M. Larson Award, the festival's highest individual honor for longtime contributions to film, is Art Phillips, local filmmaker and director and general manager of Video Arts Studios. An encore screening of Phillips' documentary "The Road to Little Rock" will take place on Friday, March 7.
"The Road to Little Rock" is a documentary about the historic decision of Judge Ronald N. Davies to desegregate Little Rock Central High School and also highlights the role of the nine African-­American students who stood up to racism.
The FFF includes many chances to meet with filmmakers and other guests during Q&A sessions at film screenings, panel discussions and more. Luncheon panels featuring film related topics will take place at 102 Broadway on Wednesday through Saturday at noon, with catered food and lively discussion. And each night features a pre-­party at a variety of downtown restaurants.
Animation
The animation category winner, Michael Cusack's "Sleight of Hand," came out of Australia along with honorable mentions "Butterflies" and "Shelved." According to animation jury chair Kari Miller Arntson, "Sleight of Hand" is a stop­motion film with a surprise ending and is "very engaging and fun to watch."
"Butterflies" features the voice talent of the incredible Rachel Griffiths and tells a story of a young artist who has to choose between creativity and the offer of a high paying job that "threatens to kill her dreams."
Finally, "Shelved" is a comedic film where two loser robots discover they are being replaced … by humans. Arntson says, "We have so many exceptional films in our animation category this year, you won't want to miss them."
Experimental
While experimental films may be the hardest to define, the Fargo Film Festival has a very strong and interesting array of experimental offerings for 2014. The winning film in the category is "F­Line" by Silvia Turchin, which experimental film jury chair Aaron Baker describes as a "poetic documentary" featuring an abandoned San Francisco streetcar. Turchin is a FFF veteran, having brought her film "131 Russ" to the 2011 festival.
Baker sees 2014 as a very strong year for experimental films, "with a batch of films grounded in haunted atmosphere, fractured humanity and narrative and formal innovation."
Another film, "Wrest," directed by Kent Lambert of the band Roommate, was created from culled footage from the Chicago Film Archive.
In addition, the film "Postface" examines, through analog video manipulation, the career and disfigurement of actor Montgomery Clift.
Documentary Feature
In addition to category winner "Bending Steel," Raymond Rea and his jurors for documentary feature have selected an interesting and diverse lineup. Rea is eager to screen the historical documentary "The Buffalo King," which "covers a piece of almost unknown Northern Plains history: the eventual rescuing of a herd of buffalo from the slaughter of those animals that changed the face of the plains."
Rea also says, "mixing archival sources with striking present day photography" allows the viewers to "hear a story that is little known and that should be of interest to local festivalgoers."
Gabe DeLoach's energetic "If We Shout Loud Enough" will delight rock music fans, telling the story of the Baltimore underground music scene through the frenetic Baltimore garage punk band Double Dagger.
Rea is also anticipating "Half the Road," a "powerful look at women's cycling and, in a larger sense, the struggles and victories of female athletes altogether."
Finally, another standout in this strong category is "A Fragile Trust," a beautifully made documentary that follows the story of Jayson Blair, the "New York Times" journalist who plagiarized a significant amount of work. Rea says, "the film carefully looks at all sides of Jayson's climb to the top and eventual downfall."
Documentary Short
Tracie Demianiuk, documentary short jury chair, is "happy to see films from all over the world in the category." Some of the countries represented are Iceland, South Sudan, China and India.
The provocative film "Framing the Other" is the category winner. Directed by Netherlands filmmakers Ilja Kok and Willem Timmers, it features women of the Mursi tribe of Ethiopia and a Dutch tourist preparing to photograph them.
Demianiuk commented on the humor in the film, but that it also made her question "who is using who and what impact do the tourists have on the Mursi people?"
The honorable mention in the category is "Duk County," which is also set in Africa and tells the story of a five-day mission to deliver eye care in a remote section of South Sudan. Dr. Roger Furlong, one of the physicians in the movie, will be on hand to answer questions.
Narrative Feature
With 50 submissions, a record amount, the narrative feature category proved challenging to "whittle down to the best," according to jury chair Matt McGregor. He sees the selected narrative films as "a very diverse" lineup.
One highlight is the category winner "3 Mile Limit," a New Zealand film based on a true story and set in 1965 when the government did not allow rock 'n' roll on the airwaves. A crew of young and determined disc jockeys sets out on a boat to bring music to the masses.
Another is the heartwarming comedy "Putzel," about the aspirations of Walter "Putzel" Himmelman to take over his uncle's smoked fish emporium and to win the affections of the girl of his dreams, Sally (played by Melanie Lynskey of "Two and a Half Men" and "Heavenly Creatures").
Narrative Short
Lisa Faiman, narrative short jury chair, is "most excited about the diversity of topics and countries represented" in the category. Faiman particularly enjoys the variety of approaches and themes.
For example, there is the humor in "Barbie Boy," telling the story of Bobby, an imaginative 7­-year-­old whose favorite toy is the classic Barbie doll, much to the concern of his father.
There is also much witty comedy in "Groom's Cake," in which a gay couple gets more than they bargained for on the eve of their wedding.
Also, "Rúbaí," from Ireland, is a hilarious look at a young Catholic girl who declares she's an atheist, much to the amazement of her teacher, mother and priest.
Faiman sees these movies as a "nice contrast with darker films," such as the startling "Beauty Mark" (Canada) and disturbing "Scrubber" (United Kingdom).
Faiman says all of the narrative shorts will lead viewers to lively post­-movie coffee shop discussions.
Student films
Trina Spaeth, jury chair of the student film category, has seen a progressive increase in the quality of student films being submitted to the festival. "Student filmmakers are submitting very professional looking films," stated Spaeth, and that will "bring another layer of diversity" to this year's festival.
Highlights of the student category include "Daddy" by Miah Detjen, "Fergus Falls" by Matt Eckholm and "My Sister Sarah" by Elizabeth Chatelain.
The winning film, "First Prize," by Kevin McMullin of Columbia University, is sure to please audiences with its creative plot involving a dinosaur and a science fair.
Finally, the cinematography in J. Christian Jensen's "White Earth" is fantastic. The film is told from the perspective of three children whose lives are touched by the North Dakota oil boom.
Volunteers shine
What many people do not realize is that it takes a village to run a film festival. Nearly 60 volunteers help to make the Fargo Film Festival possible.
Beck thanks the "family of dedicated volunteers" for much of the festival's success: "This diverse group of cinephiles works throughout the year to make the festival a truly remarkable event for the community."
Volunteer coordinator Tricia Fossum says, "Our volunteers shine with their welcoming attitudes, which has helped to brand our festival as a meaningful experience for all who attend. There is an enthusiasm that builds when creative people with a common purpose to promote the Fargo Theatre and independent film work together."
Volunteers work on juries to select the films, provide hospitality to visiting guests at the festival, share information, work at the merchandise table and much more.
Fossum adds, "There are numerous behind-the-scenes efforts that make the festival great, and thanks cannot begin to express how much each volunteer is appreciated."
Quality and depth
Matt Olien, senior co­-chair and recipient of this year's Margie Bailly Volunteer Spirit Award, has been with the FFF since its inception.
When asked about the 2014 festival, his comments focus on quality, describing the upcoming event as having the "best quality and depth in the history of the festival."
Olien notes that the narrative feature category "outdid itself" with many outstanding films in what Olien believes "is the hardest category in which to produce a high quality film" in the absence of a Hollywood budget.
Some of Olien's favorite films in the upcoming fest are "Bending Steel" and "Framing the Other." He says, "Festivalgoers will be blown away by the quality this year" in all categories.
Hurray for the underdog
Beck highlights "the underdog" as a key theme in the 2014 Fargo Film Festival. This theme starts with "Bending Steel," which features "a relatively small and extremely shy man who dreams of being a Coney Island stage performer."
Beck says, "Our Friday night comedy showcase follows a little person pursuing big dreams in 'The Little Tin Man'."
Moreover, the student film winner tells the story of a "middle school outcast whose incredible imagination leads him to a discovery beyond his wildest dreams."
Beck sees these stories as making you laugh, cry, and "cheer for the little guy with the long odds."
"In the end for me," Beck says, "it always comes down to the movies. I delight in the opportunity to give a young or up­-and-­coming filmmaker a venue to show their work. I love bringing in audiences and showing them something new, something exciting, something challenging. I feel extremely privileged to be a part of connecting these incredible films and this incredible community."
Other events
The festival starts with a noon press conference at the theater on Tuesday, March 4 announcing the Best in Show winners and will conclude with special award presentations and "Best of the Fest" highlights on Saturday, March 8.
Festival guests and visiting moviemakers will go bowling again at Moorhead's legendary All-Star Bowl on Thursday, March 6. Admission is only 10 bucks for shoe rental and unlimited bowling and all ages are invited. The pins start falling at 9:30 p.m.
Always a crowd favorite, the eclectic 2-Minute Movie Contest continues this year with a 9:30 p.m. showing on Friday, March 7. Admission is only two dollars, and there is always a line out the door.
2-Minute Movie Contest organizer Greg Carlson says, "As usual, short form moviemaking shows just how much imagination can be packed into 120 seconds or less. And this year we are teamed up with the Plains Art Museum's special exhibit of Jason Simon's One Minute Film Festival. I am really grateful to Colleen Sheehy and the staff at the Plains for making this happen."
The Friday evening pre-party will take place at the Plains Art Museum starting at 5 p.m. with Simon in attendance, giving festival guests an opportunity to see some of the amazing short work collected by Simon for more than a decade.
Tickets and festival passes are on sale at the Fargo Theatre. The festival web site contains information about movies, guests and special events online at fargofilmfestival.org, along with the complete festival schedule.
Now that you have a taste of what's coming, I hope to see you among the crowd of movie lovers descending upon Broadway with your copy of the High Plains Reader, your festival pass on a lanyard and your film-obsessed friends.
If you've never attended before, make the Fargo Film Festival your symbolic transition from winter to spring!