​Gibney looks at Scientology in "Going Clear"
Cinema | May 27th, 2015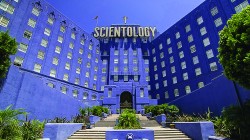 Alex Gibney's documentary "Going Clear: Scientology and the Prison of Belief" uses author Lawrence Wright's similarly titled book as the basis for a feature-length examination of the controversial organization known to many as the secretive, confusing and mysterious spiritual home of celebrities like Tom Cruise and John Travolta. Legally recognized as a religion by the IRS in 1993, the Church of Scientology began when prolific science fiction writer L. Ron Hubbard morphed his pseudoscientific counseling techniques known as Dianetics into a "religious philosophy" of Byzantine complexity that vacuums money from adherents in a Ponzi-like structure of levels based on one's ability to purge past traumas through confessional "auditing."
Hubbard's esoteric narrative unsurprisingly cobbles together all kinds of pulpy hogwash in the astonishing tale of Galactic Confederacy dictator and alien traveler Xenu, who invaded Earth some 75 million years ago in a DC-8-like spaceship during events known in Scientology as "Incident II." Gibney does spend ample time examining the better-known aspects of Hubbard's biography, but Philip Seymour Hoffman's performance as the LRH-esque Lancaster Dodd in Paul Thomas Anderson's "The Master" better imagines the kind of charisma needed to invent a religion from the ground up and convince people to come along for the ride.
Left somewhat in need of illumination by Gibney is a fuller explanation of Scientology's appeal to intelligent and rational humans, especially given its tremendous capacity to attract such huge sums of money and a fair number of Hollywood millionaires. Both Cruise and Travolta make appearances in the film by way of archival material, with the "Top Gun" star often raving like a rabid, foaming lunatic in thrall to current Scientology leader David Miscavige. Travolta comes across as humble and earnest by comparison, but beyond the usual speculation that Miscavige possesses massive files of potentially career-ending blackmail on these stars, we continue to wonder why the successful actors remain so loyal.
One of the most distressing things investigated by Gibney is the intense harassment faced by the so-called apostates who leave Scientology. Filmmaker Paul Haggis, whose very public split with the group in 2009 made headlines and led to Wright's 2011 feature in "The New Yorker," is better known than Sylvia Yvonne "Spanky" Taylor, Jason Beghe and Sara Goldberg. However, the personal accounts of the latter trio – as well as the participation of high-ranking senior executives Mike Rinder and Marty Rathbun, who alleges that Nicole Kidman had been illegally wiretapped by Scientology bosses while married to Cruise – are chilling testimonials of prison-like conditions and mental and physical abuse for anyone out of favor with Miscavige.
The vast number of possible storylines contained within and without Wright's research precludes comprehensive coverage in Gibney's film. Perhaps the most discussed omission is any mention of Miscavige's wife Michele, who has not been seen publicly since 2007. Longtime Scientology critics, including Wright, have previously alluded to the absence of Mrs. Miscavige as yet another example of the terrifying manner in which those who run afoul of high leadership are treated. Undoubtedly, Gibney had enough content to create a series of films on Scientology, but what emerges in this single-serving introduction should inspire the curious to learn more about one of the strangest religious movements of the 20th century.
"Going Clear" premiered at the 2015 Sundance Film Festival and can be seen on HBO.