Golden girl: Danner delights in "I'll See You in My Dreams"
Cinema | June 24th, 2015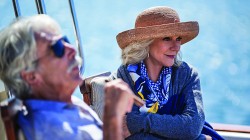 A luminous Blythe Danner portrays one of the warmest and most inviting characters of her long career in "I'll See You in My Dreams," a quiet and seductive movie about the contours of friendship and the parameters of solitude. Danner's Carol Petersen resists the entreaties of her trio of pals (Rhea Perlman, Mary Kay Place and June Squibb) to sell her house and join them at the snazzy retirement community/country club where they socialize over cards and the occasional medical marijuana indulgence. Carol, whose husband has been dead for more than two decades, prefers her own kind of carefully ordered independence.
Director Brett Haley, who co-wrote the movie with Marc Basch, doesn't let his tender age interfere with his interest in treating with respect a demographic virtually invisible in popular movies. Some of the filmmaker's choices, like the large black rat that appears just the right number of times to establish its symbolic and narrative credentials, or Carol's altered-states interaction with a police officer, read more broadly than the movie's most consistent asset: the delicate reminders that we are all subject to the march of time and its accompanying losses.
Following the devastating death of her beloved dog Hazel – a tough scene positioned early and rendered with unflinching detail – Carol makes an unlikely friend in pool cleaner Lloyd (Martin Starr), a bright but rudderless semi-slacker whose introversion and circumspection click with Carol's sensibilities. Lloyd and Carol bond over a shared interest in music-making, and a scene in which Danner slays a karaoke performance of Arthur Hamilton's torch classic "Cry Me a River" is worth the price of admission. The age difference between Carol and Lloyd yields several opportunities for the wiser partner to hold forth with some astringent truths, but Danner's delivery bypasses any potentially preachy overtones.
Gears shift considerably with the arrival of Sam Elliott's Bill, a courtly smoothie whose charming smile and Zen-like patience lay waste to the battery of pathetic losers encountered by Carol at an uncomfortable speed dating event. Bill's entrance offers an age-appropriate romance strained a bit by Carol's platonic bond with Lloyd, but Haley wrings a great deal of subtlety from the quirky triangle, even pulling off one of those classic movie tropes in which an unexpected visit reveals that "company" has spent the night. Several commentators have remarked on the whisperingly discomfiting manner in which Haley circles around and flirts with a possible sexual spark between Carol and Lloyd, and the film handles it as confidently as the similar tension between Mark Ruffalo's Dan Mulligan and Keira Knightley's Gretta James in "Begin Again."
Some viewers might yearn for additional layers of conflict, but others will admire and appreciate Haley's resistance to manufacture disagreement for its own sake. For example, when Carol's adult daughter Katherine (Malin Akerman) comes for a visit, one expects some kind of generational or familial strain. Instead, the conversations between the two women, and for that matter the majority of the one-on-one interactions throughout the film, invite the viewer to listen in on thoughts – to paraphrase Bill – right just the way they are.