​Heller Does Mister Rogers for Grown-Ups in 'A Beautiful Day in the Neighborhood'
by Greg Carlson | .(JavaScript must be enabled to view this email address) | Cinema | November 26th, 2019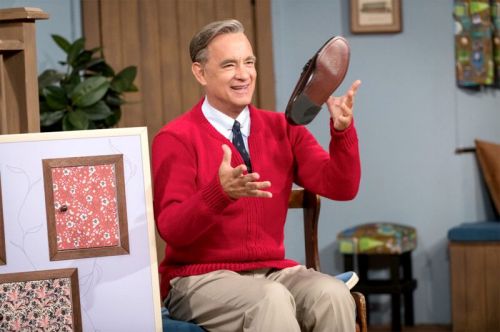 Of the three feature films directed by Marielle Heller, all of which are based in one way or another on biographical source material, "A Beautiful Day in the Neighborhood" is the least successful. But that opinion doesn't mean her newest work is a bust; the movie's curiosity about the blurry lines between childhood innocence and grown-up cynicism rhymes with similar themes in "The Diary of a Teenage Girl." And the exploration of authenticity and role-playing, central to "Can You Ever Forgive Me?," lives in all three movies. Despite misperceptions that "Neighborhood" is a biopic of beatific children's television host and icon of kindness Fred McFeely Rogers, Heller makes the bold choice to cast the famous personality as a supporting player in the story of another.
Mister Rogers probably would have supported the decision.
"Neighborhood" is inspired by journalist Tom Junod's 1998 "Esquire" cover story "Can You Say … Hero?," although Heller's film, written by Micah Fitzerman-Blue and Noah Harpster, only loosely commits to fact-based storytelling. Instead, the filmmaker invites us to visit someplace parallel to the Neighborhood of Make-Believe to participate in a cathartic Mister Rogers experience expressly designed for adults, or those who might have forgotten what it is like to see the world through the eyes of a very young person. In this sense, Heller's movie is perhaps more aligned with Rogers' 1978 series "Old Friends … New Friends" than with the more famous and familiar "Mister Rogers' Neighborhood."
The central Junod-esque protagonist christened Lloyd Vogel, is played by Matthew Rhys. Rhys occupies the unenviable position of portraying the Ebenezer Scrooge-like writer as a wounded and distrustful pessimist with serious daddy issues. Vogel's reputation precedes him, and we discover that Rogers is the only candidate on a list of subjects willing to be profiled by the sharp-edged Lloyd. One need not even watch the trailer ("Lloyd, please don't ruin my childhood") to guess that the skeptic will be a believer before the end credits. Rogers, we already know even if Vogel has yet to learn, isn't capable of faking anything.
Who is going to argue with the casting of Tom Hanks? Even so, the reason I don't care for most fictionalized biopics lies in the imitation of one well-known person by another. No matter how flattering the inhabitation or the mimicry, my mind wanders to the "real thing." Morgan Neville's documentary "Won't You Be My Neighbor?," with the genuine article front and center for the duration of the show, is more transcendent and transformative than Heller's experiment, despite Hanks' skillfulness, the facsimile of Rogers' signature sweaters, and the replica sets rebuilt at Pittsburgh's WQED, with studio footage captured on vintage Ikegami television cameras.
The music, including Rogers' own beautiful compositions, factors significantly alongside a rather lovely complementary score by the director's brother Nate Heller. Some tear-jerking, nearly obligatory Nick Drake and Cat Stevens, going to town like a waterworks insurance policy, also makes the soundtrack. Cameo appearances by several Rogers family members, friends, and collaborators will be spotted by sharp-eyed fans. Whimsical miniatures and shifting aspect ratios further evoke the oddity of the earnest Rogers and his limitless interest in the well-being of others. Heller even embraces some of the master's own techniques honoring presence, patience, and quietude -- including a nod to a legendary 1972 episode and Rogers' brilliant "gift of a silent minute" to think about those who have helped us and "loved us into being."