​Here's Mindy!
by Greg Carlson | .(JavaScript must be enabled to view this email address) | Cinema | June 26th, 2019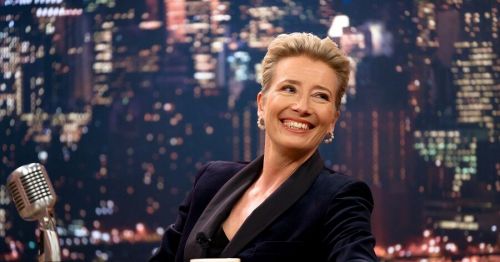 Nisha Ganatra's "Late Night," featuring Mindy Kaling as both star and screenwriter, tackles a wide range of challenging topics. Toxic masculinity, white privilege, gender inequity, tokenism, quota-based hiring, and intra gender conflict and competition are a few of the areas under examination in the writer's room and surrounding milieu of the multiple Emmy-decorated talk show hosted by Emma Thompson's Katherine Newbury. Newbury's vehicle faces waning ratings and the indignity of a replacement host in the form of a below-the-belt bro comic played, in a parodic industry swipe, by Ike Barinholtz. Can Kaling's Molly Patel, an enthusiastic newbie, save the day?
Close kin to "The Devil Wears Prada" and the broad outlines of the superior-subordinate relationship movie, "Late Night" borrows elements from Kaling's biography while sticking close to the beats and rhythms of the episodic serialized television sources familiar to the performer's fans (both good and, per Emily Nussbaum, bad). Patel's growth is mapped in several ways, including the interactions she shares in groups and one-on-one with the frustrated Newbury, and the equally tough treatment meted out by the immature members of the staff. Kaling's effectiveness is certainly open to interpretation, but most jokes and gags land with more confidence than the film's odd depiction of the deficiencies of Newbury and her show.
"Late Night" struggles to define almost all the characters in the ensemble beyond providing the majority with a single, instantly recognizable trait. Thompson and Kaling eke out something closer to multidimensionality, but worthy and formidable veterans like Amy Ryan, as a tough network chief, and John Lithgow, as Newbury's devoted but ailing partner, should have been given more. The young-ish white dudes writing for Newbury, led by the fragile and thin-skinned head monologue scribe Tom Campbell (Reid Scott in a meta-allusion to Kaling's friend and ex B. J. Novak) work interchangeably as a one-headed pack of unenlightened wolves.
Any number of small screen examples -- from "The Mary Tyler Moore Show" to "30 Rock" -- contain sharper, richer explorations of gender within the milieu of behind-the-scenes media and TV production. Had "Late Night" been stretched out to a season of episodes, some of the curious choices might have been better justified or explained. Why is Patel shown making the leap from work in a chemical plant to a nightly television series with only the thinnest experience doing stand-up? Why does Newbury seem so utterly distant, clueless, and out of touch in relation to the kinds of bits that succeed for her competitors -- especially if her show has been a powerhouse Emmy magnet?