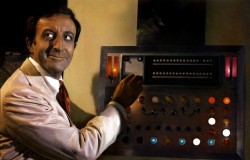 Best-known for his "Pink Panther" films and other comedies loaded with carefully-timed sight gags, director Blake Edwards now has several of his notable films available on Blu-ray, including "Operation Petticoat" (1959), "Breakfast At Tiffany's" (1961), "Experiment In Terror" (1962), "The Pink Panther" (1964), and "The Great Race" (1965). The latter film I reviewed back in September when the Warner Archive Blu-ray came out. That same month Kino released a nice Blu-ray edition of one of his interesting but somewhat lesser films, "The Party" (1968), which reunited Edwards with "Pink Panther" star Peter Sellers.
Like a number of other Edwards movies (notably "The Great Race," but also the antics of the inept Inspector Clouseau in the "Pink Panther" films), "The Party" consciously tries to recapture the free-spirited, sometimes anarchic feeling of classic silent comedies. In fact Edwards reveals in one of the bonus interviews how he originally intended to shoot it completely as a silent film (although in color and widescreen), but after the first day he and Sellers agreed that Sellers needed to use his voice to become fully enwrapped in his character of a bumbling actor from India. The film's basic plot is the material of a classic short comedy that might have starred Harry Langdon, Harold Lloyd, or Laurel & Hardy.
A foreign actor (Sellers) imported to work on a Hollywood epic is so absent-minded and accident-prone that he ruins takes and destroys a set. Then, in the process of being banned from ever working at the studio again, his name is inadvertently written down on the guest list to the studio head's swanky Hollywood party. Naturally the actor is both surprised and delighted to attend. That's essentially the entire plot. The rest of the film is a leisurely and gradually snowballing series of incidents that develop at the party, each growing from what has happened before until things get so out of hand that the police finally show up the next morning. The faintest of romantic interest comes from the presence of Claudine Longet as a sweet young French starlet/singer hoping for a screen test, who's somehow attracted to the childlike insouciance of Sellers' character, Hrundi V. Bakshi.
The bulk of the film looks like (and actually was) an extended episodic improvisational sketch centered mostly around the off-the-wall comedy of embarrassment Sellers specializes in here, but also heavily around the steadily increasing intoxication of one of the waiters (Steve Franken) throughout the party. In fact Franken sometimes steals the show from Sellers. Other episodes involve a P.A. system, dinner arrangements, a Russian musical-dance troupe, the producer's teenage daughter and friends bringing home a baby elephant, and a houseful of soapsuds. Much of the first half seems a bit forced, but things get a bit crazier and funnier as the film progresses.
There's a lot in "The Party" to like, with many individual incidents being quite funny and others more hit-or-miss. The film also presents a fun time-capsule of 1967-era Hollywood attitude and style. However, anyone looking for a cohesive plot, story arc, complex motivations, or symbolic subtext will find only the faintest of traces. It would have made a memorable ten to twenty-minute short some two to five decades earlier when comedy shorts were a mainstay of theatre screens. As a feature-length film, it gives the feeling of watching a meandering, free-form exhibition of talented comics having fun doing what they do without the restrictions of plot and dialogue. Nevertheless it remains an excellent record of Peter Sellers' often oddball blend of comic genius and comic excess, and it bears hints of his performance over a decade later in "Being There."
Picture quality is mostly very good on this well-photographed 2.35:1 widescreen transfer. The high-definition scan accurately reproduces the somewhat grainier 35mm film stock used for this production, compared to the incredible crisp clarity visible on the "Breakfast at Tiffany's" and "The Pink Panther" Blu-rays. Close-ups generally look quite sharp, while some long shots are softer and/or grainier, although colors are all nicely-saturated, displaying the art direction's vivid late-1960s hues in the sets and costumes. The original mono soundtrack has a nice wide frequency response of bass through treble.
Roughly an hour's worth of bonus features include an original trailer in HD, and five brief interview featurettes (all standard-definition) done in the early 2000s. These give interesting background on the film, production techniques (mainly the pioneering new technology of "video assist" allowing instant playback of takes), the director and producers. The bonus featurettes do much to set the film into context and may well increase appreciation of it.
THE PARTY on Blu-ray – Movie: B / Video: A- / Audio: A / Extras: B-