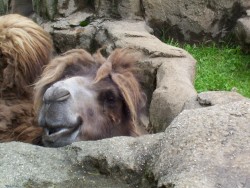 By Jessica Steinke
On a sunny summer day in Wahpeton, N.D., 4-year-old Olivia runs along the fence of the camels' habitat at the Chahinkapa Zoo. Her blonde curls bounce with excitement as she examines her favorite animals. Olivia is a frequent patron of the Chahinkapa Zoo, where she enjoys seeing her beloved pair of Bactrian camels. As she's poised along the fence, the brown camels stand on their lumpy knees, gnawing their daily rations of grain. Their two humps, heavy eyelashes and shedding lumps of fur communicate their ability to live in extreme environments, whether sand or snow.
Regardless of their hardy design, "fewer than 1,000 Bactrian camels currently exist outside of captivity," reports zoo director Kathy Diekman. The camels' natural habitat decreases each year to make room for a population influx. Their meager numbers landed them on the endangered species list. Concerned with conservation, Wahpeton residents decided to take action. For a town with fewer than 8,000 people, they put forth a monumental community effort, gathering recyclable aluminum beverage cans. Profits for the effort provided an endangered animal a home and has been responsible for making children like Olivia smile for over a decade.
The residents' efforts not only bought the city zoo a camel, but they also demonstrated an innovative way to be sustainable. The National Recycling Coalition commended them with an award for creative recycling efforts and paid for production of a commercial featuring 40 local children to relay Wahpeton's achievement. Broadcast across the nation, the coalition ad hoped to spark sustainability innovation in others.
Capturing waste and recycling benefit communities in many ways. Economies increase with the formation of jobs as companies turn the unusable into valuable, non-traditional products. Communities thrive as they unite with common objectives. Recycling as much material as possible will result in a sustainable balance with nature, ensuring a promising future with abundant resources.
Wahpeton saw the value in one overlooked commodity commonly thrown in the trash: aluminum cans. Striving to work together, the community achieved results that impressed on a national scale. As a result, the small-town residents experienced the gratification that comes with national accomplishment.
Recycling can create unity among an area's residents. The Chahinkapa Zoo wanted to bring the community together by teaching resource conservation along with animal conservation. In 2011 the Environmental Protection Agency (EPA) estimated that over $1 billion of aluminum was lost to landfills. The Chahinkapa Zoo saw such waste as an opportunity and decided to take action. The zoo created a fundraiser titled, Cans for Camels in 1999 and set a goal of acquiring a female companion for their male camel. As a non-profit, the astronomical $10,000 camel price tag seemed unreachable. Refusing to be governed by budget alone, the zoo staff launched their Cans for Camels program.
Locals transported cans to designated bins around town where zoo volunteers worked tirelessly to collect them. Volunteers hauled truckloads of cans to a recycling center where the zoo received the current market price—today, approximately 40 cents per pound.
"The thing I really like as a Zoo Director is not everyone can give huge donations, so this is a way of everyone having some ownership in the zoo," Diekman says.
To the delight of zoo officials, purchasing the $10,000 camel concluded in merely three years. The zoo staff considered this a major success, so they just kept the program going. "We think recycling is very important," Diekman says. "Financially, it adds $5,000 a year to the zoo." Diekman sees participation as "a great community thing that has brought us all together." Even more gratifying, local residents now feel proud of themselves.
Reclamation also spawns jobs for residents. The EPA estimates 10,000 tons of waste going to landfills creates one job. In contrast, 10,000 tons of waste recycled creates 10 jobs. "One thing people don't realize is that the recycling industry rivals the automotive and truck industry in the United States, so it's a very serious contributor to our economic growth in this country," says Mary Aldrich, MinnKota Recycling sales director. MinnKota makes an effort to keep jobs local. The company fills local demand first before shipping their products outside of the regional area. All recycled glass collected by MinnKota gets shipped to Glass Advantage in West Fargo, N.D., and all recycled newspaper goes to Pactiv in Moorhead, Minn. Pactiv employs over 170 people and Glass Advantage approximately 10-15. Therefore, approximately 180 jobs rely on Fargo-Moorhead area's recycling habits.
Companies strive to use recycled material in innovative ways. Someone might assume that a glass bottle arriving for recycling will again leave as a glass bottle; in reality, this is rarely the case. A vast array of nontraditional products rely on recycled material as their main component.
Recycled glass holds little value in the market. Crafty companies continue to demonstrate how recyclables bought for nothing can be transformed into a valuable product. Glass Advantage currently leads the way in Fargo-Moorhead's local market. "Recycling glass and making it into the product that we make is kind of new to everything; in fact, we used to be one of only three in the United States," reports office manager Caren Stearns. Since their initial start-up, competing companies have been popping up all over the nation. Glass Advantage proves their industry to be profitable, which is why other companies have followed suit. MinnKota and surrounding towns furnish all their glass, clear and colored, free of charge. Glass Advantage pays only for transport costs. In turn, they manufacture the glass into landscaping rock and glass blasting media—a fancy title for sandblasting. A 50-pound bag of glass blasting media or landscaping rock brings in $10 to 12. This is remarkable, considering the glass had no value when it came to the Glass Advantage warehouse. "We produce on average about 10 million pounds in a year into a new product," Stearns reports. The reclamation of this glass is substantially profitable for the company and also great for the community, as it keeps over 10 million pounds of waste a year out of the local landfill.
Despite the advances made in the recycling industry, the majority of recyclable material still ends up in landfills. A 2012 study conducted by the EPA found a U.S. recycling rate of only 34.5 percent. Capturing the entirety of valuable resources we generate creates a more sustainable balance between humans and nature.
Resources that aren't recycled get packed into landfills around the country. As a nation, we don't have the resources or the space to continue living frivolously. It's not only individuals who need to be taking action but businesses as well. Many locals express frustration with Fargo-Moorhead businesses and their sustainability policies, or lack thereof. Aldrich is one who demonstrated frustration with a local hotel's recycling policy. "I was at the Ramada for a wedding, and I was surprised that they weren't recycling when I know they have receptacles there to recycle," she reported. Aldrich pulled aside an employee to question this discrepancy, to which he reportedly replied, "Well, certain events we don't recycle."
Unfortunately, what Aldrich experienced with the Ramada is not uncommon. Restaurants and hotels typically take the easy road by not recycling. Most claim they do not have the manpower or the space to accommodate a sustainability program. However, some local hotels, such as the Holiday Inn and Hotel Donaldson, see the importance in resource conservation. These establishments improvise staff and space to enable a successful sustainability program. Supporting businesses that have implemented feasible practices proves to be a great way to keep valuable resources out of landfills.
All resources on the planet remain limited. Permanently burying valuable material is not economical or sustainable. Less than 25 percent of all plastic produced in the U.S. gets recycled, according to the EPA. If the U.S. reprocessed the other 75 percent, one billion gallons of oil and 44 million cubic yards of landfill space annually would result. The world faces a dwindling oil supply. Reducing the amount of plastics that enter landfills is important in extending the lifespan of this resource and also decreases our reliance on importing foreign oil.
Glass Advantage breaks glass into fragments to make their final products. By shattering this material, the company helps the environment by speeding up rates of decomposition. The U.S. National Park Service estimates that one glass bottle takes approximately one million years to decompose in a landfill. "By using the glass we make from sand, and by recycling it, you're not depleting more of our resources," Stearns says. "I think it's a good deal."
Pollution strips the planet and its inhabitants of their health and sometimes their lives. Recycling can help combat this problem. The weight of this problem doesn't fall on one individual, but on everyone.
The process of recycling has changed rapidly since its onset. Companies continue to put materials to use in new, creative ways. The creation of new products from recycled material helps communities come together to achieve common goals. Keeping the valuable material out of landfills benefits everyone, but unfortunately, participation is lacking. The more resources that we capture, the more sustainable balance we keep with nature.