​Impressive Blu-rays of vintage noirs
Cinema | June 3rd, 2015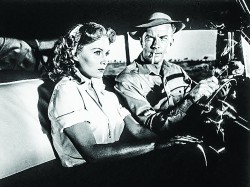 More examples of the classic film noir subcategory of crime thrillers have been showing up on impressive-looking Blu-ray releases, including several crossover genre pictures that incorporate various noir themes with a number of variations on the formula.
The solid semi-noir murder-mystery "Cover Up" (1949) came out this past spring from Kino, and the gripping desert-survival drama "Inferno" (1953) became available in a region-free 3D Blu-ray from Scottish distributor Panamint last fall.
Devotees of rough, hard-boiled noir thrillers might be disappointed by "Cover Up," especially from its ominous artwork and catchphrases such as "Love is like murder…when you're in…you're in deep!" Several of the classic noir elements pervade the film, including cynical/ironic observations on human nature, urban vs. small-town life, the criminal justice system, hints of high-level corruption plus some great, moody, low-key nighttime cinematography.
However, it's basically a straightforward, well-constructed murder mystery with plenty of red herrings, co-scripted by its star Dennis O'Keefe under the pen name Jonathan Rix. The plot of a relentless insurance investigator receiving local resistance and hostility when he starts to dig into a supposed suicide bears similarities to various other films, but it is nicely reworked with some surprise twists.
O'Keefe's character Sam Donovan meets the attractive Anita Weatherby (Barbara Britton) on the train into town a few days before Christmas, soon learning she's the daughter of the respected town banker with a precocious teenage sister. Naturally this sets up a parallel romantic plot that provides additional conflict as characters start to overlap with his murder investigation.
Sam's first meetings with the local sheriff (William Bendix) are met with indifference and reluctance to reveal any new details of the case. The more he uncovers, the more the sheriff urges him to forget the case and leave town. Not a single person in town seems the slightest bit upset about the man's death and some are outright glad of it. All this naturally encourages Sam to dig even deeper, giving him more time to romance Anita just as his discoveries begin stimulating Anita's own uneasy suspicions, not to mention those of the family maid.
Without a lot of action sequences, the film's pacing may seem leisurely, but the increasingly interlocked parallel romance/murder investigation plots, several unexpected developments from time to time and some intriguing moral-philosophical dilemmas the story raises (partly tied to the Christmas-season timeframe), all enhanced by the crisply-detailed black-and-white cinematography, hold interest throughout.
Kino's "Cover Up" Blu-ray has a fine HD transfer, showing minor film wear on occasion but otherwise extremely sharp and clear, giving viewers a much better chance (than anyone seeing the movie via DVD, VHS or internet) to pick up on the numerous visual clues that may or may not help solve the crime. Audio is very good overall for the late 1940s. Unfortunately there are no bonus features beyond a menu and chapter stops.
"COVER UP" on Blu-ray – Movie: B+ / Video: A+ / Audio: A- / Extras: F
Fans of the 1953-54 "golden era" of 3D filmmaking are being treated to more and more vintage examples of how effective true three-dimensional cinematography could be. "Inferno" ranks with the best, a powerful thriller with memorable cinematography even without 3D. The disc includes the complete feature in both its restored original 3D as well as a 2D version playable on standard Blu-ray players.
Unlike typical noir films, "Inferno" mostly takes place in the glaring sunlight of a barren desert instead of a city at night. Not only that, but its bright, rich Technicolor hues are at odds with noir films' traditional use of dark black-and-white. The noir staples of a femme fatale and overwhelming sense of impending doom are present, however.
A faithless wife (Rhonda Fleming) and her scheming lover (William Lundigan), who happens to be her husband's shady partner, decide to leave her alcoholic, obnoxious husband (Robert Ryan) to die alone in the desert with a broken leg, blaming his fate on his well-known eccentricity.
In true noir tradition, characters are all self-centered with none particularly likeable, despite occasional twinges of conscience. Ryan gives one of his best performances as the selfish, vengeful millionaire who must suddenly rely upon himself alone rather than hired minions. Fleming and Lundigan do reasonably well as the flakey wife and ruthless business partner, but neither has quite the driving intensity that makes Ryan stand out.
The film crosscuts between parallel plot threads of the husband's struggle to survive and efforts of the wife and lover to cover up all evidence of their role in his predicament, while the police search for the missing business tycoon.
As much a star as the actors is the evocative three-dimensional cinematography. From the very first shot, 3D is not treated as a cheap exploitation gimmick, but rather becomes a key element in emphasizing the vastness of the Mojave Desert location, revealing a far more intimidating challenge for the film's anti-hero to overcome. This is especially evident in scenes where he must lower himself down a cliff, taking care not to damage his broken leg even further. A number of nicely scripted, ironic plot twists lead the two parallel threads to overlap before a final confrontation (with plenty of 3D action) and a satisfying conclusion.
Picture quality is outstanding in both 2D and 3D, scanned in HD from a Technicolor release print in fine condition. Audio quality is decent, but unfortunately the original stereo soundtrack does not seem to survive. Extras include a 16-page illustrated pamphlet, different trailers for the 3D and 2D releases, and an interview of Rhonda Fleming by Pat Boone discussing her overall career, charities and personal faith.
"INFERNO" on Blu-Ray – Movie: A- / Video: A / 3-D: A+ / Audio: A- / Extras: B-