​'It Follows' Friday night
by Greg Carlson | .(JavaScript must be enabled to view this email address) | Cinema | March 4th, 2015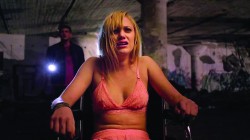 "It Follows," writer-director David Robert Mitchell's sophomore effort, is a chilling companion piece to his debut feature "The Myth of the American Sleepover."
A retro-styled thriller that pays homage to a variety of classic horror movies like "Diabolique," "Night of the Living Dead," "Halloween" and "A Nightmare on Elm Street," Mitchell's spare, elegantly composed hallucination is at times reminiscent of Charles Burns' "Black Hole," and the moviemaker capitalizes on evocative Detroit locations that include both well-groomed suburbia and boarded up, decaying neighborhoods.
The story centers on Jay (Maika Monroe), whose relationship with Hugh (Jake Weary) goes from bad to worse following a consensual backseat tryst. Dosed with chloroform and tied to a chair is certainly not the pillow talk Jay expected, but Hugh drops a bombshell: he slept with Jay to "pass along" a dreadful problem. Malevolent "followers" track the last person afflicted with the mysterious curse, and, as we learn in the tense prologue, the result of being caught is fatal. Mitchell is deliberately light on exposition, leaving the audience to puzzle out both the parameters of being followed and the possible solutions.
The sexual infection motif is deployed by Mitchell as both fulfillment and subversion of the genre's sex-equals-death tradition. Only a carrier can see the approaching followers, forcing Jay's circle of protectors, including sister Kelly (Lili Sepe) and friends Yara (Olivia Luccardi) and Paul (Keir Gilchrist), to set aside their skepticism as the threat intensifies. A fraught love triangle is introduced when attractive boy-next-door Greg (Daniel Zovatto) joins the group, catching Jay's eye and deflating Paul's hopes. Mitchell uses the trope to explore two facets of the ethics of sexual transmission: sleeping with someone who knows you are "sick" and sleeping with someone who does not.
Director of photography Mike Gioulakis beautifully exploits the possibilities of the widescreen image, and as pointed out by Peter Debruge, the film's "meticulous compositions rival Gregory Crewdson's ethereal suburban-gothic photographs." Two of the deepest pleasures of "It Follows" reside in Mitchell's appreciation of the long take and the traveling shot, and the filmmaker stages numerous scenes that place the viewer inside a moving car along with the weary, anxious victims. Several of those moments echo "River's Edge," even if Mitchell's characters are not quite as well defined as the dead-end kids in Tim Hunter's brilliant film.
Our revulsion at the slightly altered familiar – perfected by George Romero in his 1968 masterpiece "Night of the Living Dead" – manifests in the series of followers pursuing Jay. Like the flesh eaters in Romero's apocalypse, the creatures in "It Follows" walk and don't run. They are often seen in an unexplained state of undress. They can be young or old. They can be strangers or loved ones. They are invisible to all but the unlucky infected, and Mitchell executes several hair-raising scenes indoors and outside – nowhere is safe.
Even though the John Carpenter-esque score by Rich Vreeland's Disasterpeace has received deserved acclaim, several critics have taken at least minor issue with the movie's last major set piece, a confrontation set in a cavernous indoor swimming pool that ends up raising more questions than it answers. The eerie atmospherics of that aquatic setting don't quite match up to a similar scene in "Let the Right One In," another film that shares many of the smart sensibilities of "It Follows." Both movies invite repeat viewings to appreciate all the details however, and "It Follows," like "The House of the Devil" and "You're Next," reminds us how much fun it can be to get scared.
"It Follows" will screen on Friday, March 6 at 7 p.m. at the Fargo Film Festival. Tickets will be available at the door. Producers Jeff Schlossman and Erik Rommesmo will participate in a Q-and-A after the screening.