Jack Black and James Marsden star in dark high school reunion comedy
Cinema | May 23rd, 2015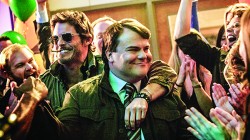 WARNING: The following review reveals key plot information. Read only if you have seen "The D Train."

In their feature directing debut, "Yes Man" screenwriters Jarrad Paul and Andrew Mogel take a stab at blending sitcom-like laughs with social introspection, and the results are as confused as the emotional state of main character Dan Landsman (Jack Black). Landsman, the self-appointed chairperson of his Pittsburgh high school reunion committee, spots old classmate Oliver Lawless (James Marsden) in a national Banana Boat sunscreen commercial, and he convinces himself that his upcoming event will be a smash if he can deliver Lawless to the party. Cooking up a phony business trip to Los Angeles to hide his intentions from his supportive wife Stacey (Kathryn Hahn) and his old-fashioned boss Bill (Jeffrey Tambor), Dan's plan to connect with Oliver goes so well that the men have a one-night stand in the City of Angels.
The sexual encounter comes as a huge surprise to both Dan and the viewer, and the filmmakers – who also co-wrote the script – stage the scene, and especially its final shot, as a comic bombshell dependent on shock value. While the directors make several gestures in the wake of the tryst to alleviate perceptions of outright homophobia, the repercussions of the incident demand more detail than the movie ultimately offers. Oliver, marginally predatory and self-loathing, defines himself as a kind of omnivorous sexual opportunist, neither entirely straight nor gay. He claims that his seduction of Dan meant nothing, and the viewer must take him at his word.
Oliver's indifference opens several potential readings of the character, and few of them are positive, even as the script provides Marsden with a number of terrific scenes to demonstrate Oliver's libertinism (threesome advice given to Dan's 14-year-old son, for example, is the topic of one hilarious if farfetched exchange playing out an equally farfetched subplot). The real disappointment is that Dan's hurt feelings – acutely communicated by Black – are shrouded in too much ambiguity. Dan might be simultaneously ashamed, traumatized and exhilarated by what happened in LA, but "The D Train" only hints about the condition of Dan's heart when it comes to his relationships with Oliver and Stacey.
The filmmakers are more successful in the handling of another of the movie's chief thematic concerns: the desperation to affiliate with the perceived "big deal." Even in Hollywood, the cracks in Oliver's reputation reveal a dreamer no better or more successful than boring family man Dan. A pitiful exchange between Oliver and Dermot Mulroney, playing a humorously unflattering version of himself in a club, is one in a series of divulgences to the audience that despite Dan's impressions, Oliver is pretty far away from living the dream.
Paul and Mogel are less confident once the action shifts back to Pennsylvania (New Orleans stood in for the Keystone State), and Dan is left to deal with the potential fallout from the lies he told in the first place. As Dan's insecurities boil over, the directors miss a genuine opportunity to fully process the experience. Dan's likeliest confidant is Stacey, and Hahn is fantastic as usual, but for whatever reason, the screenplay fails to see Dan's spouse as an equal partner in their relationship. In one especially frustrating scene near the end of the movie, Stacey is shut out from a conversation screaming for her participation.