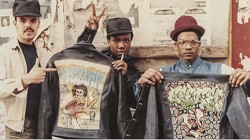 Veteran journalist and hip-hop historian Sacha Jenkins delivers his first feature-length documentary with "Fresh Dressed," a chronological overview of urban fashion that closely parallels the music scene that rocketed from the New York underground to a global phenomenon packaged by mainstream media conglomerates.
Blending a dizzying array of rappers, players and tastemakers with vibrant archival footage and photographs of evolving trends, "Fresh Dressed" struggles to cover too much territory, despite its apparent desire to be comprehensive. Any number of segments, sections and personalities – from collectors obsessed with sneakers to the artistry of entrepreneurs like King Phade/Shirt Kings and the legendary Dapper Dan – might merit an entire movie.
Jenkins opens the film with a promising lesson that starts with the customization of "cut sleeves" – the denim jean jackets worn over black leather. The look was favored by gang and crew members inspired, according to interviewee Lorine Padilla, by "Easy Rider." Adorned with hand-cut lettering, bead and studwork, graphic insignias and assorted patches, the attire simultaneously announced one's affiliation and sense of individuality.
From there, the viewer receives a primer on signature style items like Adidas with fat, starched laces to Kangols to Cazal eyewear that could, according to folks like designer April Walker, instantly identify one's borough of residence.
"Fresh Dressed" shifts away from the early years of the '70s and '80s just when it seems to be warming up, focusing instead on the emergence of streetwear brands like Cross Colours that capitalized on trends and fads like super baggy, oversized silhouettes. The marketing relationship between Cross Colours and popular television shows like "The Fresh Prince of Bel-Air" and "In Living Color" demonstrates the impact of mass media on hip-hop clothing and vice versa, but Jenkins opts to leave out the more controversial discussion on aspects of appropriation when affluent, suburban white kids started adopting looks seen on "Yo! MTV Raps."
One of the film's most glaring shortcomings is the pronounced lack of focus on women, both in terms of designers and fashionistas. Walker offers the most complete perspective as one of the movie's only significant female interview subjects, and a few shout-outs are made to trendsetters like TLC and Kimora Lee Simmons, but the interviews and B-roll overwhelmingly feature men talking about other men. Jenkins certainly could have spent more quality time sharing the stories of the women who have been every bit as influential as the fellows.
The last half of the movie fails to match the excitement of the first, delving into the rise of vanity labels like Sean John that hastened the decline of powerhouses like FUBU and Karl Kani. A photomontage reminds viewers that practically every artist, from Eminem to the Wu-Tang Clan, launched personal lines that saturated an already crowded marketplace. Unlike Sean John, the hastily greenlit apparel privileged profit over earnest innovation and creativity, evaporating when sales tanked.
Now that the Internet can communicate emerging style faster than the older media it continues to supplant, designers face the double-edged sword that combines immediacy with accelerated obsolescence, keeping a new generation of wannabe moguls on their toes.

"Fresh Dressed" is now available on iTunes and will appear on CNN later in 2015.