John Waters at the Fargo Film Festival
Cinema | March 4th, 2015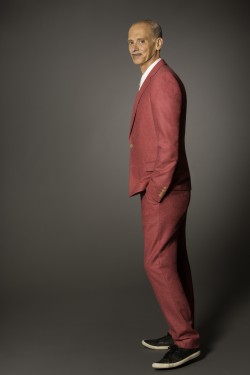 Legendary filmmaker John Waters will receive the Ted M. Larson Award from the Fargo Film Festival following his performance of "This Filthy World" on closing night, Saturday, March 7, at 7 p.m. at the Fargo Theatre. Waters will hold an audience Q & A after the show and autograph copies of his books, which Zandbroz will have available for sale at the event.
Tickets are sold separately from all festival passes and pass packages and are available now at Jadepresents.com, the Tickets 300 box office at 300 Broadway, or by calling 866-300-8300.
Waters spoke to High Plains Reader film editor Greg Carlson about his career, his hometown, and some of his favorite movies.
GBC: The Fargo Film Festival is honored to have you accept the Ted M. Larson Award.
JW: Oh good! I don't get many awards.
GBC: Ted was my mentor and film professor and I spent a lot of time talking about your movies in his office.
JW: Is he no longer with us?
GBC: He died in 2000, just before the first Fargo Film Festival.
JW: He laid the groundwork for all the film buffs in town?
GBC: That's right. He was the first person to teach film studies at the university level in our community.
JW: That's great. I had someone like that at the University of Maryland. I think these people are very important.
GBC: Congratulations on the retrospective at Lincoln Center.
JW: Thanks, that was very exciting. It was like hanging around a funeral, since you got to hear everybody speak. They showed all the movies, fifty year's worth!
GBC: I wish I could have been there. Have you ever been to North Dakota?
JW: No. I love to go places I haven't been. And of course I will put the "Fargo" movie and the "Fargo" television show completely out of my mind so I can have a fresh canvas.
GBC: The Fargo-Moorhead Convention and Visitor's Bureau has the prop wood chipper from the film.
JW: Well, they should! I'm curious, is the film loved or hated there, or both?
GBC: Movie-oriented people tend to love it. For the film festival a few years ago, "Fargo" was projected on the side of a building like a drive-in movie.
JW: That's good. And now they can do it so well. I don't know why they don't bring drive-ins back, because now you can see the image so much better.
GBC: The only downside was that the profanity was censored because the soundtrack was broadcast on the radio.
JW: Well that's no fun. It's like an airline version.
GBC: Terrible.
JW: People always think I'm Steve Buscemi anyway. They'll think that I'm there for "Fargo" again when they see me on the plane.
GBC: Steve Buscemi seems like he would be an honorary Dreamlander.
JW: Oh, he's a good guy. Once, he went as me for Halloween. When he was doing "Homicide," he dressed like me because people confused us. That year my Christmas card was Steve Buscemi dressed as me.
GBC: What does it take to be an honorary Dreamlander?
JW: Dreamland was when we were young, so probably LSD and shoplifting.
I'm having dinner with Mink tomorrow night. She lives in Nicaragua but I still see her. The ones that are alive, I'm still friendly with. I think it was just a gang of kids. We grew up together.
The thing was, we were from an upper middle class suburban universe and then we went downtown and wanted to be beatniks. And we met gay people and black people and we all hung around together, which made every community nervous.
Black cops used to stop us and say, "This isn't Greenwich Village you know. You can't hang around like this." And so we all were like sort of refugees from our own minority that hung around together.
We bought graves together and called it Disgraceland. We personally believed you should be buried with your friends.
GBC: The Dreamlanders always seemed so willing to do anything you asked them to do on camera.
JW: Well, I wasn't a sadist. The last scene of "Pink Flamingos" I only did one take. I didn't say, "Let's try that again."
They did say no to me. I asked Mink to set her hair on fire in one movie. She said no. These were ideas I thought of on marijuana, so, you know, maybe I didn't think them through.
Mink said, "How are we going to put the fire out?" I said, "We'll throw a bucket of water on you." She said no.
I asked Cookie to smash a television when it was on, with a sledgehammer. She said no. "It will explode in my face!" It might have, so I'm thankful they said no. I wasn't asking them to do these things to be evil. I just wasn't thinking it through.
It was all influenced by "Mondo Cane." That's the reason. "Mondo Cane" was one of the first shockumentaries that showed real things. In "Multiple Maniacs," Divine ate a cow's heart. That was training wheels compared to eating a dog turd.
And then in "Female Trouble," he swam across a river in full drag. There were rapids and he hit his mark on the other side. And shot up eyeliner. It was real, but I had a nurse there to help. He did learn to do a flip on a trampoline.
There was one scene in "Female Trouble" I wanted him to do – I don't know what I was thinking about – but I wanted him to vomit for real. We gave him ipecac, but he just couldn't. The whole crew was gagging and trying to puke. Then I just sort of ended it. I think that was my "Mondo Cane" period.
I think the only person that's ever done a movie that reminds me of my old films is Johnny Knoxville in the "Jackass" series. I love those movies. I think Johnny Knoxville is the spirit of anarchy and feels closest to what we were trying to do at the time.
GBC: I went to Sundance this year and saw "Being Evel," with Johnny Knoxville.
JW: I can't wait to see it. Johnny sent me pictures when he broke his penis. It was in a cast. He actually broke his penis. I never knew that was possible.
GBC: I didn't either. He talks about it in "Being Evel."
JW: Johnny is much hipper than Evel Knievel. He's much better dressed than Evel Knievel.
GBC: How has Baltimore changed since you started making movies?
JW: I guess in some ways it doesn't have an inferiority complex about itself anymore. Baltimore is really cool now. Kids from New York move here. It's one of the last cities where you can afford to be a bohemian. It's still cheap. It's conveniently located to every city on the East Coast. It's better than it's ever been.
Baltimore has always had a good sense of humor about itself. It is never impressed easily by anything. At the same time, there is always local color here. Now, like everywhere there are neighborhoods that get gentrified. And some of them, if they weren't gentrified would just be boarded up, and that isn't good either.
GBC: My friends Gabe DeLoach and Zach Keifer made a documentary called "If We Shout Loud Enough" about the Baltimore punk rock band Double Dagger. It's really good. It captures some of the things you just mentioned about contemporary Baltimore.
JW: There's a lot going on here, especially in the music scene. Beach House. Future Islands. They all stayed here. They bought houses here, which is great.
GBC: Do you have a Baltimore restaurant recommendation?
JW: There's a place called Peter's Inn that I think is bohemian and foodie, which is almost impossible, but they do it very, very well.
GBC: Do you still take a Polaroid of every new visitor to your house?
JW: I do. It's Fuji now because Polaroid, as you know, no longer makes film I can go to a drugstore and buy. I just took one two minutes ago.
When I die, the photos all go to Wesleyan University to join my film archive, but you can't really see them until I'm dead and the people that are in them are dead.
If you take a picture of everyone who has been in your house, it's very personal. I have pictures of some people I'd like to forget. Maybe were here once.
GBC: One thing I look forward to every year is your top ten movies list in Artforum.
JW: Thank you. Have you seen "Wild Tales"?
GBC: Not yet.
JW: So good. It's from Argentina. It's about revenge and is hilarious. I recommend that one highly.
GBC: I did see "Who Took Johnny."
JW: It's so bizarre because that one plot twist at the end when she says he came to the door. You're like, "Uh oh. I don't believe that."
GBC: I love that moment.
JW: If he did visit, that means he's a child molester and he's still doing it.
GBC: It's fascinating.
JW: I think it's really a great documentary because at the end you have even more questions, but you think, "What?" The plot twists in it are really good.
GBC: Are you making notes on films throughout the year?
JW: If I really like them I do. I have a box and I throw my notes in after I see a film. I've rated every movie I've ever seen since I was sixteen.
GBC: You had "Spring Breakers" at number one for 2013.
JW: "Spring Breakers" is James Franco's best movie. I love that there was an Oscar campaign for him: "Consider this shit." Hilarious.
GBC: "Scarface" on repeat. Constant, y'all. Brilliant performance.
JW: Yes it was. I love the whole movie. I like Harmony a lot.
GBC: So besides Johnny Knoxville and Harmony Korine, who makes movies today that carry your torch of perversion and bad taste?
JW: I don't know about carrying my torch. Gaspar Noe is great. Todd Solondz is great. Ulrich Seidl. There are lots of filmmakers that I really like.
I always want to see films that are startling and amazing. Not just shocking. Shocking is easy to do. But startling in the way that makes you change how you think about things. Those are the movies I like the best.
GBC: It has been a few years since George Kuchar died. A lot of younger people learned about the Kuchars thanks to you.
JW: In the 60s, he was one of the first underground filmmakers. And then later he hooked up with Curt [McDowell] and they made "Thundercrack!" in 1975.
George and Mike Kuchar were both were big influences on me because of how their films looked. Especially when I was young and saw their movies, they were the first ones that had thrift shop costumes and stolen Hollywood soundtracks and melodrama.
They were great artists. And they knew exactly what they were doing. And they never sold out. They always worked. Their movies always played. Their films are still showing all over the world.
I miss George. I did visit him in hospice. I was shocked. I knew he was sick but I didn't think he was going to die that fast.
GBC: I watched the Oscars and was hanging on every word of the red carpet exchange between Melanie Griffith and Dakota Johnson.
JW: I saw that, yes.
GBC: I was reminded of your scene with Melanie Griffith in "Something Wild."
JW: Melanie played parts that were very cutting edge! But I get why she didn't want to see her daughter get spanked. I mean, my parents never saw "Pink Flamingos." They weren't allowed to. And Divine didn't let his mother see it either. So I understand. Why would you torture yourself by watching your own kid do BDSM?
GBC: Another one of your memorable performances is the "no smoking in this theater" announcement.
JW: I shot that for the Landmark chain when I did a trailer thanking the viewers of the NuArt in L.A. because "Pink Flamingos" had played at least one day a week there for ten years.
And I was doing a thing saying thank you for paying my rent, for buying my cool cigarettes – it was a long time ago. And we did the whole thing and then they said, "We have four minutes of film left on the reel."
And we just did it. It wasn't planned. I just made it up. There was one take of it. And they played it. There was no copyright on it and Landmark didn't care. It was like a public service announcement.
It became a big hit at the NuArt and then it spread around the chain. Since there was no copyright, it went everywhere. I don't know who has the negative. I'm thrilled that they did it.
They don't make new prints so all of them really look like an old movie with all the scratches and lines and dirt, which I think only adds to it. Like a patina.