​John Wayne fans can add two more on Blu-ray
Cinema | June 17th, 2015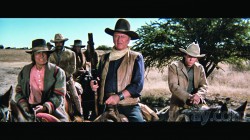 Two 1973 westerns from late in John Wayne's career came out on Blu-ray this month from Warner Home Video, "Cahill United States Marshal" and "The Train Robbers." While neither ranks among the iconic actor's best work, both are underrated, solid examples of the genre. Just three years before his final film, both show Wayne doing what he's best-remembered for. Both also stage and frame their action effectively for the wide Panavision screen. But public tastes and western films were changing in the 1960s and '70s. Westerns were starting to fade from the widespread popularity they'd enjoyed for the previous 70 years, and had begun shifting their attitudes to keep up. Many became psychological character studies, revisionist stories of anti-heroes, or allegories about contemporary social issues.
Released the same year as Clint Eastwood's R-rated "High Plains Drifter" and some years after such violent, darker westerns as "The Beguiled," "The Wild Bunch" and "Once Upon a Time in the West," Wayne's two PG-rated westerns seem like throwbacks to the westerns of the 1950s and early 1960s. They both attempt a certain modern sensibility while retaining an overall wholesome approach and more conventional (and comfortable) formulas as the basis of their plots. Nevertheless, each still has a few unexpected twists that add interest.
The central theme in "Cahill United States Marshal" continues to resonate today amidst news stories of alienated American teens running off to join gangs and terrorist groups. John Wayne's title character is a legendary, tough but fair and tolerant law enforcer who always gets his man. He's both feared and respected by his adversaries, but he's got a new problem on his hands he's not sure how to deal with effectively. Since he's spent most of his time tracking criminals, he's had little contact with his two motherless sons (Gary Grimes and Clay O'Brien), who at age 17 and 13 are now resentful and rebellious, longing for some paternal attention. While Cahill was away on his latest mission, the two boys have become involved with some shady company including the scheming, ruthless Fraser (George Kennedy), who has managed to talk them into helping him rob the local bank with a perfect alibi.
Their initial motive is simply to spite their father, and make him take some notice of them, but they start to regret their decision after two men are killed in the holdup, and they begin to recognize just how brutal and cold-blooded their new mentor can be. Cahill gets back to town and his investigations lead him to arrest a different band of thieves who are quickly condemned to death for the bank heist/murder they did not do. It is this development that starts to work on the innate sense of fairness of both father and sons, leading to the inevitable conclusion bringing justice to the people who deserve it and giving both Cahill and his sons some valuable life lessons that bring them back together. Rounding out the cast are numerous veteran actors including Marie Windsor, Neville Brand, Jackie Coogan, Harry Carey, Jr., and more.
The HD transfer on Warner's Blu-ray is somewhat disappointing. It looks better than a DVD, but is rather soft without the fine textures a well-authored Blu-ray can deliver. Audio quality on the original mono soundtrack is reasonably good. Extras, all ported from the old DVD, include an entertaining if often repetitive audio commentary by director Andrew V. McLaglen, along with a featurette and original trailer (both in standard-definition).
"CAHILL UNITED STATES MARSHAL" on Blu-ray – Movie: B+ / Video: B+ / Audio: A- / Extras: C+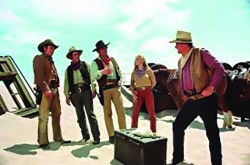 Despite its title, "The Train Robbers" is not about a train robbery, but instead is a familiar quest formula chronicling the efforts of various people to recover the gold from a previous robbery, now hidden in an abandoned train half-buried in the Mexican desert. John Wayne plays a former Civil War officer who has gathered a couple of army buddies (Ben Johnson and Rod Taylor) and a few others (including Bobby Vinton and Christopher George) to find the loot for the now-deceased robber's attractive young widow (Ann-Margret), who is the only person who knows where it's hidden. She tells Wayne that she plans to return the money to the railroad to clear the family name for her young son, and the $50,000 reward can be divided among Wayne and his men for their services. Meanwhile, the robber's old gang naturally wants to get the money for themselves, constantly following and harassing the group, and a mysterious well-dressed stranger (Ricardo Montalban) keeps his eye on the proceedings.
Burt Kennedy's script and directing provide some entertaining action and character byplay, spectacular location scenery, a modest amount of sexual tension, a playful commentary on aging and on gender stereotypes (especially in the unexpected development at the end of the movie), all set up with a clever opening-scene parody of Sergio Leone's "Once Upon a Time in the West." The movie does tend to drag several times while the search parties keep riding across the landscape and then ride some more, and then some more, before the next scenes of action or dialogue. Overall the cast keeps it enjoyable and the closing twist makes up for any shortcomings.
Image quality on Warner's Blu-ray is again slightly soft for HD, but a bit sharper than the "Cahill" transfer. The lossless DTS-HD mono sound is quite good. Bonus features are just two featurettes and a trailer, all in standard-definition.
"THE TRAIN ROBBERS" on Blu-ray – Movie: B+ / Video: A- / Audio: A / Extras: C-