​Julia Hart Powers Up with 'Fast Color'
by Greg Carlson | .(JavaScript must be enabled to view this email address) | Cinema | October 23rd, 2019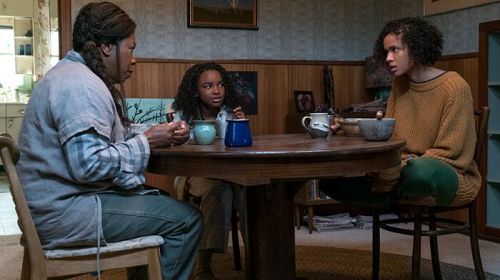 Julia Hart's "Fast Color" moved quickly and too quietly from South by Southwest debut to skinny theatrical engagements via Lionsgate's "Codeblack home" video. Several articles have already lamented the disappointing 77K box office take, wondering how such an intelligent spin on the indie superhero genre failed to make a bigger splash with viewers. Whatever the reason, the movie deserves a close look, especially from fans of kindred spirit Jeff Nichols, whose "Take Shelter" and "Midnight Special" operate in some of the same thematic territory as "Fast Color." A series based on the film is currently being developed for Amazon.
Despite the frequently-appended superhero tag, the movie, which Hart co-wrote with spouse and "La La Land" producer Jordan Horowitz, is not a cape-and-tights adventure. Instead, it shares similarities with other realistically-grounded "what if?" stories like "Chronicle" and "Brightburn," exploring a world in which people with supernatural abilities attempt to cope with the ramifications of their often terrifying powers. But "Fast Color" is also a heartfelt family saga, a melodrama about mothers and daughters, and an essay on race, class and the environmental state of the planet.
Gugu Mbatha-Raw plays Ruth, a young woman on the run from federal authorities and scientists who seek to contain and study -- and possibly harness -- her extraordinary but frighteningly hard-to-control resources. Afraid of her own strength, Ruth secures herself with rope to minimize the impact of frequent seizures that manifest as earthquakes. Hart carefully parcels out information to the curious viewer. Are these miraculous capacities somehow linked to the crippling, 8-year-long drought that has disrupted life as we currently know it? Soon, Ruth will make her way home to her mother Bo (Lorraine Toussaint) and her daughter Lila (Saniyya Sidney).
The dystopian milieu is less convincingly communicated than the sticky family ties. The scarcity of freshwater, with echoes of everything from "Chinatown" to "Tank Girl," has propelled many tales of present and future nightmares. Hart uses this element to set up a key moment of high drama as well as to comment on the fragility that accompanies real-life food insecurity. The breadth of the X-Men-esque command of physical objects is visually striking, and Hart alludes to "The Day the Earth Stood Still" in a smooth homage. The computer-generated effects -- as promised by the title -- are imaginative, inventive and chromatically dazzling.
Cast members bring warmth and empathy to their roles. David Strathairn is a welcome presence in a key supporting part. Christopher Denham, playing a researcher pursuing Ruth, starts stronger than he finishes, but that is a function of the script's agenda more than any fault of the actor. The modest production budget turns out to be a real asset, as the rural settings (the film was shot in New Mexico) ground the action in dusty, recognizable reality. X-Ray Spex lovers will appreciate the prominent use of the title track from the legendary punk landmark "Germfree Adolescents." That song and Nina Simone's "New World Coming" resonate with feminist affirmation and Black pride, and the lyrics to both adroitly comment on the unfolding story.