Just in time for the Fourth: '1776' on Blu-ray
Cinema | July 1st, 2015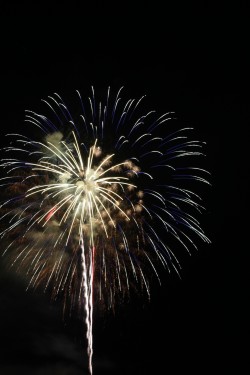 Independence Day weekend is almost upon us, with picnics, concerts, programs and, of course, nighttime fireworks typically scheduled to commemorate the founding of the United States nearly 240 years ago. It's also a great time to find a good movie set during that time period, but for whatever reason, relatively few films deal with this country's very beginnings, and those that do are not well-promoted and remain hard to find, especially on Blu-ray.
Last fall Warner Brothers released an outstanding Blu-ray edition of "Yankee Doodle Dandy" (1942), a highly entertaining musical biography of songwriter George M. Cohan starring James Cagney. However nationalistic and uplifting it may be, it's not about America's Founding Fathers. Just for fun there's Roland Emmerich's patriotic sci-fi action-comedy "Independence Day" (1996), but it too bears no relation to the events of America's original break from England back in 1776. However, a few years later Roland Emmerich also made "The Patriot" (2000) with Mel Gibson, an effective family saga set during the revolution, which has a fine Blu-ray edition and is probably the most easy-to-get film about the era.
John Ford's classic "Drums Along the Mohawk" (1939) with Henry Fonda can also be found on a limited-edition Blu-ray from Twilight Time. Oddly enough, Hugh Hudson's interesting if flawed epic drama "Revolution" (1985), starring Al Pacino and Donald Sutherland, is only available on Blu-ray from Britain in a Region B-locked edition from the BFI. A few other films on Blu-ray deal peripherally with the Revolution, such as Frank Borzage's disappointing but still underrated "Magnificent Doll" (1946), with Ginger Rogers as Dolly Madison.
With little if any fanfare, the 1972 film adaptation of the Tony Award-winning Broadway show "1776" showed up on DVD in 2002 for its 30th anniversary, and finally, some 13 years later, made its Blu-ray debut early this June. The stage musical remains a popular staple of local theatre companies, and the film features nearly the entire original Broadway cast. William Daniels stands out as John Adams, along with Howard Da Silva's delightful Benjamin Franklin and Ken Howard as Thomas Jefferson. Ronald Holgate makes a very amusing Richard Henry Lee.
The movie's careful staging of scenes and the energetic performances of the actors often show their theatrical origins, but the film remains an effective translation of an entertaining musical that combines both comedy and drama while giving the audience a good (if simplified -- some might go so far as to say simplistic) lesson about our nation's history.
As the title implies, of course, the show deals with the events leading up to the Declaration of Independence, covering the months of May through July of 1776, the clashing personalities and the political intrigue. People still being people and politicians always being politicians, the script's political comments regarding the congress and various other attitudes towards government remain no less timely today than they were over 40 years ago or a quarter-millennium ago.
The strong, tuneful music by Sherman Edwards and many great lines of dialogue hold up well today on both stage and screen. The film's faithfulness to the stage original may be largely due to the screenplay having been written by the original playwright, Peter Stone. The movie of "1776" is not just a reproduction of the stage play, however, despite a few stylized theatrical uses of lighting and arrangement of actors. Director Peter H. Hunt opens up scenes, moves outdoors and films on actual locations rather than staging everything in one room. There are some very expressive and cinematic uses of the widescreen camera (Harry Stradling Jr.'s cinematography earned an Oscar nomination), as well as editing techniques and clever visual effects.
Just before it was first released in 1972, the movie was cut from about 166 to 141 minutes, with a number of scenes shortened and the musical number "Cool, Considerate Men" deleted (reportedly at the suggestion of President Nixon). It was further cut to a little over two hours for airline and television use, losing even more of the drama and political commentary in favor of the more marketable comic elements. For the laserdisc and the DVD releases, however, original negative elements were located and the film was restored to the nearly three-hour running time that the director intended. The new Blu-ray includes the 165-minute director's cut plus an "extended cut" option that runs approximately 168 minutes (incorporating material seen in the "deleted scenes" bonus feature).
Sony recently remastered "1776" with a crisp new 4K scan of the original negative. Although the optical effects shots are still soft, overall the Blu-ray's wonderfully sharp HD transfer is a substantial upgrade in clarity from the DVD, showing off both the image compositions and textures of the beautiful widescreen cinematography, which had been severely compromised on the old "pan and scan" video versions. The soundtrack is now presented in lossless DTS-HD MA 5.1 stereo, another notable upgrade from the DVD's Dolby Digital 5.1 audio, not to mention the mono sound of the original theatrical release.
The Blu-ray unfortunately eliminates the four-page illustrated flyer inserted in the DVD case, but it includes an informative new 2014 commentary by director Hunt along with stars Daniels and Howard, in addition to the old DVD audio commentary track by Hunt with screenwriter Stone. Another new Blu-ray bonus is about five minutes of deleted and alternate scenes with optional director commentary. Carried over from the DVD, but now re-scanned in HD, are original screen tests of several actors as well as two original theatrical trailers.
Any fan of the "1776" stage musical will appreciate this long-overdue Blu-ray of the well-done film version.
"1776" on Blu-ray -- Movie: A / Video: A / Audio: A / Extras: B-