​Katelyn Whitehead Q&A
Cinema | May 13th, 2015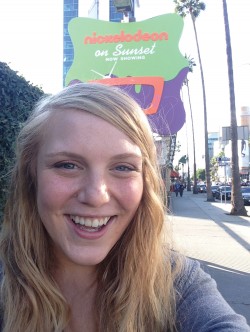 Discussing "Kurt Cobain: Montage of Heck"
Fargo-Moorhead native Katelyn Whitehead moved to Los Angeles after completing her undergraduate degree at the University of Minnesota. She is a talented artist, cutting her filmmaking teeth in Fargo 48 Hour Film Project competitions with collaborators, friends and fellow Moorhead Spuds Johan Anderson and Dan Bock. Whitehead enthusiastically endorses "Back to the Future" ("the Holy Grail of how to make a great studio film"), "The Cabinet of Dr. Caligari" ("It still blows my mind that this came out in 1920″) and "The Graduate" ("As I grow older I find my relationship to the film is different each time I see it") as essential viewing for young moviemakers.
HPR film editor Greg Carlson talked to Whitehead about her work as an intern on Brett Morgen's "Kurt Cobain: Montage of Heck."
HPR: How did you get into moviemaking?
KW: My brother is a big influence on me. He's four years older, and he got into moviemaking and he started showing me movies. My parents were always really cool about letting me watch stuff. I saw "Trainspotting" when my brother rented it. I was way too young, but after I watched that movie, it was like this whole new world of "Wow! I didn't know you could make movies like this!"
HPR: You currently work for Nickelodeon.
KW: Yes. I am an accounting clerk. I work for the show "Henry Danger." We just finished season one and we're about to begin pre-production for season two.
HPR: How did you get involved with "Kurt Cobain: Montage of Heck"?
KW: I applied to a posting that said "A Kurt Cobain Documentary," which apparently it wasn't supposed to say. I talked to Brett Morgen later and he said, "Someone almost got fired for that."
HPR: Because a million people would apply?
KW: Right. And it also said "Brett Morgen," so of course I looked him up and I thought, "This guy is legitimate." I definitely wanted to see if I could work on it.
HPR: What was the schedule?
KW: They were working 24-7, but I could make my own schedule. Interns were asked to come in at least twice a week. So the schedule fluctuated but they didn't really set an end time. After a couple of months, the production coordinator talked to me and said, "Are you interested in continuing?" and I said, "Yes!"
HPR: How long did you work on it?
KW: I loved the project so much I stayed on as long as I could. Even when I started getting paid jobs, I would go in to "Montage of Heck" on the weekends. I ended up staying for eight months.
HPR: What are some of the things you did?
KW: Tons of transcribing. They had every interview that ever happened, including home videos and phone conversations. Kurt Cobain would record his writings. So to make it easier for the director, we transcribed all those.
The second week they asked if I wanted to go to the warehouse where all Kurt Cobain's stuff is stored. I can't even remember the town and I'm probably not supposed to say it anyway. Someplace in California. Unknown location.
I got there at 7 a.m. and they handed me this full-body suit and gloves I had to wear. They didn't want anyone taking anything out.
Inside was all this stuff, from guitars to his artwork. My job was to scan this mountain of paper – things he had written and various documents about him. I couldn't even turn pages. There was a guy there and I had to ask him to turn the pages for me.
A photographer took pictures of all this random stuff Kurt Cobain had collected. That was another big project. We labeled everything. All the pictures. So many photos were taken with the intention of – it's in the movie – animating the physical objects.
HPR: Is it true you had never listened to Nirvana before working on "Montage of Heck"?
KW: It is so true! The only song I knew was "Smells Like Teen Spirit." And I didn't even really know that song very well. I honestly knew the Weird Al version better.
My very first day, they walked me over to a computer and said, "You're going to transcribe this interview. Do you know who these people are?"
I said, "Well, that one is Kurt Cobain." She said, "Yeah, he's the lead."
I said, "I think this guy looks familiar. I don't know his name."
She said, "That's Dave Grohl. He's the drummer. He's also in the Foo Fighters. And this is Krist. This is Pat Smear."
And I was like "What? There's four? My mind was blown. What in the world?"
She explained it all and I said, "Oh, OK." Obviously now I know.
That same week, Brett Morgen kept playing a song over and over because he was working on a specific part of the movie, and I remember hearing it and thinking, "This song is so good. I guess that must be Nirvana, but it can't be Nirvana!" So I wrote it down to look up when I got home. "All Apologies."
HPR: What is your favorite thing in the movie?
KW: The parts that animated the text. I can't believe how well they did it, because when I was there working on it, they hadn't even touched the animation yet.
I enjoyed seeing documents that I scanned as animation. You remember, "Oh yeah, I saw that when I was working." To see those images come fully to life was great.
I also loved the home movies. I think any person will appreciate those. Even if you're the biggest fan there are things in the movie you haven't seen, ever.