​Korine and McConaughey Introduce 'The Beach Bum'
by Greg Carlson | .(JavaScript must be enabled to view this email address) | Cinema | April 17th, 2019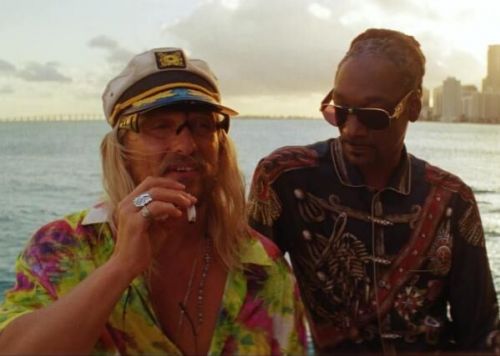 Harmony Korine keeps a tight grip on his title as one of the most critic/critique-proof filmmakers of recent times with "The Beach Bum," a sultry companion piece to 2012's memorable "Spring Breakers." Not without its own kind of middle-aged charm and a worldview to match, "The Beach Bum" is virtually unthinkable without Matthew McConaughey as priapic poet Moondog, a quintessential stoner icon whose consumption of marijuana is rivaled only by his quest for constant sexual gratification. Buoyed by an endless supply of cash from his wealthy and tolerant wife Minnie (Isla Fisher), with whom he shares an about-to-be-wed daughter (Stefania LaVie Owen), Moondog reigns from the Magic City to the Keys as the Sunshine State's wastrel laureate.
The vibe of "The Beach Bum" is more mellow than the criminal-minded "Spring Breakers," but both movies share the rainbow glow of Benoit Debie's neon-addicted photography. Debie, who also regularly collaborates with Gaspar Noe, understands the interaction of light and matter so thoroughly that his optical acumen transforms human bodies into bioluminescent angels. Whether in daylight or in dusk, Debie's measurements of the visible part of the electromagnetic spectrum tease out colors that merit the price of a ticket entirely on their own. The dazzling technical rigor of Debie's camera perfectly balances the defiant "margin of the undefined" treasured by Korine.
Korine's wild casting made for a mouthwatering trailer, but not all the promises of the preview are kept in the feature. Snoop Dogg works as Minnie's lover Lingerie, and Jonah Hill is fun as Moondog's agent Lewis. Martin Lawrence's cameo as the tourist-hustling Captain Wack, however, is a mixed bag. Korine, unsurprisingly, has no qualms about using Lawrence in a one-off piece of broad physical vaudeville complete with a "those aren't dolphins" shark attack gag that results in a severed foot. More of the same awaits Zac Efron's rehab escapee Flicker, who lets his elaborate facial hair carry most of the acting load. Jimmy Buffett plays himself, leaving viewers to marvel at Korine's powers of persuasion.
As part of a package that must have cost a hefty chunk of the total budget in music licensing fees, Buffett's own "A Pirate Looks at Forty" joins instantly recognizable tracks by Gordon Lightfoot, Eddie Money, Van Morrison, Waylon Jennings, Stephen Bishop, and Gerry Rafferty as aural accompaniment to Moondog's neverending party. The Parrotheads who stick around for the end credits will be treated to a new Buffett/Snoop Dogg collaboration called "Moonfog." According to Buffett, along with "A Pirate Looks at Forty," Korine drew inspiration for "The Beach Bum" from "Margaritaville." The translation is authoritative.
When the movie's raison d'etre orbits around aimless drifting and an ironclad commitment to irresponsibility, what might we glean from "The Beach Bum" in terms of a philosophy (or even a point of view)? Moondog's money-to-burn enactment of the Rake's Progress-lite ends not with institutional, capital-B Bedlam but with individualized, small-b bedlam. Drawing parallels to income inequality and the wretched excess on display in our leadership's worship of filthy lucre, some might strain to locate an eff-you in Moondog's rejection of riches as an end unto itself. But Korine, less provocative here than in previous outings, holds to his absurdist affection for feeling over analysis. Maybe changes in latitudes do, in fact, cause changes in attitudes.