LGBT Film Festival Celebrates 10 Years
by HPR Contributor | .(JavaScript must be enabled to view this email address) | Cinema | September 12th, 2018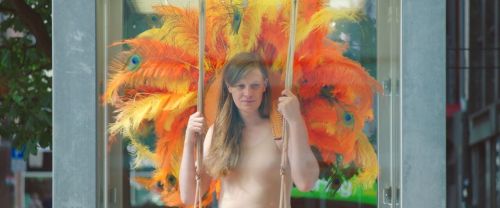 by Ryan Janke
ryanjanke@hpr1.com
The lights are down and the energy is up at the Fargo Theatre this week as the Fargo-Moorhead LGBT Film Festival kicks off, celebrating its 10th anniversary in Fargo. Festival director Raymond Rea, a professor of film at the School of Media Arts & Design at Minnesota State University Moorhead, spearheaded the project shortly after arriving in the area in 2008.
Ten years after he curated the Queer Film Series at the university, Fargo-Moorhead LGBT Film Festival is still going strong. In its infancy, Rea's university project saw, "10 people watching DVDs in an MSUM classroom." Now, it has grown into a four-day event at the iconic Fargo Theatre. 24 films span five sessions over the four days of the event. The films range in length from 5 to 94 minutes. This year's lineup includes award-winning films by both local and national directors.
Tonight you can catch director Lisa Donato's Best Comedy 2018 award-winning 15 minute film, Foxy Trot about a married couple's experience learning ballroom dance. Simon(e) Paetau's 80 minute Best Narrative Feature 2018, The Whisper of a Jaguar caps off the evening.
Friday evening will feature two more award winning films. Katie Ennis and Gary Jaffe's 15 minute Sunset took home Best in Show 2018. Sunset will be followed by Best Documentary Feature winner A Year in Transition by Lorne Clarkson. A Year in Transition is a 70 minute film that follows the journey of a 20 year-old transgender man for one year during his transition.
On Saturday, you will have the opportunity to view local director Alexa Gerber's Both Feet, which earned Best Local Film 2018. It is a 14 minute film following the quest of one woman to rebuild her life. Both Feet hits the screen during the matinee session which begins at 3 PM. The matinee session will also include Best Performance 2018 winner Maas Bronkhuyzen starring in Something About Alex, a 19 minute film directed by Reinout Hellethal. Something About Alex is the story of a boy who must come to terms with his feelings after finding out his sister and her boyfriend, who he has become close to, are planning to leave the family home.
The Fargo-Moorhead LGBT Film Festival's final session includes award winners Weather Talk and Natalie. Weather Talk is a coming out story that follows a father and son's cross-country drive. Weather Talk took home Best Screenplay 2018. Natalie, directed by Mikey Murray, won Best Narrative Short 2018. Saturday night will also include Getting Started as well as an appearance by the film's director, Andrea Meyerson.
The Fargo-Moorhead LGBT Film Festival opened last night and will continue through Saturday evening. Times are as follows: this evening and tomorrow evening at 8 PM, and Saturday at both 3 p.m. and 8p.m. Tickets are available in the Fargo Theatre lobby. They can be purchased individually for $10, or as a festival pass for $30 which gains entry to all five screenings.
The Fargo Theatre is located at 314 Broadway N, Fargo. For more information about the film festival, visit www.fmlgbtff.com.
YOU SHOULD KNOW:
LGBT Film Festival
September 13-15
Fargo Theatre, 314 Broadway, Fargo