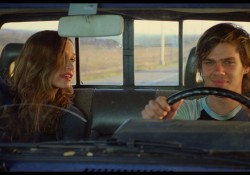 "Boyhood," Richard Linkater's 12-years-in-the-making adventure that follows the lives of a familial quartet, carries in its DNA one of the Texas auteur's most durable paradoxes: the easygoing, everyday and quotidian markers of cyclical middle class life onscreen contrast sharply with the vision, commitment and work ethic that Linklater applies to his profession. From the fascinating and entertaining connect-the-dots vignettes that propel "Slacker" to the unfolding poignancy and brilliance of the "Before" series, Linklater's continued interest and investment in chronicling the deliberately uneventful routines, intimate conversations, observational silences and tiny epiphanies experienced by his characters make "Boyhood" one of the year's most vital movies.
The lengthy production period undertaken by the intrepid cast and crew is nearly without precedent in mainstream fictional narrative cinema, although comparisons have been made to Francois Truffaut's two-decade spanning Antoine Doinel series of five films (featuring the character played by Jean-Pierre Leaud). Rumors of Stanley Kubrick hiring a young actor and shooting material for a month at a time every few years turned out to be false. In the non-fiction realm, Michael Apted's remarkable "Up" series continues to check in every seven years with a core group of participants who were children when the first installment, directed by Paul Almond, debuted in 1964.
While outliers like Kenneth Turan have employed apophasis to "rain on the parade" of the movie's almost universal acclaim, the recent film world discussion of "Boyhood" was assessed by Indiewire's Sam Adams in a piece called "Why the Unanimous Praise for Boyhood Is Bad for Film Criticism – and for Boyhood" that called attention to issues that may not have occurred to Linklater as he designed, altered, shaped and nurtured the project for more than a decade. Adams collects the varying thoughts of Armond White, Rebecca Cusey, Mark Judge and Rebecca Mead to summarize the complexities of the movie's polarizing affect. Where some see cliché, banality and a kind of "liberal conditioning" that allow audience members to validate their privilege, others will point to a Bressonian transcendence in the movie's quiet concerns.
For many, the sight of Ellar Coltrane aging from six to 18 in the course of the movie's 164 minute running time will be more than enough to put a lump in the throat. Alongside Lorelei Linklater, who plays sister Samantha and whose transformation is just as emotionally concussive, Coltrane reacts and responds to the scenarios from the perspective allowed by his chronological age at any given point in time (not unlike the evolving concerns acted by Daniel Radcliffe, Emma Watson and Rupert Grint as they grew up throughout the "Harry Potter" movies). Lorelei Linklater has received a fraction of the attention enjoyed by Coltrane, but she is every bit as valuable to the film. One imagines that a companion piece titled "Girlhood" could be equally compelling.
The movie's most deeply felt thematic exploration, however, emerges not from the remarkable changes that often occur when a single cut reveals the startling growth and maturation of the children, but rather through Linklater's portrait of parenthood. While Ethan Hawke's Mason, Sr. comes and goes, seemingly at his own pace and convenience, into the lives of his children, Patricia Arquette's Olivia represents the glorious, frustrating peaks and valleys of trying to raise a daughter and a son the best that you can without the full support and presence of a committed partner. Others, including Kyle Buchanan, have suggested that the movie could just as easily be titled "Motherhood," and Wesley Morris argues that the film contains "the most poignant depiction of a single mother I can think of." Whether one identifies primarily with the kids or the adults, growing up is hard to do, but watching your children grow up might be harder.