​Little Infinities: Adapting "The Fault in Our Stars"
Cinema | June 19th, 2014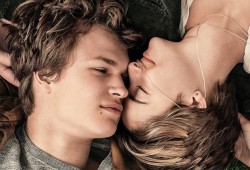 Setting aside the inevitable comparisons to "Love Story" and the less inevitable comparisons to "Dying Young," Josh Boone's adaptation of "The Fault in Our Stars" is the most mordant and acerbic kids-with-cancer story to achieve such widespread appeal. Shailene Woodley and Ansel Elgort, who played siblings in "Divergent," are now star-crossed lovers Hazel Grace Lancaster and Augustus Waters, the central characters in John Green's hit novel of the same title. Both teenagers are living on borrowed time, and one of the pleasures of Green's writing – faithfully transferred from page to screen – is the non-stop deployment of prickly, self-aware black humor that disarms many of the genre's unalterable expectations.
Hazel meets Gus at a cancer support group and they immediately spark, although Hazel at least pretends that romance is off the table. Augustus affixes himself so quickly and so forcefully to Hazel, several voices have questioned the appropriateness of his aggressive attachment. In a particularly prickly takedown in "Vulture," Matt Patches writes that Gus tests the theory that "Watching any person battle cancer, even the biggest douchebag, is gut-wrenching." Ouch. In the book but not in the movie, Hazel figures out that she bears a strong resemblance to Gus's previous, and now deceased, girlfriend. It does not help that Augustus models every dimension of teenage fantasy without flaw: he's gorgeous, smart, sensitive, devoted, and speaks and thinks with philosophical erudition beyond his years.
There is some comfort, then, that "The Fault in Our Stars" is Hazel's story. Notwithstanding the age and gender of the original author, "The Fault in Our Stars" is a welcome change from the relentlessness of big screen fictions favoring a male point of view. Online carping about Augustus fulfilling the rare gender inversion of the "Manic Pixie Dream Girl" only reinforces the need for more movies filtered through the perspective of a female. Woodley crafts an assured performance, refusing, like Hazel, to let the ever-present nasal cannula and portable oxygen tank limit or define her. A strong argument could be made that Woodley's likability and charisma help members of the audience excuse some of Augustus's pushy and obsessive behavior.
One thing hasn't changed since long before Roger Ebert defined "Ali MacGraw's Disease" as a "movie illness in which the only symptom is that the sufferer grows more beautiful as death approaches." Both Woodley and Elgort are just the sort of impossibly lovely creatures that viewers demand even of their oncology patients.
The movie's MacGuffin is the fictional document "An Imperial Affliction" and its alcoholic author Peter Van Houten, played by Willem Dafoe. Hazel's admiration of Van Houten's frank and honest account of cancer inspires Augustus to arrange a visit to meet the writer in Amsterdam, but the trip doesn't quite go as planned. Dafoe is a superior Van Houten to the one described in the book, and screenwriters Scott Neustadter and Michael H. Weber make several bold changes concerning the character, improving and streamlining the novel's more labored end game. It's still a little weird, however, that someone as brilliant as Hazel wouldn't be able to more quickly recognize the source of Van Houten's expertise.
Boone retains the novel's tour of the Anne Frank House (mostly recreated as detailed facsimile sets in Philadelphia) and its role as the site of a passionate kiss between Hazel and Gus. It is hard to say whether the moment works in either medium. While the brief length of Frank's life echoes Hazel's fleeting days, the parallels between death by cancer and the horror of the Holocaust are dubious. Not in doubt: the awful choice to retain the crowd of fellow tourists and visitors starting a cringeworthy slow clap for the kissers. At best, Green's exploitation of Anne Frank as, in essence, a metaphor/symbol/emblem for the "fate" of an early death demonstrates a lack of sophistication, even if some of his fans may now be inspired to investigate Frank's thoughts in "The Diary of a Young Girl."