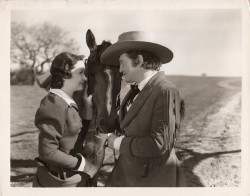 "Man of Conquest" (1939) is an effective if flawed historical epic about statesman and active politician Sam Houston, but the film is all but forgotten today despite getting three Oscar nominations in that prolific year. It just came out on Blu-ray this July from Olive Films.
Renowned for its low-budget program pictures, especially westerns and serials, Republic Pictures would occasionally lavish more attention on certain films. This one, for example, runs 99 minutes instead of Republic's more typical, tight 50-70 minutes. The studio's epic biography of Sam Houston, "Man of Conquest," might look like a routine historical biopic from the likes of a Paramount, MGM or Warner Brothers, but for the small Republic Pictures, the film has production values and ambition far beyond its usual product. It even earned the studio three Academy Award nominations in the "golden year" of 1939 – music score (Victor Young, also nominated that year for "Gulliver's Travels" and "Golden Boy"), art direction and sound recording. Cinematography was by the great Joe August, who also shot "The Hunchback of Notre Dame" in 1939 and was nominated that same year for "Gunga Din," and whose outstanding work goes back to the classic silent films of William S. Hart.
Richard Dix does a good job in the starring role as the complex, stormy, independent-thinking and often outspoken Sam Houston. Joan Fontaine appears briefly as Houston's first, rather high-strung wife, and Gail Patrick has a strong supporting role as a longtime romantic interest and eventually his third wife (with costumes by the noted Edith Head). Others in the cast include Victor Jory, George "Gabby" Hayes, Ralph Morgan, Robert Armstrong and Max Terhune.
As usual for a movie biography, "Man of Conquest" presents some basic highlights of Houston's life, covering the years from the 1820s through 1845, from the time he was governor of Tennessee until president of the Republic of Texas, and then jumping forward to the annexation of Texas into the U.S., while skipping over many of the most controversial incidents. It does not ignore all of them, however, such as his alcoholism, hot temper, scandalous divorce from his first wife, and politically unpopular championship of Native American rights in opposition to his friend Andrew Jackson's policies of removing Native Americans from their lands to reservations in the west. This included becoming a proud adopted member of the Cherokee tribe, even dressing in native regalia as Cherokee ambassador to the U.S.
No mention is made of Houston's second wife, a Native American, however. A substantial portion of the film, of course, is devoted to his fight for the independence of Texas from Mexico, as well as his unpopular tactics of retreating from the advancing Mexican army until conditions were just right for a successful attack. Being made in 1939, it is not difficult to see an inherent comparison to the ongoing struggle by European countries against military dictatorships. Perhaps wisely the film ends well before the American Civil War and Texas governor Houston's unpopular opposition to secession, despite his loyalty to the South and states' rights. The deathbed words of former president Jackson as he learns of Texas joining the Union sum up the film's basic thematic approach, that Houston was loyal both to his country and to himself.
The box cover to Olive's Blu-ray has a note that it used "the best available elements," and while far from perfect, not really doing justice to August's cinematography, it still has a respectable HD image better than a DVD. The picture is often dark, sometimes soft, sometimes quite good, as if scanned from a preservation negative that had been struck from one or more surviving release prints (reel change cues are intact). It does tend to look better on an HDTV monitor than projected on a screen, since projectors often reveal more detail and are inherently not as bright as a glowing TV set. The audio is okay, though not particularly outstanding, given its "Best Sound" Oscar nomination, again likely due to lack of original sound elements. As usual for Olive there are no bonus features beyond a main and chapter menu.
"MAN OF CONQUEST" on Blu-ray – Movie: B+ / Video: B / Audio: B+ / Extras: F