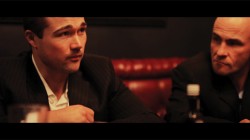 Actor/director/writer Charles Mauk talks creative process, learning curve
Local musician Charlie Mauk is best known for his hip-hop music, but he has recently taken on an entirely new project.
Mauk is serving as actor, director, writer and director of cinematography for his first full-length feature film "Aura."With the help of his longtime friend Bjorn Pedersen, who also acts in a leading role, Mauk has been able to bring his own mob film to life. It has been seven months since Mauk, Pedersen and the rest of their crew started filming, and with about 85 percent of the film finished, "Aura" currently has a tentative June 2015 release date.
High Plains Reader: What got you into filmmaking, and how did the idea of "Aura" happen?
Charlie Mauk: First I started doing my own music videos, and then from that my wife and I do wedding videos, but we also do anything that involves the camera. That's kind of how it started, basically. "Aura" has been in my head for two years. I'm a huge fan of mob movies, but I'm also a huge fan of psychological movies that make you think. And I wanted to mesh those together.
There are elements of organized crime, but there are also elements of mind twists, sort of like M. Night Shyamalan. It's something you have to really pay attention to, and there is a big twist at the end that will make you go "oh yeah!" I love that kind of stuff.
HPR: You mentioned M. Night Shyamalan. When creating your film, did you draw inspiration from and do the things many crime or thriller producers do?
CM: Yeah, kind of. What he does with the camera and the dialogue isn't particularly telling as much as the subtle clues that you have to pick up on. He makes that obvious so even the person that isn't necessarily looking for something can see. For example, in "The Sixth Sense," he used the color red quite a bit to show certain clues.
Actually, Alfred Hitchcock is someone I've really been studying. One thing he held to was that if it was shot right, you shouldn't need dialogue and could still tell what's going on.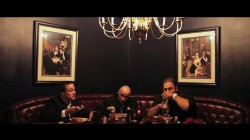 HPR: Was it hard to find the actors that fit the images you had in your head?
CM: Not really. Aimee Klein has a lot of experience and she is so solid on camera. She is so great to work with and she is always on point. Not only that, she picks up very well on how I wrote it. She can pick up on the emotion behind it and it comes through her character. She's fabulous.
Really I've found with acting, it's all about the edit and saying the line, and the actors were given some creative freedom. But I basically had a good idea of who would be doing what. Everyone seems to be able to read how I wrote it, and of course it comes to directing too.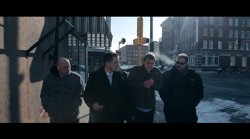 HPR: You're directing, you're acting and you're the director of photography. What is challenging about handling all three roles?
CM: Everything. When I'm in a shot, I'll tell the camera operator what I want, but when I'm shooting I might take more cuts just to get it right. What director of photography really entails is how we are going to get the shot to convey what the director or writer wants and make everything cinematography-wise match up. That's really my forte.
The directing is challenging, but it has gone well. I appreciate everyone's patience with me. It's a lot of work, because instead of just memorizing lines, I'm thinking about shots beforehand and not only that I'm the stage manager, which I'm horrible at. It's really show-up and bang it out. Some places we didn't necessarily have permission to film in. We just did it anyway.
HPR: Has your music influenced the movie?
CM: A little bit. There is very little of that in the movie. There's not going to be much featured music, and there are some hip hop elements to it. There is just a lot of music scoring. I sing and play guitar too, and I wrote a blues track for the film because I wanted to do different things for background music.
HPR: What is something you know now that you wish you knew when you started filming?
How long it takes. I knew it was going to be a lot of work but not exactly how much. It's challenging and it takes a lot of time. I mean, it takes me hours just to line up the sound. I don't think there is anything that I didn't at least suspect there was going to be an issue. I knew in general this was going to be a big task to take over. I'm super grateful to everyone that's involved. Without them it just wouldn't happen.