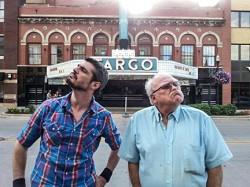 By Kari Lugo
"Madd Frank Presents Madd Frank," directed by Mike Bredon, screened at the Fargo Theatre to a near double-sellout crowd, which seemed to genuinely love local legend Delray Dvoracek aka Madd Frank.
He is loved maybe even more now than when his show was in production back in the mid-1980s and '90s. Myself, I can remember watching Madd Frank as a kid growing up in Fargo and being mesmerized by him and his zany cast of characters. I always thought it was a strange show and, back then, did not necessarily understand all the humor, but I didn't turn the channel either. I watched, just like thousands of others in the Fargo-Moorhead community.
Who knew that Madd Frank soon transcended Fargo audiences and was eventually broadcast in several different cities across the U.S.? While the show was still on the air, a young Mike Bredon was one of those impacted by Madd Frank, and some years later his colorful documentary gives us a glimpse into the birth of the "madness" of Madd Frank.
The opening sequence is quite slick, with Del Dvoracek riding through town in his electric purple classic car, top down with the wind in his hair, sunglasses on and style for miles. If anyone attending had a question as to who this guy was and why there was a documentary about him, they only need watch that opening to understand.
Bredon, who has been directing smaller projects most of his life, does a great job of setting the scene early on as he introduces the audience to Dvoracek and his kind of rock-and-roll wackiness.
From there, we weave through the beginnings of the local access UHF show and meet the cast of characters who would lend a hand to Madd Frank's lead character as they introduced "B" horror movies on Saturday nights.
One can see how wildly things sort of "fell together" for this show to come into existence and also how the local access gods seemed to supply just the right grouping of minds, willingness and tenacity in its cast to pull off such a feat on a less than shoestring budget.
The audience laughed through almost half of the film, reliving the wonderful ease of humor that flows out of the cast, each anecdotal comment well-edited to line up with the next, a nod to the team editing the film.
The film is well developed, especially given the time it was produced in, after a successful Kickstarter campaign in 2014. The film does suffer from being a bit too long, and at times, veers off course to take a deeper look into a couple of its cast members' lives. But aside from that, it is superbly entertaining and skillfully directed.
I laughed more than I'd anticipated and I felt a keen sense of the director's love and commitment for this project; a palatable passion that the audience seemed to drink up with vigor. "We love you Del!" yelled a few of them as they stood to applaud him when he entered the theater. Even Dvoracek himself said to the audience, post screening, in a rarely heard choked-up voice, "I am overwhelmedto see how many of you came out this evening."
"Madd Frank Presents Madd Frank" will go through one last string of edits and Bredon anticipates entering it in the 2016 Fargo Film Festival.