'Midsommar' Crowns a May Queen in Aster's Frightening Folktale
by Greg Carlson | .(JavaScript must be enabled to view this email address) | Cinema | July 10th, 2019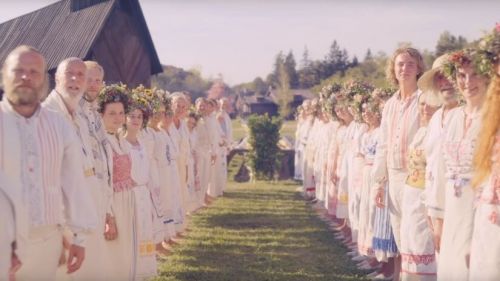 "Hereditary" director Ari Aster's sophomore feature "Midsommar" firmly cements the filmmaker's auteur bona fides. A visually stunning slice of art-house "folk horror" that draws from several touchstone movies -- most notably Robin Hardy's 1973 masterpiece "The Wicker Man" -- Aster once again explores the insidious devastation of grief, this time within the framework of a romantic relationship break-up. Bereft of jump scares and absent the visceral action of many of its scenes necessaires, "Midsommar" is executed with Bressonian control. Gorehounds should not despair, however, as Aster unleashes several nauseating depictions of mayhem, barbarity, and damage visited upon the human body.
Even prior to release, it was inevitable that "Midsommar" would divide viewers; internet discussion boards have hosted lively, intense deliberations scrutinizing the film's minutiae. Comparisons of the script to the finished film, which clocks in at a rather expansive 147 minutes, is but one of the topics. Others delve into Aster's considerations of religious faith and fanaticism vis-a-vis Christianity and paganism, explorations of gender politics, numerological symbolism, altered states through hallucinogens, and assorted conspiracies and speculations that prod at the movie's "real" meanings.
Aster creatively takes advantage of setting to drench "Midsommar" in the light of the midnight sun. Hungary stands in for the north Sweden commune inhabited by the blue-eyed, blonde-haired Harga villagers, and cinematographer Pawel Pogorzelski and production designer Henrik Svensson combine forces to render a geometrically seductive arrangement of striking, elegantly simple buildings integrated with natural features including woods, meadows, and an ominous rock formation that features in what might be the film's most shocking and stunning sequence. One could spend hours contemplating Aster's use of indoor and outdoor spaces.
Aster's previous work with Toni Collette indicated the director's appreciation of deeply accomplished, next-level performance, and the casting of Florence Pugh as the grieving, fraying-at-the-seams Dani Ardor matches the rawness and intensity displayed in "Hereditary." As a young woman clinging to a boyfriend who remains with her out of pity, Dani is Pugh's richest character opportunity since her utterly jaw-dropping and Oscar-worthy breakout in "Lady Macbeth." She navigates the complex emotional terrain of Dani's incredible journey with convincing and surefooted skill.
Aster carefully structures his films, and so much detail is provided in the expository arc. The composition of multiple frames in which Dani is the lone female amidst the quartet of faux-sympathetic partner Christian (Jack Reynor) and his friends adds to the chill. "Midsommar" captures the way in which males in a group can so completely ostracize an unwanted female "intruder." In one of Aster's many inventive touches, the prologue immediately establishes Dani as the final girl even prior to her acceptance of Christian's insincere invitation to join the trip to the rural collective where pal Pelle (Vilhelm Blomgren) grew up.
In Jordan Peele's excellent interview with Aster in the fourth issue of the relaunched "Fangoria," the "Us" director lavishes praise on his peer, suggesting that Aster has accomplished in "Midsommar" an "ascension of horror" that subverts the common victimization of the viewer in favor of a remarkable identification with Dani. Peele says, "I felt like I was being put up on this pedestal and honored through the eyes of the protagonist." Peele's astute observation acknowledges yet another way in which Aster transcends genre expectation as a teller of distinctive and original stories.