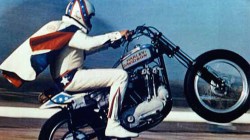 By Greg Carlson
Oscar-winning documentary filmmaker Daniel Junge tackles the larger-than-life personality of iconic American motorcycle stunt performer Robert Craig "Evel" Knievel in the entertaining biography "Being Evel."
As fast-paced and foul-mouthed as its subject during his 1970s heyday, Junge's movie prominently features plenty of footage interviewing producer Johnny Knoxville, a fellow fan who had simultaneously been developing a Knievel film prior to teaming up with the documentarian.
In addition to his conversation with Knoxville, Junge conducted sixty chroma key interviews for the movie, compositing the talking heads with "projected" images in a visually striking theatrical setting.
Junge intends to reconcile Knievel's heroic status with the man's consistently horrible behavior, and on that count, "Being Evel" is reasonably successful. As the story unfolds, two Knievels – the patriotic action figure and helmet safety advocate and the conniving, belligerent, greedy outlaw – emerge.
For millions of kids who idolized Knievel, revelations about the less savory aspects of his character are brought to life through the recollections of those involved. Promoter Shelly Saltman, for example, offers insight and perspective on his painful meeting with the business end of a baseball bat wielded by Knievel following a perceived slight published in Saltman's memoir.
Knievel's exploits were very well documented, and Junge uses a trove of archival material to his advantage. Sections on the wildly popular Ideal Toy Company's wind-up Evel Knievel Stunt Cycle and the 1971 movie produced by and starring George Hamilton contribute to an understanding of the Knievel phenomenon, but the most devoted aficionado will be looking for references to other artifacts, like the Bally pinball machine, the Topps bubblegum cards and the spectacular Aladdin Industries lunch box.
It is simply not possible to squeeze in everything (the rehearsal footage from Knievel's "Jaws"-inspired shark tank jump, included in the 2005 "Absolute Evel" documentary, is omitted here), but Junge makes strong choices to explore key highlights in depth.
No matter how many times some of the clips of Knievel's leaps have been shown on television over the last 40-plus years, audiences will react to many images with fresh amazement.
The failed 1967 Caesars Palace fountain jump, which sent Knievel skittering and tumbling across the pavement like a discarded ragdoll, receives significant attention.
So too does the 1974 Snake River Canyon attempt in the steam-powered Skycycle X-2. Junge recognizes the latter event, complete with the surreal spectacle of Hells Angels mingling with high school marching band members and the general atmosphere of criminal behavior and sexual debauchery, as a critical turning point in the narrative.
Junge and Knoxville credit Knievel as a spiritual godfather to the adrenalized and inherently dangerous world of extreme sports, modern stunt riding and the Jackass generation. Not surprisingly, the overwhelming majority of the interview subjects in "Being Evel" are men, but one of the most moving witnesses to the circus is Knievel's first wife Linda, to whom he was married for 38 years.
Suffering the indignities of her husband's serial infidelities and the psychological stress of raising four children who had to grapple with the possibility that their dad could lose his life every time he pulled on his red, white and blue leathers (and that he did so by choice), Linda's candid responses are among the film's most pointed and poignant.
"Being Evel" premiered at the Sundance Film Festival and will be widely available later in 2015.