Oh hi Mark…
by James Osborne | .(JavaScript must be enabled to view this email address) | Cinema | November 7th, 2018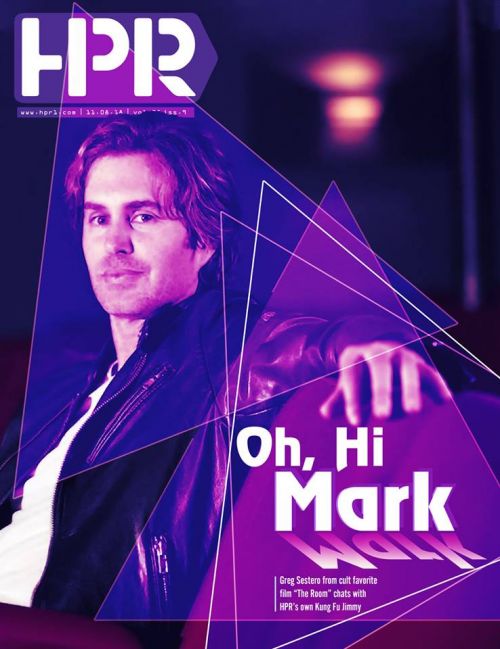 If you Google something, anything, about halfway down the page you'll find the "People Also Ask" section. The results of this section are, not surprisingly, determined by the most commonly asked questions which leads users to the most commonly clicked links. When I Googled "The Room Movie" last year "Is the movie "The Room" a comedy?" was at the top of that list.
By the way, "The Room", for those of you who just found out about media, is the 2003 film funded, produced and starring Tommy Wiseau which was considered so bad that it attracted a devout following of routine viewers. It's been called "The Citizen Kane of bad movies". The story of its production "The Disaster Artist: My Life Inside The Room, the Greatest Bad Movie Ever" written by its co-star Greg Sestero, was made into a studio-produced film starring James Franco last year.
Anyway, "The Room" came out the same year William Hung's earnest rendition of "She Bangs" graced American airwaves so unintentional comedy was en vogue, I guess. I think what Googlers really wanted to know was "is The Room supposed to be funny?" maybe even "am I laughing at someone who isn't in on the joke?". Because in the cases of both Hung and Wiseau many of us couldn't help but wonder if people with lesser faculties were being exploited since they're both so bad and completely oblivious to just how bad they are. Also because most of us would be absolutely mortified to be publicly ridiculed the way Hung and Wiseau were.
The reality is that we should envy people like Wiseau and Hung for possessing the superhuman power of incontrovertible determination to succeed. Their stories should prove to us that rejection can only prevent you from accomplishing great things if you let it. Well, ideally.
Greg Sestero is not just the co-star of "The Room" and author of "The Disaster Artist", he's Tommy's best friend. I asked him what, if any lesson or uplifting moral we can learn from the success of "The Room". He says "Persistence. It teaches you that anything is possible. The power of following through with things that you're passionate about.".
Greg's from Northern California and has had acting aspirations since he was a kid. At 12 he wrote a sequel to Home Alone which was to star himself as Kevin McCallister. With his resting duck face and divinely proportioned bone structure, Greg's about as handsome as human men get. He's...like...cartoonishly hot. He worked as a professional model for years. He's had modest success as an actor with a few bit roles and the lead in the straight-to-DVD "Retro Puppet Master" but he never quite "made it", depending on how you define "making it".
Greg's lack of success says less about him than it does about the chance nature of the entertainment industry since there are household names who are less talented (and way less hot) than Greg. When people ask Bryan Cranston what his biggest key to success in acting is he always tells them "Luck". Because for every success there are a thousand failures.
By any good measurement "The Room" should have been one of those failures. That's why it's funny to me that one of Tommy's chief complaints about "The Disaster Artist" was that he would've preferred Johnny Depp portraying him instead of James Franco. I asked Sestero if he thought Tommy truly understands or appreciates the absurd fortune he's had. "No, not fully. He made this project, he thinks it's a great movie and he figures 'let's do more'."
There are hundreds of thousands of film projects that'll never see the light of day. I asked Greg if it was possible that somewhere in the world there exists an unsung film equally as disastrous as "The Room"? "Not in the same way" he said. "I think the story is as unique as the film and it doesn't happen that often. Tommy had the money to finance the movie plus the type of character he is, plus he had me to stick it out and push through. The combination of these things is what made it unique". Sestero modestly left out what I would call his "Ken Doll-esque hotness" as a success factor.
Sestero has written and produced the two-part film "Best F(r)iends" in which he co-stars with Wiseau. "'Best F(r)iends' is kind of its own beast, it's a different experience from 'The Room.' We tried to make something that would surprise people and most importantly it's a film that takes Tommy seriously. Since "The Room" he's been put in projects that are kind of mocking or making him a caricature. We put him in a role that is treating him seriously as an actor and not trying for intentional laughs but really trying to get a performance out of him. People will look back at this movie years later and say 'he can actually act.'"
Sestero clearly respects Wiseau. It sort of warms my heart that he really wants people to see his friend as more than a clown. "I got to know him in a different way than most and I think he deserves a shot and to be put in a part by someone who understands his talent." That made me wonder if it's going to put off audiences who came to see Johnny from "The Room". "I mean he's definitely Tommy but he's Tommy in a way that's comfortable to himself." Greg believes that fans of "The Room" will definitely be interested in "Best F(r)iends" "It's got both of us in it and our chemistry that's evolved and it's sort of a spiritual sequel but it's something that I think will surprise you."
One review of "Best F(r)iends" called it "Not as bad as "The Room"." which could be taken as cheers or jeers. "It's definitely not as bad as "The Room". Some people will see it and see Tommy and automatically think "The Room" but we've gotten some really good reviews from Hollywood Reporter and Vanity Fair. If you come into it expecting to see junk food then that's what you'll get but if you're open to taking a new ride... I mean it's got similar insanity but it's really its own thing."
As far as it being a comedy.. "Yeah, it's a dark comedy" says Greg. Therein may lie the real difference between "The Room" and "Best F(r)iends". Tommy Wiseau wouldn't have called "The Room" a comedy. When camp is self-aware it often comes off as contrived. But I'm just speculating wildly here since I haven't seen the movie yet.
As of this writing "Best F(r)iends" Part 1 had a 50% on Rotten Tomatoes. He says "Yeah, that makes sense but you can't just take Volume 1 and assess it you really need to see both. When people see it as a double feature, in its entirety they really appreciate both films." Plus, what do bad reviews for bad movies even mean? One writer who gave it a Fresh review said "Like its cult predecessor, 'Best F(r)iends' skirts the standard good/bad binary through which we usually judge art." But then Film Threat's Matthew Passantino gave it a Rotten review saying "It's terrible. Try and see it" which qualifies it as a good review, I think.
A more pressing matter, Greg Sestero claims to be a student of the Wisteauan school of persistence and following through but if he gave up on his dreams of making "Home Alone 2" which seems a bit hypocritical. "Well, I did have a meeting with MaCaulay Culkin and he thinks we should shoot it on an iphone." I thought he was joking. "No, I actually was interviewed by MaCaulay Culkin on his podcast. It never got made then but we want to make it now".
This is amazing news! Just imagine a "Home Alone" interquel occurring between Kevin McCallister defeating the Wet Bandits and him getting lost in New York. Now imagine Kevin is an outrageously hot 40-year-old man. I think at the point that you're making a "Home Alone" sequel with the help of MaCaulay Culkin even if it is 28 years later you've officially "made it".
Greg agreed to play a game called Cinema Reel or No Reel where I'll read a brief plot synopsis, title and tagline and he decides if the movie is real or if I made it up.
Kung Fu Jimmy: You Ready?
Greg Sestero: Yeah.
KFJ: Number one in Reel or No Reel: Eight teenagers trapped after hours in a high-tech shopping plaza are pursued by three murderous, out-of-control security robots. "Chopping Mall: Shopping costs you an arm and a leg."
Greg Sestero: I'll say no real.
KFJ: "Chopping Mall is real."
Greg Sestero: Noooo. Damn.
KFJ: Number two: A wife throws her husband's severed penis into a graveyard which is then possessed by the spirit of a serial killer. Now the penis roams the countryside slicing off penises. "Knife Penis: Ding Dong.. You're Dead."
Greg Sestero: No real.
KFJ: You're right. That one is made up. Number three: Pickett Smith is a photographer investigating the property of a Florida millionaire only to find it overrun with killer amphibians. When Crockett poisons the pests living on his land, it's payback time. "Frogs: Today the pond, tomorrow the world."
Greg Sestero: Real.
KFJ: That's right. You're 2 for 3 so far. Number four: An escaped murderer is gunned down by the F.B.I. in a sewer tunnel where he's exposed to a mutating chemical and human waste which transforms him into a half human, half feces creature. "Monsturd: Don't get caught with your pants down."
Greg Sestero: Yeah, that's not real.
KFJ: "Monsturd" is real.
Greg Sestero: Oh my god...
KFJ: 2 right, 2 wrong. Number five: Vladimir Lenin returns from the grave to avenge his own death. With his murderous hammer and sickle this killer comrade paints the walls of the White House... Red. "Red Menace: No one's leaving this party alive."
Greg Sestero: Real.
KFJ: Unfortunately no, it's not real. 3 wrong, 2 right. Number six: Ricky Portolli is a pizza delivery boy with a secret. He kills unsuspecting customers and uses their flesh to make his Grandmother's award-winning meat lovers pizza. "Death Pizza: Get it by the slice."
Greg Sestero: Real.
KFJ: Yeah, that one is no real.
Greg Sestero: What! Well, it should be real.
KFJ: I agree, I feel kind of bad because that was the most plausible one. Greg Sestero: That movie needs to get made.
Greg didn't win Reel or No Reel but he walks away with the consolation prize of still getting to be scandalously hot.