​Overlooked classic thriller new to Blu-ray
by Christopher P. Jacobs | .(JavaScript must be enabled to view this email address) | Cinema | January 28th, 2015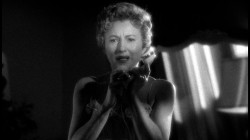 Just about everyone knows of Alfred Hitchcock's classic "Rear Window," with James Stewart as a man convinced that a neighbor has murdered his wife but nobody will believe him.
Few remember, however, that earlier that same year a film with a very similar plot came out starring Barbara Stanwyck in a comparable position.
Prolific actress Barbara Stanwyck died 25 years ago on Jan. 20, 1990 after a career that spanned stage chorus girl to acclaimed stage star by 1927, then a major movie star throughout the 1930s into the 1950s, and popular television star from the late 1950s through the 1980s. She was effective in a wide variety of genres from comedy to romance to crime thriller to western to emotional melodrama, whether playing a victim, a villain, a lover or a tough heroine (sometimes all in the same character).
Even in lesser productions she could stand out and help carry the film. Unfortunately, none of Stanwyck's 1930s classics are yet on Blu-ray but there are nine of her 1940s-'50s films in HD that show the range of her roles, from the scheming femme fatale of "Double Indemnity" (1944) and "File on Thelma Jordan" (1950) to the vulnerable and romantic concert pianist of "The Other Love" (1947) and the strong-minded mother of "Titanic" (1953).
One of her lesser-known films, "Witness to Murder" (1954), came out on Blu-ray last month. It's a film noir thriller that puts her character through all sorts of situations, giving Stanwyck a chance to demonstrate a wide range of emotions.
Classic film noir often involves a murder, either as a mystery to be solved or as a plot to be planned and carried out. In the case of "Witness to Murder," we and the protagonist both see a late-night murder being committed before the opening title sequence is over, viewed through one apartment window into another across the street.
The rest of the film has assertive middle-aged interior decorator Cheryl Draper (Stanwyck) trying to convince the police (and herself) that what she saw really happened and wasn't a dream. At the same time, the urbane killer, a writer named Albert Richter (George Sanders) easily covers up his crime and does his best to convince them (and her) that she's a delusional stalker who is harassing him and should be committed to a psych ward.
Detectives Lawrence Matthews (Gary Merrill) and Eddie Vincent (Jesse White) are initially skeptical on this routine call, as false reports are frequently turned in by suspicious and easily excitable citizens.
Soon, however, bachelor Lieutenant Matthews starts to fall for this independent-minded woman, and she for him. Eventually he starts to think there might be something to her story, especially given Richter's unapologetic Nazi past (and the controversial opinions in his books), if only they could find some hard evidence.
After various frustrating episodes, including a brief stay in an insane asylum, things eventually build to a thrilling if somewhat unlikely climax late at night atop a building under construction, with a predictable conclusion.
Producer Chester Erskine's script and the direction by journeyman Roy Rowland get the film off to a good start and provide an exciting conclusion. Even though the movie runs just 82 minutes, it tends to plod a bit during the middle, becoming almost as frustrating as the efforts of Stanwyck's character to prove she's telling the truth.
It sometimes seems reminiscent of Stanwyck's famous role from six years earlier in "Sorry, Wrong Number," not to mention the similarly-plotted "The Window" (1949) and most obviously "Rear Window."
The solid cast, especially Sanders and Stanwyck, but also Merrill and White, keep the relatively routine crime melodrama slightly above average. We also see a young Claude Akins in a brief bit part as a cop guarding a crime scene, and Juanita Moore as a blues-singing mental patient.
The often striking black-and-white cinematography by film noir veteran John Alton is a crucial element in setting the mood and increasing suspense. In fact, it provides much of the film's interest.
Kino's HD transfer is very crisp, displaying natural-looking film grain. The image quality highlights the periodic scenes of deep contrast and expressionistic film noir lighting, nicely composed in the widescreen ratio of 1.75:1. Sound quality is very good. The only bonus feature is a rather interesting trailer (at full-frame 1.33:1) narrated by a very excited-sounding Stanwyck as herself yet in character for the movie.
WITNESS TO MURDER on Blu-ray – Movie: B+ / Video: A / Audio: A / Extras: D