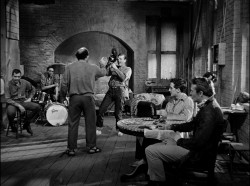 Shirley Clarke's groundbreaking and trouble-plagued "The Connection" was decades ahead of its time, but it is now available for reappraisal on a fine new Blu-ray from Milestone Films.
Independent filmmaker Shirley Clarke was a dancer-choreographer who decided to go into filmmaking in the early 1950s, beginning with short 16mm films dealing with dance, music and art, then with American life and social issues.
By the end of the decade, she had graduated to 35mm film and her work had become acclaimed at various festivals around the world. As a golden age of independent avant-garde filmmaking blossomed, she and a number of other indie filmmakers banded together to form a filmmakers' co-op. She even loaned equipment to budding actor/filmmaker John Cassavetes to make his first feature ("Shadows") around the same time she wanted to make her own first feature.
The 1959 opening of "The Connection," an off-Broadway play depicting several drug addicts waiting in a Greenwich Village apartment for their dealer to show up, many of them jazz musicians improvising live performances each night, sparked Clarke's imagination. Part of its appeal was the intriguing design as a meta-fictional play-within-a-play, including actors interacting with patrons during intermission and an "audience member" interrupting the play in the second act.
At first very controversial due to its themes, "The Connection" went on to win several awards. It seemed an ideal subject to continue her documentary approach while transitioning into a fictional story rooted in reality.
Clarke used a realistic one-room set, as the play had done, but she changed the characters of the producer and playwright into a filmmaker (played by William Redfield) and a cinematographer (the first screen appearance by prolific character actor Roscoe Lee Browne), ostensibly trying to make a documentary about the group of addicts. At times the camera merely observes the action, and at other times the characters speak directly into the camera, as in a documentary.
Eventually their "connection" arrives with not only their fixes but with an elderly female social worker, who is a bit confused as to what all is going on and eventually leaves. The film director later decides to yield to the addicts' recommendations that he try some heroin himself, but the cameraman declines. To maintain the documentary flavor and feel of improvisation, the film was shot in black-and-white, allowed to run out during takes, and various other filmmaking artifacts normally edited out were left in. Nevertheless, Clarke carefully scripted, planned and staged these effects, and alternated smooth camera tripod and dolly shots with rougher hand-held camerawork.
The result looks very much like one of the late 1950s-early 1960s social issue plays that were popular then, as captured by a couple of documentary filmmakers with a good sense for location and colorful real-life characters both white and black, straight and gay (even though it was filmed on a studio set with actors). In other words, it's a fictional narrative made to look like a documentary: a clever, self-reflexive blend of cinéma vérité and staged performance. It has a feeling reminiscent of "The Iceman Cometh" and "Waiting for Godot," but with a semi-satiric filmmaking layer added.
The acting, by most of the original stage cast, is strong, and the frequent jazz music, composed by pianist Freddie Redd and featuring saxophonist Jackie McLean (cast members in both the play and film), adds greatly to the ambience, as well as the film's entertainment value, despite the potentially sordid subject material.
The film premiered at Cannes in 1961 to great success and won an International Critics Award, but U.S. screenings in 1962 did not meet with widespread approval. It was the content and language that caused most mainstream critics to condemn the film, which also had severe censorship difficulties that delayed and limited its release. "The Connection" became largely unseen for half a century and unknown except for its jazz soundtrack album until a UCLA Film Archive restoration a few years ago, a theatrical re-issue in May 2012 by Milestone Films and last month's welcome release on Blu-ray and DVD.
Milestone's Blu-ray of "The Connection" has beautiful picture quality, scanned from the new 35mm fine-grain preservation print, itself restored from the original negatives with portions duped from an earlier master positive. Audio quality is also very good, with a fine reproduction of the frequent jazz jam sessions. Bonus features are limited but interesting, including some home movies, interviews with the art director and composer, a photo gallery, a half-hour 1959 radio interview and audio recordings of two songs used to promote the film.
"THE CONNECTION" on Blu-ray – Movie: A- / Video: A / Audio: A / Extras: B-