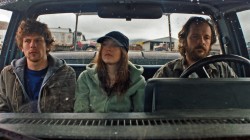 Filmmaker Kelly Reichardt continues to build her reputation as a storyteller of remarkable skill with "Night Moves," a pressure cooker of a movie that observes the actions of a trio of radical environmental activists who plot to blow up a dam in the Pacific Northwest. Like her recent work, including "Meek's Cutoff," "Wendy and Lucy" and "Old Joy," "Night Moves" operates with visual precision and thoughtful staging. Rather than depend on dialogue-driven exposition and traditional plotting, Reichardt maintains an exacting distance from the dramatized actions, asking the viewer to draw conclusions from several tantalizing ambiguities.
Jesse Eisenberg is Josh, a sullen, close-mouthed organic farmhand wound up tight with a level of indignation that matches his commitment to sustainability. Partnered with Dena (Dakota Fanning), a health spa employee from a wealthy background, Josh prepares to meet up with Harmon (Peter Sarsgaard), a mysterious ex-soldier who claims to have previous experience in planning and executing dangerous, clandestine acts of mayhem. The government would likely label these three people "terrorists," and one of Reichardt's strengths is the careful way in which she withholds judgment, neither supporting nor condemning the plotters.
Reichardt co-wrote "Night Moves" with Jonathan Raymond, and their story's similarity to Edward Abbey's 1975 novel "The Monkey Wrench Gang" resulted in a lawsuit prior to the start of production. A feature film based on Abbey's novel was being developed by Edward Pressman, who objected to parallels between Reichardt's project and his own, and the complaint cited three basic areas of overlap: "the targeting of a dam for destruction by means of ammonium fertilizer-laden boats," a U.S. Marine veteran with a knowledge of demolitions, and a "20-something woman who starts out as a companion of another member of the group but develops a sexual relationship with the bomb-making veteran."
Obviously, the conflict was resolved and "Night Moves" was completed, but, similarities to "The Monkey Wrench Gang" aside, Reichardt's film arrived following Zal Batmanglij and Brit Marling's "The East," a far more conventional and less satisfying thriller that also addresses eco-terrorism. By contrast, Reichardt's devoted taciturnity is sophisticated and demanding. The filmmaker runs the risk of alienating those who expect to learn something about the how and the why leading the characters toward violence, but will delight observers comfortable with drawing their own conclusions. One shocking incident that occurs late in the narrative is so disturbing, it echoes all the way to the movie's final shot, an image of dread and paranoia.
Based on its subject matter, "Night Moves," at first glance, seems far away from Reichardt's three most recent features, but a closer look links the newest film with the other titles. Thematically, Reichardt likes to contemplate the relationship between all kinds of people and the environments with which they interact. Human-versus-nature is often identified as one of the classic structural conflicts in literature, and Reichardt grounds her stories in situations that carefully contemplate one's "place" in the world. Whether or not "Night Moves" is as good as "Meek's Cutoff" or "Wendy and Lucy" is debatable, but Reichardt's remarkable facility with the icebox talk that blooms from the steady supply of nerve-wracking setbacks and unfortunate encounters with potential witnesses reveals a moviemaker at the top of her game.
"Night Moves" is now available on demand.