Q & A with "Valley of Bones" director, Dan Glaser
by Brittney Goodman | .(JavaScript must be enabled to view this email address) | Cinema | October 30th, 2015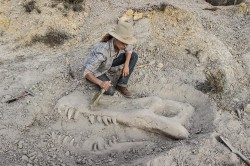 Fargo native films western ND crime drama
I caught up with Dan Glaser, a Fargo native who is currently wrapping up filming the movie "Valley of Bones" in western North Dakota. Glaser is also known for "Pinching Penny" (2011) and the recently completed "Oxenfree," currently on the film festival circuit. His bestselling debut novels "dieselpunk" and "A Fistful of Nothing" are available on Amazon.
"Valley of Bones" reveals the story of an ex-convict paleontologist trying to restart her career at an historic dig in the Badlands, amidst oil boom violence. The film was shot on locations in Bowman, Marmarth, and Amidon, N.D. Dan Glaser and Steven Molony, also a Fargo native, wrote the screenplay based upon a story by Glaser, Molony and Richard M. Lewis. Jon Wanzek is executive producer, and Glaser and Molony co-produce.
Autumn Reeser plays Anna, the paleontologist lead. Her acting credits include recurring roles in several television series ("Hawaii Five-O," "The O.C"). She will also be in Clint Eastwood's upcoming film, "Sully," starring Tom Hanks and Laura Linney. Rhys Coiro ("Entourage," "Graceland") plays Nate. Steven Molony ("Pinching Penny," "Efficiency") plays McCoy. Other key cast includes Alexandra Billings ("Transparent") and Bill Smitrovich ("Ted," "Life Goes On"), Bill Dablow, Kelly Cossette Tape, Mason Mahay, Muse Watson and Brandon Heitkamp.
Production is scheduled to end in early November, followed by post-production in early 2016. Glaser hopes for a festival circuit run followed by a theatrical release.
High Plains Reader: This is your third feature film. Can you talk about developing your previous films?
Glaser: It was during the "Oxenfree" project that we actually met our "Valley of Bones" executive producer, Jon Wanzek, who first brought about the idea for its North Dakota-central story. It was really a heaven-sent match when we met; he's an incredible producer."Pinching Penny" was an incredible experience for everyone involved. In many ways it was my film school, as I'm more a student of movies than I've ever truly attended any higher education specifically to study filmmaking. We were all in our early 20s, and it was raw and energetic and absolutely hectic haha. But it taught us all a lot, and I wouldn't trade the experience for anything. It's where I met Steven Molony (who co-wrote "Valley of Bones" with me and portrays the film's antagonist) and Timothy J. Meyer (who wrote the screenplay for "Oxenfree"). The film went on to receive distribution both domestically and internationally, which was an honor, so we're all very pleased with how it performed. Especially with it being our first foray into feature filmmaking, we couldn't have asked for a better experience.
HPR: What excites you the most about "Valley of Bones"?
Glaser: As a storyteller, I'm very passionate about changing the film landscape as far as diversity goes (especially the hypersexualized and often misogynistic portrayal of women by Hollywood), so this was an incredible experience for us to provide a complex and non-stereotypical female leading role -- which Autumn Reeser portrays to absolute perfection. Speaking of the cast, that's another extremely high point for me. Getting to work with such high-caliber stars as Autumn, Rhys Coiro, Alexandra Billings, Bill Smitrovich, Muse Watson, etc., has been exhilarating. Let alone working with Steven again, newcomer Mason Mahay and others ... every day has been a blessing, and I couldn't love this cast and crew more.
HPR: Tell us a bit about the film and who is involved.
Glaser: It really all starts with Jon Wanzek. This film has been his passion project for years, and it was an honor to develop it into what you'll eventually see on screen. It's a gorgeous film, which really highlights the often-epic landscape of western N.D. Steven Molony and I are also Fargo natives like Jon, as well as our co-producer and supporting actor Brandon Heitkamp. We highlight a handful of additional N.D. natives, such as Maddisyn Carter, Bill Dablow, Kelly Cossette Tape and others. Otherwise, we're a bit of a misfit crew from Los Angeles. Most all of us come from different home states … but now we are based in California. We assembled quite possibly the most amazing crew I've ever had the honor of being a part of.
HPR: What are some things you've learned from filmmaking?
Glaser: Filmmaking hurts, ha ha. It's a very stressful and often brutal experience, especially during principal photography, so you really have got to have it in your blood. It's certainly not a hobby -- you pretty much need to live and breathe it for it to be worth the uphill battle. It's very much a family endeavor. Like a symphony, it takes literally everyone in order to perform the music correctly. I come from a background in theatre, so I adore the similar bonding aspect that filmmaking engenders. You go into this battle together, soldiers and captains and commanders all in the same trench, and you fight for the same victory against these very overwhelming odds. It's pretty hard not to come out of that experience without growing much closer to one another in the process. And once you've captured that lightning in a bottle, that momentary magic, and see your hard work completed, it definitely makes the battle worthwhile.